A change of scenery is always nice, even if it's just down the road. Whether you work from home and would like a workcation or need a relaxing getaway for a few days, an Ocean Shores Airbnb could be just the thing. Locals roll out the welcome mat in these incredible places, some with luxurious amenities, great views and locations that make getting out for fun activities easy. Check out these Ocean Shores Airbnbs for your next staycation or workcation—all of these places have wifi and are dog-friendly!
Cute Yellow Home
If you need somewhere your entire family can fit comfortably for an extended stay at the beach, check out this three bedroom, two bath Airbnb rental in Ocean Shores. It accommodates six guests. This residential home is available for monthly renting, so it's perfect for those seeking a long change in scenery. It has all the comforts of home, including laundry, kitchen, outdoor dining and more. Pets are allowed, so bring Fido to play on the beach. This house is close to the ocean, with over 20 miles of beach for exploring and plenty of fun outdoor activities.
Waterfront Home
Nature lovers will love this Airbnb rental in Ocean Shores, that boosts a waterfront view. Bring your canoe or kayak and head out on the canals, to enjoy over 27 miles of scenic waterways right out your back door! You can also fish right from the private dock or sit and enjoy the wildlife that passes by. When the ocean is calling, it's just a 20-minute walk to the beach. Pets are allowed at this Ocean Shores rental. There is in-house laundry and with 4 bedrooms and 1.5 baths, it accommodates large parties of up to 9 guests.
Waterfront Hideaway
Looking for your own private boat launch? Look no further than this Airbnb rental in Ocean Shores! Accommodating up to eight guests with it's three bedrooms and two baths, it's available for monthly bookings only. This rental has a modern, upscale vibe when it comes to furniture and décor. Located on the Duck Lake Canal, you have your own private boat launch right out your back door! You can also fish, kayak, or just sit back and relax while having a barbecue. Pets are allowed and the home does have laundry facilities.
Ocean View Condo
If you want a quite getaway for yourself or for you and your significant other, this two-guest ocean view condo Airbnb rental in Ocean Shores is worth checking out. Overlooking the Pacific Ocean, you have gorgeous views on both the lower and upper decks. After a day of playing in the surf or sand, relax in the jacuzzi that overlooks the ocean! There is no in-house laundry, but there is a laundromat nearby.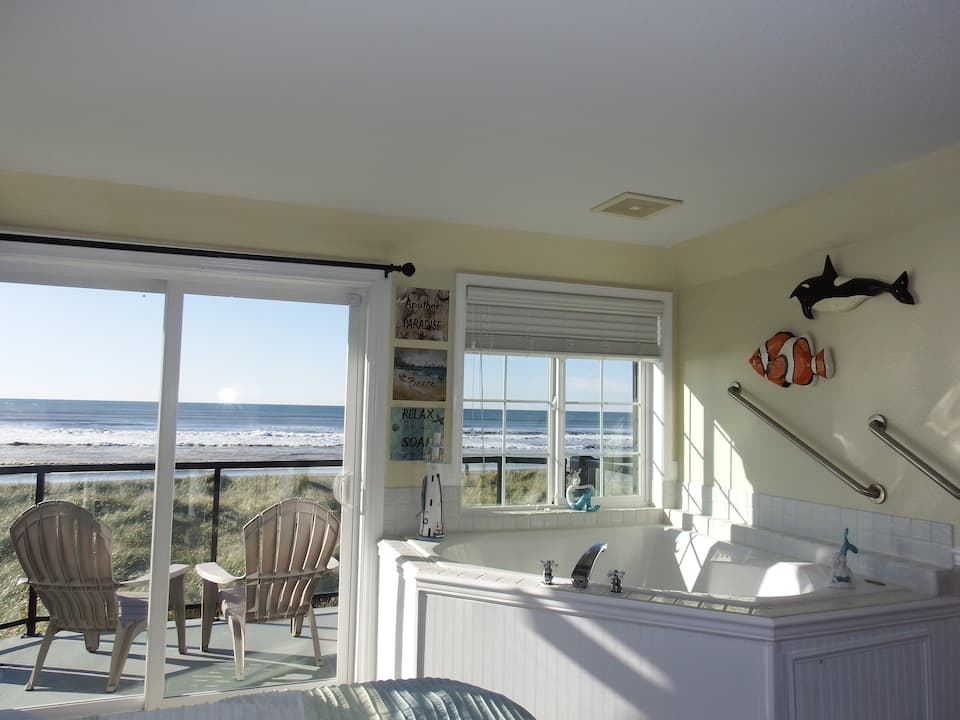 Captain's Seaside Retreat
The Captain's Seaside Retreat is an Airbnb rental located in Oyhut Bay Seaside Village, giving you access to all the fun the town has to offer, including incredible food at the Oyhut Bay Grill. Spend time wandering the local shops and then head to the beach. The two bedroom, two bath home accommodates up to six guests. Dogs are welcome! Like games? There is a play area that includes a beach volleyball court, Bocce ball, giant outdoor chess and horseshoes! They even have free bicycle rentals and a hot tub for relaxing after a long ride. This rental has laundry facilities as well.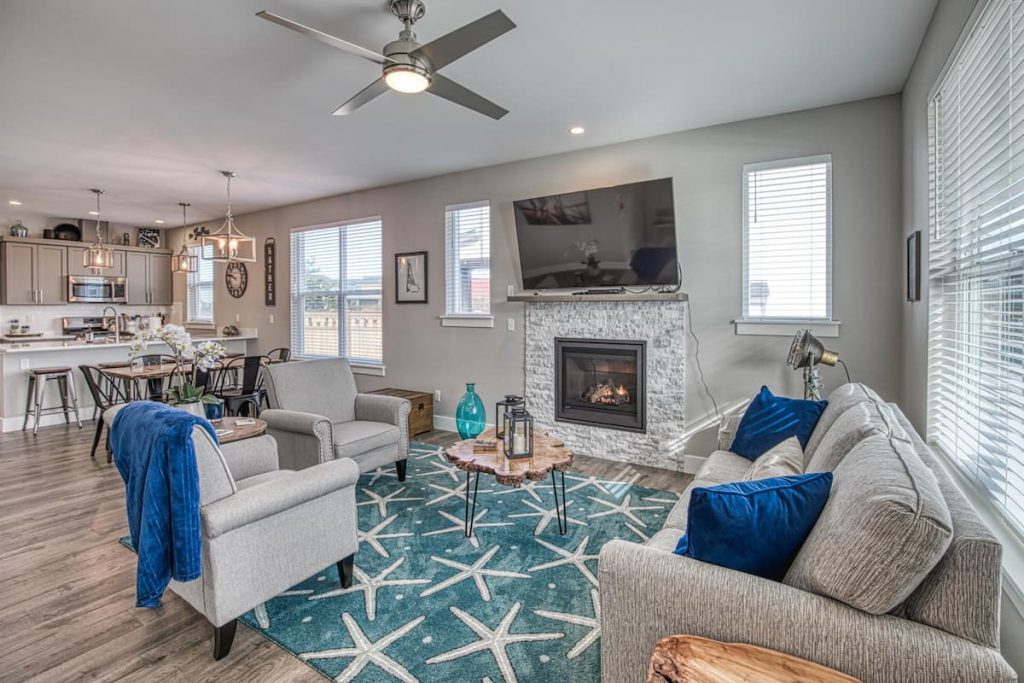 Tidal House
The Tidal House is a remodeled 1960's chalet just gushing with coastal charm and affordable rental rate! This Airbnb rental in Ocean Shores accommodates four guests with one bedroom and one bathroom. A non-functioning fireplace with battery-operated candles gives a nice ambience in the evening, while you snuggle up and watch a movie. Pets are allowed, as are month-long rentals. The Tidal House does not have in-home laundry.
Ocean Getaway
Want to head to the beach but not give up the comforts of home? This new Airbnb rental in Ocean Shores is fully redone, with brand new appliances, granite countertops and more. The large rental accommodates up to nine guests, with three bedrooms and two baths. It's just a six-minute walk to the Damon Point Parking area at the beach, and a two-minute drive to Marine View Boat Launch & Park and Quinault Marina & RV Park, if you are planning on bring water toys. Dogs are allowed. There is laundry in house.