Grays Harbor County is an outdoor lover's paradise. From the scenic sea to the rich rain forests and the fun towns in between, there are plenty of places to explore, and some of the best exploration is done on foot. Of course, you can walk alone, but walking in a group is not only safer, it's more fun and more motivating. There are a few outside walking group that frequent our area, or start your own Grays Harbor walking group to take in the sites and get some exercise all while making new friends.
Join a Walking Group in Grays Harbor
The Capitol Volkssport Club is a nonprofit out of Olympia that does frequent walks in both Aberdeen and Westport. Their Aberdeen route incudes walking along many of the city's parks, the Grays Harbor waterfront and through town, making a point to walk by the many artistic murals and other works of art the city has to offer. They also have a hilltop walk, where they walk past the old homes once owned by the timber barons. You just might even learn a bit the area as they take you to some "secret stairs."
Their Westport walk meets in Aberdeen and then carpools to the walking location. Most of this trail is paved, though you can also walk along the beach. They will take you past the marina, quaint shops and the lighthouse.
To join their group, visit the Capitol Volkssport Club website.
The Pathfinder Volkssport Club of the Northwest is another club that has events in both Oregon and Washington, sometimes in Grays Harbor. They have their own bi-monthly newsletter for members that will keep you informed in any upcoming events in our area.
Have kids and want to go walking? Worried they will slow the group down or that the walks may be too much for them? Join Hike it Baby! This fun walking group is geared towards families with children. They do have a couple walks in Grays Harbor and you can help bring more to the area by becoming a Hike it Baby Ambassador. Ambassadors learn how to run your community branch with the help of their mentor program. You will answer questions about hikes, run the Facebook page for your branch, pass along fun hike information and host hikes.
Start Your Own Walking Group in Grays Harbor
It's really very simple to start your own group! For something informal, simply ask your friends to set a weekly walking date with you. You can plan all the walks yourself, or take turns organizing. Creating a Facebook group for your walking buddies can help you plan. If you want to keep your group just your friends, be sure the setting is set to "private" when you make your group. If you don't mind new friends joining you, making it public and creating public events for each walk will help it grow!
If you are really excited about the idea of a large walking group and want to jump right in with something more "official," think about creating a chapter of a larger organization. The Evergreen State Volkssport Association (ESVA) has association clubs in different areas of our state, the Capitol Volkssport Club is one of them. ESVA is a 501(c)3 nonprofit and part of the larger American Volkssport Association. The purpose of the ESVA is, "to promote physical fitness through participation in volkssport events; promote the activities of the AVA and the international organization, the International Volkssportverband (IVV); and encourage and support participation in volkssport events."
Volkssport clubs are fun, because you can keep track of your participation through their online Walker Program and work towards an International Volkssportverband (IVV) Lifetime Achievement Award. Fun awards like this can help keep you motivated to get out and walk! The AVA even has a Virtual Walking Program that you can use, even if you just decide to keep it simple and walk by yourself, or your small group of Facebook friends.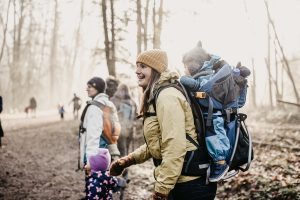 Another way you can find people to walk with is to create Meetup events. You can create these as an individual, so you don't have to worry if you don't have a formal "club." These types of events get seen by anyone searching for them in your area, so you might be surprised by the turnout! Here's an example of a page with upcoming walking events put on by the Oregon Trail Volkssport Association. Again, you don't have to be an organization to create an event on Meetup.
Not sure social media is for you? That's fine! Text your friends and ask them to meet you for a walk or post a flyer at your local library, feed store or grocery store! However you decide to get the word out about your walk, you'll be glad you did. Fresh air, exercise and friends are keys to great mental and physical health.
Happy walking!