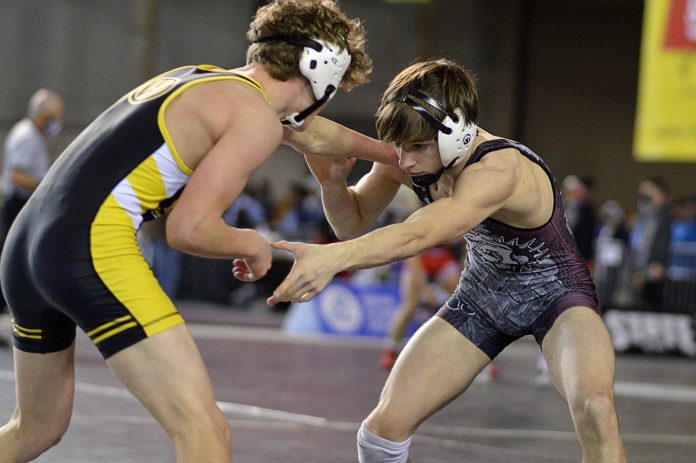 The high school wrestling season came to an end at the annual Mat Classic and once again athletes from Grays Harbor left the Tacoma Dome with plenty of hardware.  A total of 14 local wrestlers medaled at the state championships with Elma's Donovan Bishop, North Beach's Westin Fruh and Montesano's Cole Ekerson and Mateo Sanchez each claiming second place in their respective weight classes while the Aberdeen boys' team had its highest team placing in more than a decade.
Held February 18-19, Mat Classic XXXIII saw the Montesano boys finish 7th overall at the 1A state tournament and the Aberdeen boys register a 10th place finish in the 2A classification to give the Bobcats their best finish since 2008 when they took home the 5th-place trophy.
While Aberdeen's resurgence had the Bobcats place in the top 10 for the first time in 14 years, Montesano continued its trend of top finishes at the state championships as the team notched its 8th top 10 placing over the last 9 years with its only non-top 10 finish coming last season when the state tournament as cancelled due to the COVID-10 pandemic. The Bulldogs also finished 3rd in 2020, 8th in 2019, 10th in 2018, 5th in 2017, 4th in 2016, 3rd in 2015 and 9th in 2014.
A total of four Bulldog wrestlers concluded their seasons with a trip to the medal podium, highlighted by Ekerson's state runner-up performance in the 132-pound weight division and Sanchez's 2nd-place finish at 182 pounds. Montesano also received a 4th place at 120 pounds from senior Jacob Salstrom and a 6th place at 285 from senior Alex Delgado.
Ekerson, a junior, opened up his run towards the state finals by defeating Blaine's Nathum Vazquez, 4-1, in the quarterfinals before knocking off Vashon sophomore Colin McIntyre, 1-0, in the semifinals. Ekerson, a two-time 1A Region 2 champion who also placed 5th at 120 in 2020, fell to Toppenish sophomore Marcos Torrez, 5-0, in the state championship round.
Sanchez, a state participant two years ago during his freshman campaign, lost to Deer Park's Bryon Newby in overtime, 2-1, in the 182-pound state championship match. Sanchez defeated Zillah freshman Aiden Ford by pin (3:00) in the first round and edged Connell junior Adrian Magana, 3-2, in the semifinals.
Elma senior Bishop, who was looking to become to the first Eagle to win the 1A state championship at 285 since 1993 when Chris Beckes captured his second straight title and the first Elma heavyweight to win a title since Jamie Rakevich won the 2A championship in 2002, lost to Toppenish's Rocco Clark III by pin (3:37) in the finals. Bishop knocked off Colville senior Justin Finley, the No. 4 ranked heavyweight, 6-2 in the first round and defeated Royal's Kevin Dominquez, the state's No. 3 ranked wrestler in the weight division, 5-2 in the quarterfinals before beating Montesano's Delgado in an all-Grays Harbor semifinal, 4-3.
The Eagles also received a 6th place from 220-pound junior Austin Salazar.
In the 2A boys tournament, Aberdeen had five wrestlers place in the top eight, highlighted by sophomore Talatheon Warness' 4th-place finish in the 106-pound class and freshman Michael Hatton's fourth at 113.
Warness pinned Burlington-Edison's Junior Sandoval (1:55) in the first round then lost to Othello's Isaac Campos, 6-1, in the quarterfinals. After winning back-to-back loser-out matches, Warness pinned Othello's Victorino De La Cruz (4:20) to advance to the placing round where he lost to Campos in their rematch, 6-0.
Hatton ended his first season of high school wrestling by advancing to the 113-pound state semifinals, where he lost to 2A Evergreen Conference rival Mikey Johnston of Black Hills. Hatton rebounded from the defeat by beating Othello's Marcus Zuniga for a second time at the tournament before losing to Caleb Davis of Washougal, 6-3, in a match for 3rd and 4th place.
The Bobcats also received state placings from three seniors with Drew Lock finishing 8th at 126, Liam Hiekkila collecting a 5th-place finish at 195 and Erick Hayter-Ramsey grabbing 7th at 285.
The Aberdeen girls also put on a stellar showing at the state tournament, placing 11th overall as a team with senior Raegan Portmann finishing 7th at 140 and senior Katie Gakin collecting a 6th-place finish at 190.
North Beach senior Westin lost to Liberty Bell's Noah Holston, 15-0, in the 195-pound 1B/2B state finals. Westin advanced to the championship round after defeating River View's Birch Verdino by pin (:59) in the quarterfinals before winning a 4-3 contest over Tonasket's Granger Sutton in the semifinals.