Old school gamers remember when the original Nintendo first hit the shelves and how many hours they could get away with playing Super Mario Bros and Donkey Kong. Players with a few more years may remember rushing to the arcade with quarters to play Space Invaders and Streetfighter. Those who are a little younger remember what it was like squinting into the tiny screen of a Game Boy Color and how little a difference the Game Boy Advance made. Now there are millions of games and versatile ways to play, so there is literally something for everyone. And Hoquiam's Lion Guard Gaming has whatever you're looking for, and maybe even something you didn't know existed.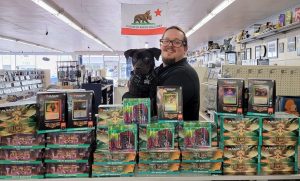 Shows like "Halt and Catch Fire" and "Stranger Things" have brought all the old games back into the mainstream. As Terry Smithson, co-owner of Lion Guard Gaming laughs: "you don't have to hide in a basement anymore. You don't have to find your nerd friends and go hide—you can just do it out in the open. It's not something just for nerds." Gaming has become such a norm—whether it be Animal Crossing, Solitaire or Dungeons & Dragons.
Hoquiam's Lion Guard Gaming is home to gamers from all over Grays Harbor. Founded originally by Terry and Conrad Carriker about three years ago, Lion Guard merged with War Byrd Battle Labs when the pandemic interfered with business. For about two years now the Lion Guard family has been building their business as well as building their storefront, basically from the ground up, in Hoquiam. Situated in an old Ace Hardware, there is plenty of room for growth and therefore almost too much room for dreams of the future.
Now run by Terry, Jason Byrd, Alicia Wikander and managed by Rozie Fuller, the dreams abound. They have plans to create an actual experience within their storefront, so that players can fully embrace their roles as well as enjoy an awesome setting. Their current outdoor area sports several chairs and a fire pit and grill, but they plan to expand with ponds and waterfalls and stoned-in grills. Jason hopes to hang creeping vines along the fenced area and train more vines along the top of the enclosed space. With ceramic lions and the sound of water falling, it will truly be an amazing space for the community. Another big project on the team's minds is a D&Dthemed tavern where players can have a pint as well as play table top with friends. Imagine sipping mead, listening to flautists charm the air and battling the forces of Chaos.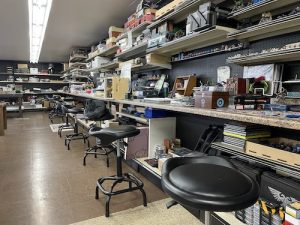 Although they may be a little while out from making their dreams for the storefront reality, the place as it is now is a home for all. Whether a gamer wants to play, buy or create, Lion Guard Gaming is the place. There are plenty of huge tables for groups to adventure. There is a streaming room in the back where gamers can live feed their matches. There is an epic space dedicated to those who create and paint their own models and the space is free to use. Jason gave a tour of the back rooms and detailed how their several 3D printers work, and how the team uses them to help build models as well as props for cosplayers.
Lion Guard is the premier competitive location to play tournament WarHammer 40K west of the Cascades all the way down to San Francisco, according to Jason. Gamers from Idaho, Australia, Canada, and New York make the trek to Hoquiam to play huge tournaments throughout the year. For those who like a more relaxed game play, there are smaller D&D nights throughout each week, Friday Magic the Gathering nights and X-Wing and Marvel: Crisis Protocol weekends. The Lion Guard team offers learning leagues for the locals only to teach those new to gaming the basics.
Back in April, the team rallied around one of their members who is battling cancer. They rented out the 7th Street Theater and showed "Army of Darkness," had a bake sale, silent auction and WarHammer tournament for a large-scale fundraiser, of which all proceeds went to their friend and his family. Above all, the team behind Lion Guard Gaming works for their community. Selling items handmade by locals, offering a safe space to all, Lion Guard is more than just a cool place to hang out. Their overarching goal is to continue to be that epic space where all ages and backgrounds can have adventures and make friends.
To keep up with the crew, including upcoming events, players can follow the Lion Guard Gaming Facebook page or just pop in, sit down and embrace a new world.