Whether it's a lifestyle or a local weekend getaway, heading to the Washington coast in an RV is an adventure worth exploring. Finding the right place to camp is an essential part of successful trip planning. Friends Landing, located just outside of Montesano in Grays Harbor County, is quiet, safe and accessible for multi-generations to enjoy. It's also far less crowded than other RV parks. It's a great place to RV camp on the way to the Washington Coast.
Camping Near the Washington Coast
One couple staying at Friends Landing shared that they have been living and traveling in their RV for the last 10 years. Since their adventures have brought them to the scenic Washington State coast, finding this local gem was a rewarding discovery. They have enjoyed biking and walking the 1.7-mile trail circling Lake Quigg, which is the heart of the park. The trail is a beloved highlight that winds through wetland, woods and meadow. There are several interpretive signs from viewing docks and it features a stunning canopy of trees that provides beauty and shade.
Lifelong friends of 55 years were enjoying game night next to their neighboring RV sites by the lake. Youth were practicing their bike riding skills and enjoyed the well-designed playground. One young man dropped a fishing line while sitting on the dock of the Chehalis River. There is a centrally-located covered pavilion available that is a perfect gathering space for reunions and celebrations. Reservations for the pavilion can be booked free of charge on a first come, first served basis and offer picnic benches and a barbecue for grilling.
Friends Landing RV Park And Camping Accommodations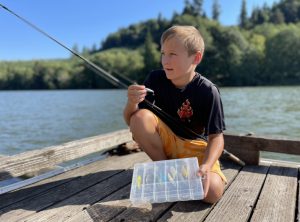 There are 18 RV sites with electrical and water hookups and 10 tent sites with water available at this 152-acre park located only 40 minutes from the state capital of Olympia and 35 minutes from the ocean beaches. Two showers are located in the bathrooms, which are well cared for and there is Wi-Fi available for guests. All sites offer paved entrances that make this park very accessible.
Make a reservation for your visit and bring your friends to create memories. Jim and Marva Bradley who live in King County have returned for a second year of RV camping by the lake. They brought their best friends Tom and Laura Madeo as the two couples have enjoyed years of outdoor adventures together. "We love that it's small, quiet, on the water and under two hours from home," shares Marva Bradley. The two couples enjoyed evening game nights next to lake Quigg including a friendly competition of cornhole in the grassy area next to their RV's. They will be returning next year as this location is such a great place to gather.
Sponsored