Whether you are a Grays Harbor local or a visitor driving through the area on your way to the ocean beaches, Friends Landing, located just outside of Montesano, offers a beautiful reprieve from a long drive with a serene naturescape for walking, jogging or biking. This RV and tent camping park is home to a 1.7-mile trail circling Lake Quigg, which is the heart of the park. The paved loop trail is a beloved highlight that winds through wetland, woods and meadow. There are several interpretive signs from viewing docks and it features a stunning canopy of trees that provides four seasons of beauty. If you're looking for a walking or bike trail near the Washington Coast, Friends Landing is a great choice.
Paved Hiking or Biking Trail Near the Washington Coast 
On any given day visitors – both local and from out of state – enjoy the serenity of the Lake Quigg trail. Couples walk close together for an evening stroll, parents teach their children how to ride a bike, grandparents let the kids run and explore while some arrive early to complete their morning jog. Birdwatchers are drawn to this location as there are a variety of species to view including bald eagles, hawks, ducks, songbirds, osprey and Canadian geese to name a few.
Campground in Montesano Offers Accessibility and Great Accommodations Near Washington Coast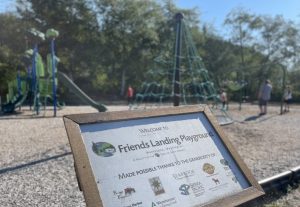 Not only is the paved trail a featured highlight of the park, but all 18 RV sites include electrical and water hookups and paved entrances.
Friends Landing, located only 45 minutes from the state capital of Olympia and 45 minutes from Westport, is a multi-generational gem for outdoor recreation. A well-designed playground is available for young visitors. All ages will enjoy the Chehalis River for fishing. There is a boat launch giving access to both the river as well as Lake Quigg. Reservations for the pavilion can be booked free of charge on a first come, first served basis and offer picnic benches and a barbecue for grilling. Two showers are located in the bathrooms, which are well cared for and there is Wi-Fi available for guests.
Make a reservation for your overnight visit or just stop by to enjoy the trail and other recreational opportunities being offered at Friends Landing.
Sponsored