Bringing your pup for a day at the beach? Sometimes you need to grab something you forgot to bring, or maybe you want to pick up a souvenir. Maybe the weather turned and you'd like to do something inside for a bit. Whatever the reason, it's nice to know which stores welcome dogs. Here are some of the dog friendly stores in Grays Harbor.
Too Cool Sportswear
Oyhut
While the Too Cool Sportswear's main location in Ocean Shores is not really the best place for a pooch, they welcome dogs at their Oyhut location! Check them out and get a "dog mom" or "dog dad" t-shirt made!
Martin Bruni Liquor
172 W Chance a La Mer NW, Ocean Shores
If you need some spirits for your next gathering, pop into Martin Bruni Liquor, and it's okay if you bring the dog too.
Elma Feed and Farm Supply
424 N 2nd Street, Elma
Need something for the farm? Head to Elma Feed and Farm Supply. Or maybe you just want to look around at all the cool stuff they have. Your dog can help you pick out whatever you need.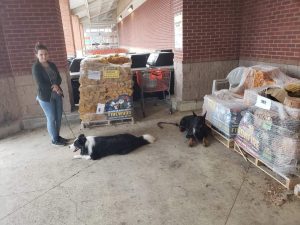 Home Depot
2213 Port Industrial Road, Aberdeen
Home Depot is always a great place to while away a wet Saturday or if you just need to get some things for a home project after a day at the beach with your dog.
Tractor Supply
1213 E Wishkah Street, Aberdeen
Tractor Supply is another great dog friendly store in Grays Harbor where you can spend some time. Not only can you pick up the pet supplies you need, but you look at all the fun seasonal home décor. There is always something new to look at it here.
Petsense
1143 E Wishkah Street, Aberdeen
Of course, dogs are always welcome at Petsense! Here, your dog can get his nails trimmed – no grooming is offered at the Aberdeen location – and can pick out a new toy or two before you continue your day.
When visiting dog friendly stores, remember to keep your best bud on leash and always clean up any messes. Bring only friendly, well-mannered dogs with you. Being courteous will help ensure dogs stay welcome at these establishments.
Is your store dog friendly? Send us a note at submit@graysharbortalk.com and we will add it to the list