At the turn of the 20th century people throughout Grays Harbor celebrated Easter in ways that people would recognize today. From parties to fashion, this spring holiday was – and is – full of hope and new beginnings.
Easter at Grays Harbor Churches
Churches throughout Grays Harbor County held special services and musical concerts. In 1908, for example, the Schubert Club held an Easter cantata, performing at both the Hoquiam Presbyterian Church and Aberdeen Congregational Church.
Many church women's groups held annual Easter markets and chicken dinners as fundraisers.  One of the most elaborate events was a bazaar held by the Episcopal Guild in Aberdeen at the Sheldon Building in 1897. The women served ice cream, cake, coffee and sandwiches in the afternoon and evening. People could purchase homemade bread, cake, cookies, doughnuts, and pies such as chicken, pumpkin, lemon, and rhubarb. "Fancy articles" such as aprons and hand-embroidered towels were also available. 
Easter Flowers
Depending on when Easter falls, spring flowers are usually in full bloom and people at the turn-of-the-century could not get enough of them, especially lilies. They made popular gifts. Buy "Easter lilies for your Easter sweetheart," Aberdeen's Home Florist urged in 1912. The Crammatte Floral Company tempted buyers with an elaborate window display. They had 800 lilies available in 1909, as well as other flowers. The store even promised to deliver flowers Easter Sunday morning.
People also enjoyed going to see the flowers in bloom. The Aberdeen Greenhouses, also known as the Ellis Hothouses, invited people each year to see their lilies. In 1916 they had 1,700 in bloom.
Easter Stores
Besides flowers, stores drew buyers with elaborate show windows such as a display of a faux hen with a brood of chicks colored like Easter eggs at Shaw & Morrison in 1903. Stores like Beckenhauer Drug Company sold Easter candy, "novelties," cards and egg dye. Theaters got in the act. The Liberty Theater promised free egg dye packages and a "life-sized" white rabbit plush to everyone who came to a special vaudeville show in 1917.
People also turned to bakers for special treats, especially hot cross buns. In 1917 Watson's Bakery sold "very rich and delicious" buns for 20 cents a dozen, delivered hot on Good Friday. In 1911 the Coast Baking Company promised its goods "will enable us to serve the Easter table, with every delicacy known to the bakers art. Direct from the oven to your table will make Easter day one of rest and joy as it should."
Dressing Up for Easter in Grays Harbor
Easter was a popular holiday for young and old to dress up in fancy new clothes. "After a few showers in the morning, the afternoon yesterday proved ideal Easter weather in which to display new millinery and other feminine [attire]" observed the Aberdeen Herald in 1912. Stores like J.S. Waugh, Kaufman Brothers, and George Wolff in Aberdeen and H. E. & O. Clothing in Hoquiam saw big sales. Most popular of all were women's hats.
Aberdeen was home to several millinery shops, mostly operated by women, all of which promised to keep up with the latest styles. Mrs. Hattie Hewett proclaimed her store the "home of the stylish hat" in 1908. Mrs. H.M. Galway declared in 1915 after returning from a spring "buying expedition" to the "big markets" that she offered the latest patterns, shapes, and trimmings.
Easter in Grays Harbor History: Parties
While groups such as the Knights of Columbus held an annual ball the day after Easter, the holiday parties were organized mostly for children and young people. In 1897 Josie Wilson at Grand Forks entertained her young friends with a party at her home, giving away "artistic" Easter baskets.
Youth clubs and organizations also held holiday gatherings. In 1904, for example, Sunday school students from the primary department at Aberdeen's Congregational Church held an Easter party. Some organized dances, like the Young Ladies Sodality of the Aberdeen Catholic Church which held a dancing party at the Pythian temple in 1911.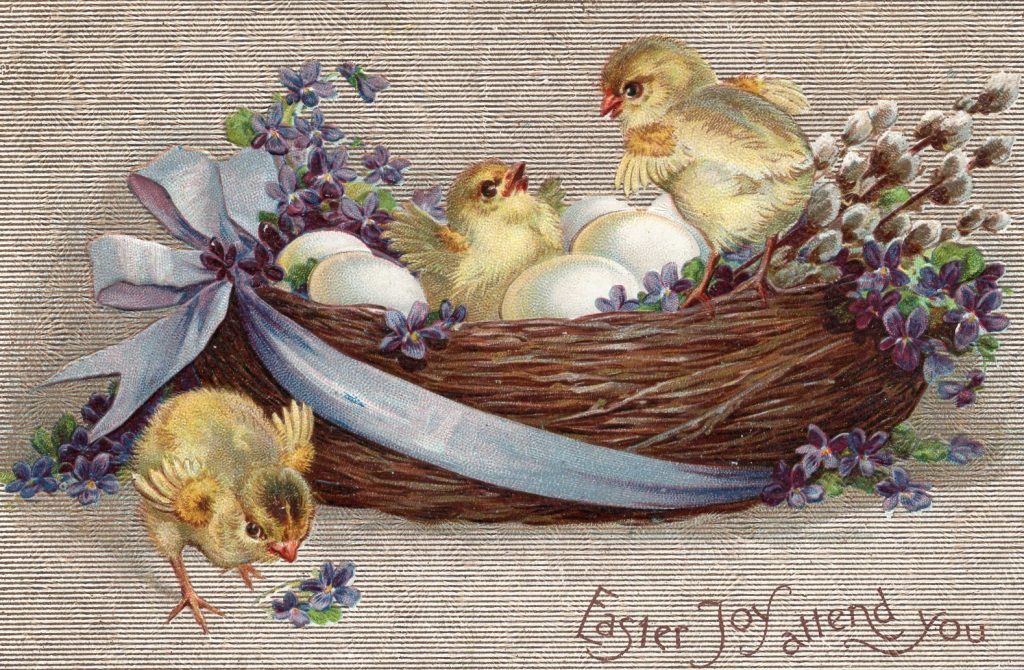 Easter Party Ideas
Those looking for party ideas needed to look no further than the pages of the Aberdeen Herald. The newspaper had many suggestions on how to make children's Easter gatherings special. For an "Easter Lily Party" proposal in 1913, guests were to wear white. The parlor could be festooned with homemade crepe-paper lilies and children could enjoy playing pin-the-lily-on-the-plant, like pin-the-tail-on-the-donkey, with an Easter twist.
Table settings were an important part of any party. In 1913 the Herald suggested using Easter baskets as centerpieces filled with toy chicks, rabbits, and flowers. For place cards, it suggested painting images of chicks, rabbits, eggs, crosses and flowers such as jonquils and lilies on Bristol board with gilt ink. To dye eggs, they suggested boiling them in colored calico to transfer dye from the fabric. Or people could carve designs into beeswax covered eggs with a penknife before dipping them into commercial dyes.
Easter 1904: A Day to Remember
"Easter Sunday in Aberdeen" noted the Aberdeen Herald in 1904 "brought forth a bright clear day, numerous creations of spring bonnets, plaid suits for the 'chawlies' and rest and recreation for the overworked hen." Though times have changed, Easter remains an important holiday for many people. It continues as a time of celebration and hope for the future. Happy Easter!