Throughout history, live music has brought people together like nothing else. The invention of the jukebox in 1887 meant every diner, saloon, tavern, soda shop or basement rec room could hear hundreds of tunes from a variety of genres at the drop of a hat…or coin. On Thursday, June 8, come enjoy the ultimate musical trip down memory lane – with a twist or two – when Postmodern Jukebox takes the Washington Center by storm and brings the past to life.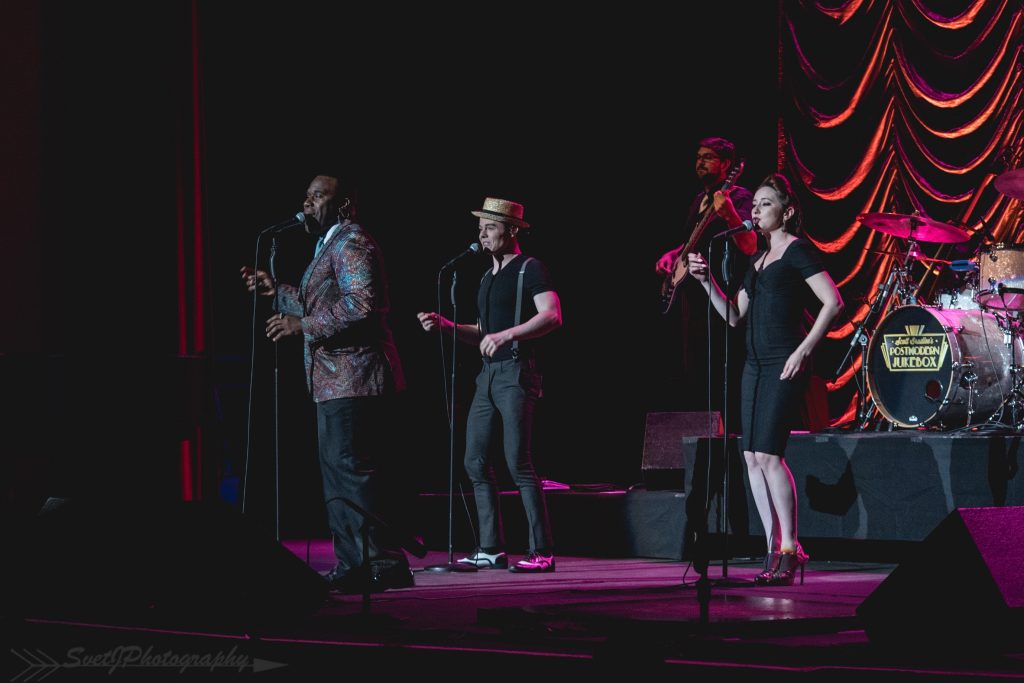 Postmodern Jukebox Takes Music by Storm
For the uninitiated, Postmodern Jukebox is a delightfully wonderful musical anomaly. Created by New York City pianist Scott Bradlee in 2011, they perform current hits with a delicious retro flair. Think Frank Sinatra crooning Bruno Mars, the Andrews Sisters harmonizing to the Spice Girls or Bessie Smith belting out the lyrics of Guns 'n' Roses.
Though they change vocal cast and band members constantly, there are typically a dozen performers on stage at any time. This show is part of their larger "Life in the Past Lane" world tour extravaganza. With a rotating cache of performers, the group thinks of themselves as one part celebration of vintage music and culture, one part "Saturday Night Live" for singers.
Postmodern Jukebox has performed all over the world and welcomed guest vocalists from American Idol and many other musical hubs. We're lucky to have earned a spot on their roster and can't wait for history to come alive.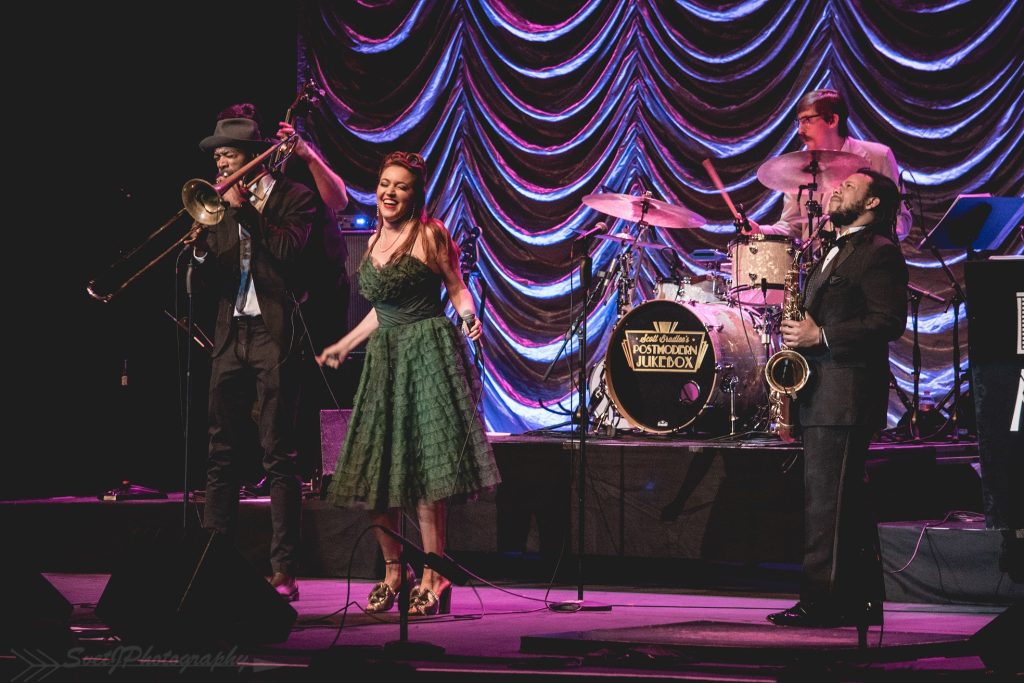 Life in the Past Lane's World Tour Comes Home
June's stop in Olympia is part of the U.S. homecoming for their extensive Life in the Past Lane tour. Late April saw them explore the UK while May has stops in Paris, the Netherlands, Belgium, Germany, Norway, Denmark, Sweden and Finland before returning to American soil once again.
Tour promoters like Marcus Catanzaro understand that, "Even in our futuristic age of AI chatbots and virtual realities, there is still nothing in the world that compares with the thrill of hearing classic genres of music, performed live by a group of exceptional singers and musicians that have truly mastered the ability to move an audience."
They encourage attendees to dress in the vintage attire of their favorite era for a "revamped show will blend modern-day earworms and iconic pop hits with the original styles that put American popular music on the map: ragtime, swing, big band, country/western, doo wop and soul. Equal parts time-traveling musical variety show and career-launching talent platform, Postmodern Jukebox will feature a cast of performers from their wildly popular YouTube channel, to bring the musical universe to life."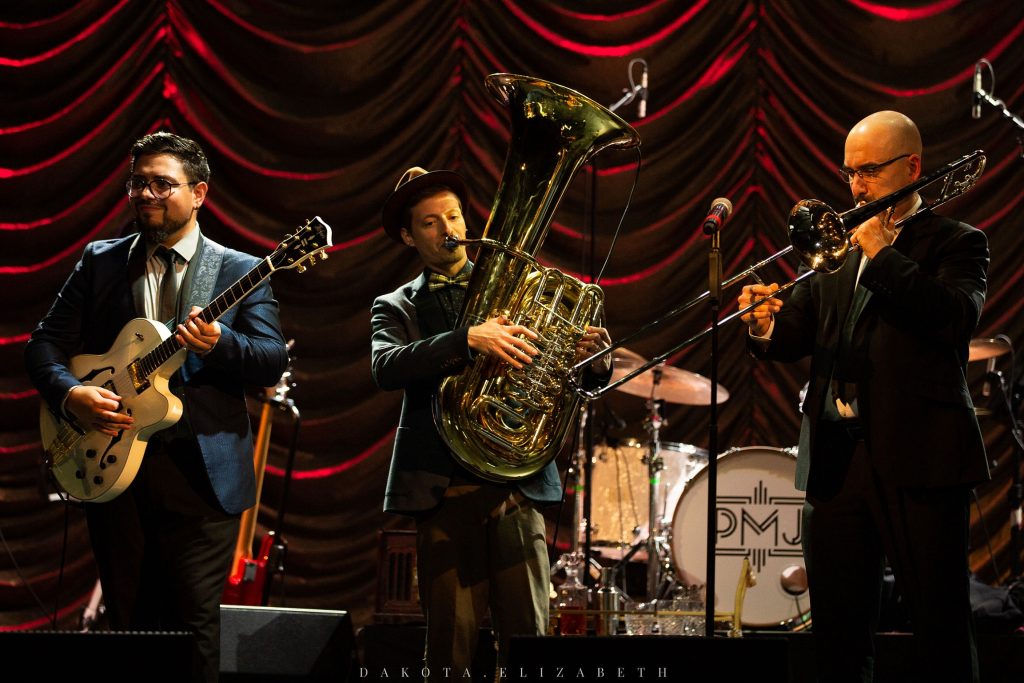 Get Your Tickets to the Washington Center Now
Their musical chairs approach to performing means that no two Postmodern Jukebox shows are the same. Even if you've seen them in the past, grab tickets to the Olympia show today for a fresh take on classic tunes. The concert takes place at 7:30 p.m. on Thursday, June 8. You can select seats online, by calling 360.753.8586 or from the Center's Box Office where ticket sales take place from 12 p.m. until 5:30 p.m. every Tuesday through Saturday and two hours before ticketed events.
While on the Washington Center's website check out their monthly events calendar for other fun activities and nights on the town. From comedy to jazz, movies to sing-alongs, there's something for everyone. On show day, come early and give yourself a few extra minutes to explore the Center Gallery. Open by appointment or one hour before events, it showcases powerful regional artists and their work.
Life is hectic but belting out your favorite song or blasting tunes during the morning commute make it all worthwhile. Whatever your favorite genre, the love of music is universal. In fact, listening has been shown to improve mood, reduce stress, manage pain and boost the body's healthy functioning.
What better way to kick off summer than with a relaxed, joyous, exuberant spirit brought on by hearing live music that celebrates both the timeless and today, live performers and gems of the past? Thanks to Postmodern Jukebox, you don't have to choose. Enjoy Life in the Past Lane one song at a time with friends, family, loved ones and this kooky community we call home.
Sponsored