Fresh, delicious, authentic Thai cuisine is the name of the game at Thian's Thai Fusion, located in the heart of Ocean Shores at 825 Point Brown Avenue NW. Whether it's pad Thai you're craving or a plate of spring rolls and pot stickers, there are plenty of offerings to satisfy the entire family at this quaint and charming eatery.

"I think people are sometimes surprised to come out to Ocean Shores and see a Thai restaurant," Owner Gretchen Dickson says. "It's nice to have different options, and ethnic flavors. We want to be that restaurant that surprises people and keeps them coming back for more whether they dine in, take out, or have our food delivered to their door."
The décor is simple yet refreshing. Photos and memorabilia on the walls capture Thailand influences, and bright, hand painted umbrellas from Chaing Mai adorn the ceiling. In one corner, a television plays videos on loop featuring scenes from Thailand, including street faire. The open kitchen allows customers to witness the Thian's Thai Fusion team in action.
Taking Ownership of Thian's Thai Fusion
Dickson purchased the restaurant and took over operations from the previous owners, Thian and George Brown, in November 2021. Alongside her husband, Boy Pakapongpun, she has managed to turn Thian's Thai Fusion into one of the most popular eateries on the coast.
"We are in it together," Dickson says, "and we take care of and support each other." The couple recently welcomed their first-born son, Paul. "We have an amazing team here at the restaurant, and we try to keep things light and friendly."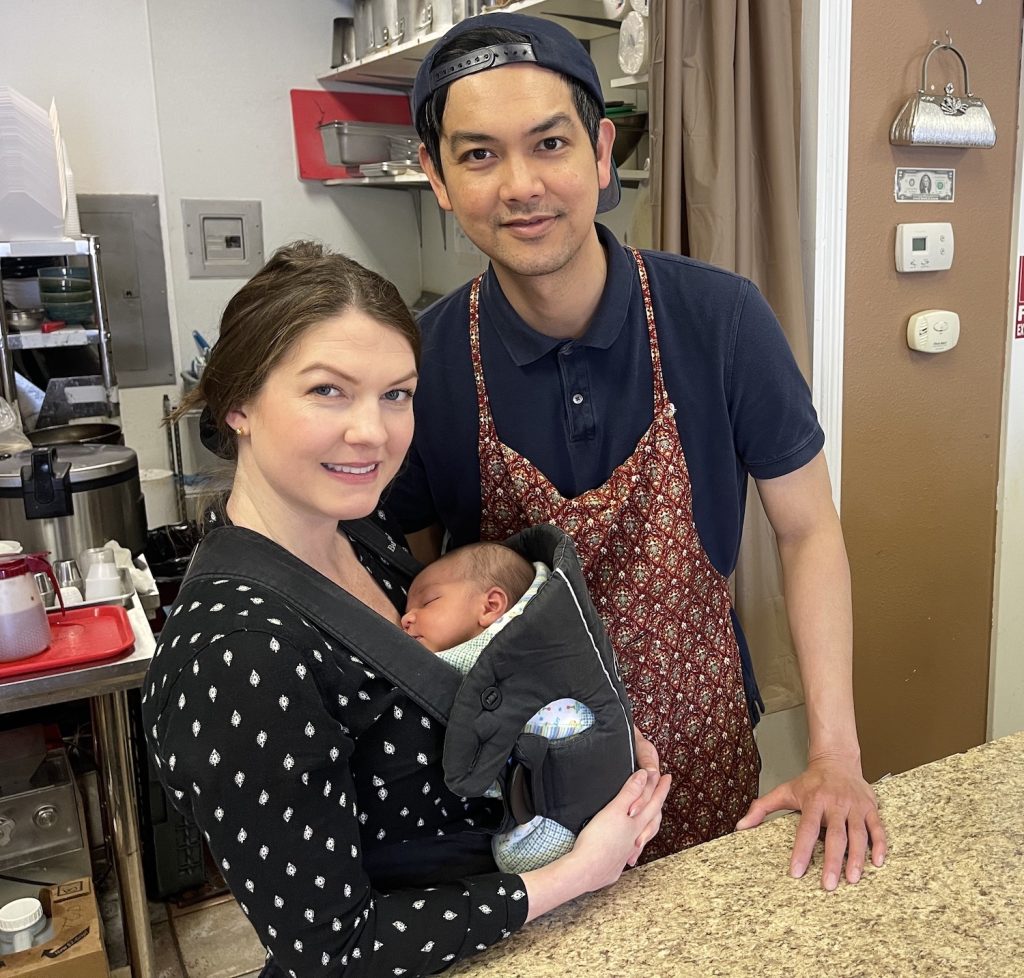 Dickson grew up in South Puget Sound, attended The Evergreen State College, and studied abroad in China, Vietnam, and Nepal. While teaching English in Northern Thailand, she quickly fell in love with the Thai culture and food.
Returning home to Washington, she met Boy, continued teaching online, and adjusted to her new life. She soon learned the Browns, her neighbors and family friends, planned to retire and sell their Ocean Shores restaurant.
"George and Thian helped us tremendously, and we just shadowed them," she says. "Boy's family owns a Thai restaurant in San Francisco, so he had worked there and learned a bit about the industry and running a family business. We were pretty busy from the get-go, with Boy and I working our tails off!"
Dedicated team at Thian's Thai Fusion
Chef Keng trained and studied culinary in Thailand, and performs his magic as the kitchen manager. Although he spends most of his time at the stir fry stove, he can do it all when it comes to preparing tasty dishes.
"Even when it's crazy busy in here, he is super focused and stays cool, calm and collected," Dickson says. "Chef Keng is a true pro. His dishes always look perfect, and they are consistent. With our open kitchen, watching our kitchen team is like watching a show. People know who is cooking and preparing their food, and know it's fresh."
Each team member has a pivotal role. Pui takes care of prep work, appetizers, curry, and fresh rolls. Thara works a split shift to help with morning prep, and prepares fresh rolls and appetizers during the dinner rush. Fah, Pui's daughter, and Rena serve as waitresses and cashiers.
"Everyone is experienced and the team has their rhythm," Dickson says. "They know the ingredients, and they know what quality looks like. They help each other out, and back each other up."
Quality Thai food in Ocean Shores
The quality of the staff carries over into the quality of the food. Customer favorites include the pad Thai, stir fry basil, their fragrant and delicious tom yum hot and sour soup with prawns, panang curry, and their tasty tom ka creamy coconut soup. The team receives rave reviews for their kao soi gai.
The sampler is a customer favorite, with two servings each of fried veggie spring rolls, chicken cheese rangoons, coconut prawns, and pot stickers and four fried tofu served with sweet chili sauce and plum sauce. Be sure to save room for the black sweet rice or their seasonal offering of mango sweet sticky rice.
All sauces are prepared fresh in-house, with vegetables and other ingredients prepped each morning and replenished throughout the day as needed. In addition to adding meat, chicken, and prawns to selected dishes, a large selection of gluten-free and vegan menu options is available.
Dickson sources most of the restaurant's produce from Sun Food of Seattle. Beverage choices include house made Thai iced tea, green tea and coffee, along with a selection of Thai beers, mango nectar, and their own version of Boba.
Sense of community at Thian's Thai Fusion
Growing up on a small farm, Dickson learned leftover food either went to the chickens or the compost pile. That shaped her mindset and helped develop a passion for reducing food waste. Fast forward to today, with a local rancher and loyal customer named Rod collecting the restaurant's food waste and using it to offset feed costs for his chickens and pigs.
"Having my own restaurant, I felt the responsibility to channel our food waste to where it could be useful," she says. "It's a small thing, but it's so fun forming working relationships with the community."
Her love of community and taking care of others shows through in every effort Dickson and her team put forth at Thian's Thai Fusion. With a goal to make each customer feel comfortable, well taken care of, and welcomed, she looks forward to inviting new and returning guests to enjoy a taste of Thailand in Ocean Shores.
"Having lived in Thailand, I picked up some of that Thai hospitality," Dickson says. "We encourage everyone to come in, eat some flavorful Thai food just like you would in Thailand, and get a taste for all that Thailand has to offer."
Thian's Thai Fusion is open Thursday through Monday, from 11:30 a.m. to 8 p.m. at 825 Point Brown Ave. NW in Ocean Shores. Give them a call at 360.940.9010 or order online on the Thian's Thai Fusion website for take-out or delivery orders.