With friendly folks serving up specialty drinks and fresh-baked pastries, and a space that exudes a calm yet fun vibe, it's no wonder Brass Hub Coffebar in Cosmopolis has quickly become a favorite of those living in and visiting this charming coastal town. The business is a dream come true for Krissi Brunoe and her partner and co-owner, Mario Barajas and, as the steady stream of regular customers demonstrates, it's also become known as a sort of community hub.

"Brass Hub was birthed from a desire to collaborate with other businesses, provide the best coffee, and create a community hub in the town of Cosmopolis that has very few businesses and no downtown center," Bruneo says.
That mission is evident as they partner with local businesses by providing wholesale pastries to Finch & Bull, Wild Pines Coffee Co, and Denna Jean's. They also lend support to a variety of other local small businesses by purchasing print work, merchandise, shop displays and décor. They provide monetary and baked goods donations to local nonprofits, schools and community organizations. Participating in community events brings joy to Brunoe and her team as well.
Fresh Pastries, Coffee and Specialty Drinks in Cosmopolis
Combine this community involvement with the house-made treats and drinks offered at Brass Hub Coffeebar, and it's the perfect recipe for success. Known for serving up sweet and savory rolls, made-from-scratch pastries, great coffee, and specialty beverages, the welcoming and attentive crew keeps customers coming back for more.
Best-sellers include the flavorful raspberry lemon sweet rolls and the bacon cheddar spinach savory rolls. Three types of fresh-baked cookies are available daily and, for those seeking gluten-free treats, the triple berry white chocolate and lemon lavender scones are divine. Brunoe names the streusel coffee cake and the blueberry cardamom bread pudding as two of her favorite treats.
"We are mindful of our friends with dietary restrictions by carrying 20+ sugar-free options, caffeine-free beverages, dairy-free options, and offer gluten-free pastries each day as well as vegan options on occasion," Brunoe says. "We have been told time and time again that this is wonderful because you don't see that everywhere on the harbor."
Fan-favorite drinks such as the white mochas, strawberry mango smoothies, and desert sunrise lotus are must-tries at Brass Hub Coffeebar in Cosmopolis. Fruit smoothies, Italian sodas, a wide selection of hot and iced teas, lattes, frappuccinos, and more are available Thursday through Sunday. Traditional drinks such as cappuccino, espresso, and cold brews are offered alongside more modern options such as the Red Bull spritzer.
Teamwork at Brass Hub Coffeebar
Originally opened in the fall of 2019 under the ownership of Chelsea and Jake Royer, Brass Hub Coffeebar was purchased in June of 2021 by Brunoe and Barajas. Brunoe and Barajas have received a ton of support and encouragement from Chelsea and Jake, and are grateful for their support.
They are also thankful to have retained the amazing staff the Royers had brought on board, saying they are an integral part of the business. "Our Lead Baker, Elijah Dimler, has continued to work their magic in the kitchen, turning out delightful and beautiful pastries," Brunoe shares. "Elijah is cross-trained as a barista, and extremely friendly, with the ability to chat with anyone about anything. They have a constant sunny disposition that keeps all of us laughing when we're working together. Our Lead Barista, Janet Vega-Escutia, has stepped up in her role and continues to excel in making delicious drinks with fun combinations. She is friendly, professional, extremely efficient, and keeps the shop running when we are out."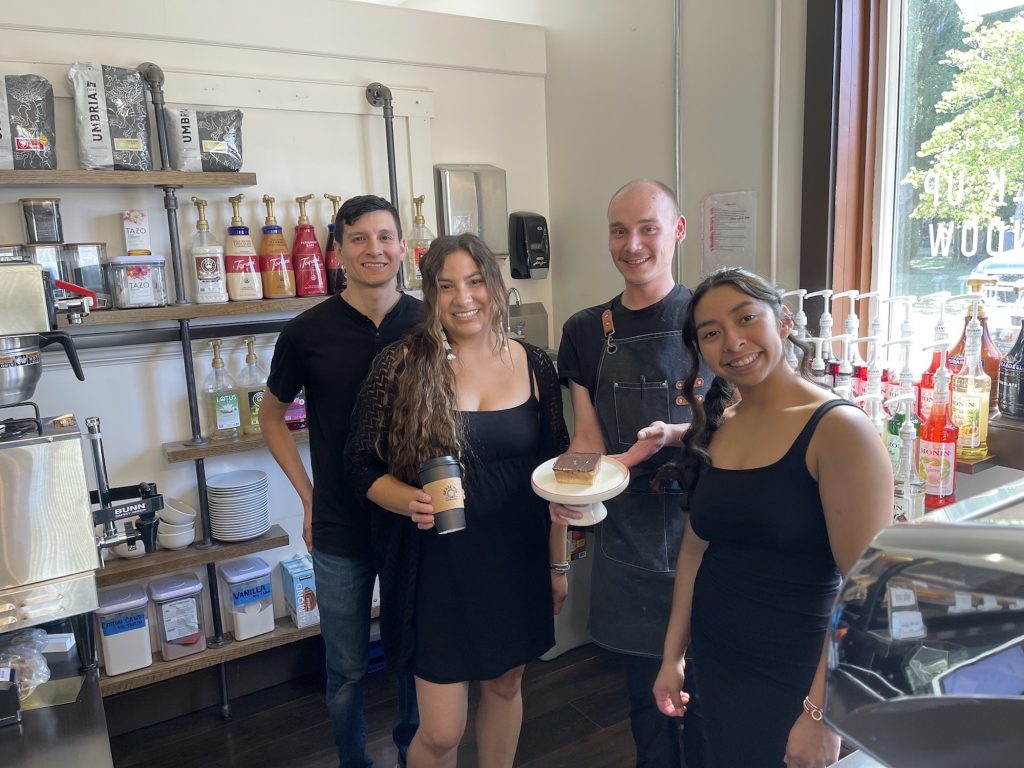 Grays Harbor Community Embraces Coffee Shop
It's the people that loved Brass Hub Coffeebar under the original ownership, and have continued to love and support the Grays Harbor coffee shop after the transfer of ownership that keep Brunoe motivated to let her know she's doing things right. "Everyone who came in to congratulate me, who helped sustain us during our slow season, and the people who went from customers to family – I wouldn't do this without them," she says. "They make this 'job' so worth it."
Perhaps this type of camaraderie and a sense of business has been with Brunoe since childhood. She remembers spending a lot of time visiting and later working in her aunt's bakery, where coffee, breakfast, and lunch was also served, and continued working in the industry for many years. "I've always been drawn back to coffee places, especially small, family-owned shops," Brunoe says. "So, making the decision to take on Brass Hub was an easy one. It was my dream, and the environment and community built here is what made it feel so right from the beginning."
Brunoe credits her family back home in Oregon for their support as well. From helping with remodeling projects, painting, and building custom pieces for the coffee bar, they have stepped in to lend a hand when needed.
"We love this community and hope to be around for the long-haul," Brunoe says. "We also appreciate the outpouring of love and understanding following hardships and closures earlier this year. We hope to continue growing our brand and are manifesting a second-location. A drive-thru stand is something we are working towards in the future."
Recent accolades include the Best of Twin Harbors award for the Best Cup of Coffee as well as the Best Business in Cosmopolis. Brass Hub also made the finalists list for the Best Dessert and Best Business in Twin Harbors.
Sounds like the perfect place to be! Find more information on Brass Hub Coffeebar website where you can also place online orders, or call 360-589-6627.