Opportunities for outdoor activities abound in the Pacific Northwest. Kid- and adult-friendly biking in Seabrook is spectacular, with scenic places to explore on trails, paths and beaches. Designed with walking and biking experiences in mind, this idyllic beach town is one of the most fascinating spots in Grays Harbor County. As one of the most bike-friendly towns in Washington for kids and adults, Seabrook is truly a bike-rider's dream vacation destination.
Where to Rent a Bike in Seabrook
Don't have a bike of your own? No problem! Many of the Seabrook rental cottages include beach bikes, or you can rent a bike at Buck's Northwest. A variety of rental options are available, from 2 hours to 24, with bikes for every size and experience level. Three-day rentals, as well as car racks, are ideal for those staying for several days and visitors wanting to explore other areas of the coast.
Explore Seabrook by Bicycle
For those seeking leisurely cruises along the streets, standard bikes are perfect for jaunts around town. Stretch your legs at quaint parks, play a few outdoor games, and stop by the most charming bookstore, Joie Des Livres: The Joy of Books. This family owned and operated establishment is stocked with books, gift items, puzzles, games and more.
If mountain biking is more your speed, look no further than the network of biking trails and paths surrounding the town. Check out this detailed map from Trailforks showcasing forest biking trails. Thanks to the dedication and support from local riders including Buck Giles, the Evergreen Mountain Bike Alliance, and the Olympic Peninsula Bicycle Alliance, these bike-friendly trails provide numerous opportunities for exploring nature. With a trail for every level of mountain biker, the Narnia Trail, DNR Trails, Mike-O-Rama, Wormhole, and Zipline Trail offer amazing views.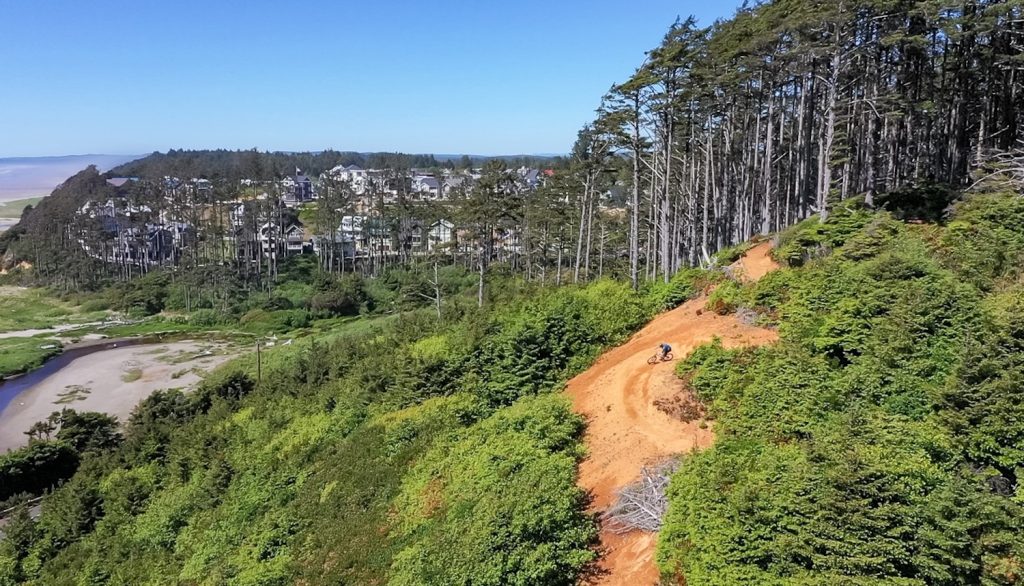 For beach goers, the best bikes to navigate the soft sand are fat-tire bikes, or beach bikes. Whether seeking a quick way to make it down to the water, or bringing along a picnic for an afternoon of fun or a romantic sunset dinner, biking it to the beach is the way to go.
Where to Eat in Seabrook
Speaking of picnics, be sure to stop by the Fresh Foods Marketplace where you'll find just what you need to satisfy every appetite. From baked goods, fresh fruits and veggies to meat, seafood, a large selection of cheeses, an extensive deli, and local beer, wine, and icy cold beverages, this family-owned grocery store provides the best products to locals and visitors.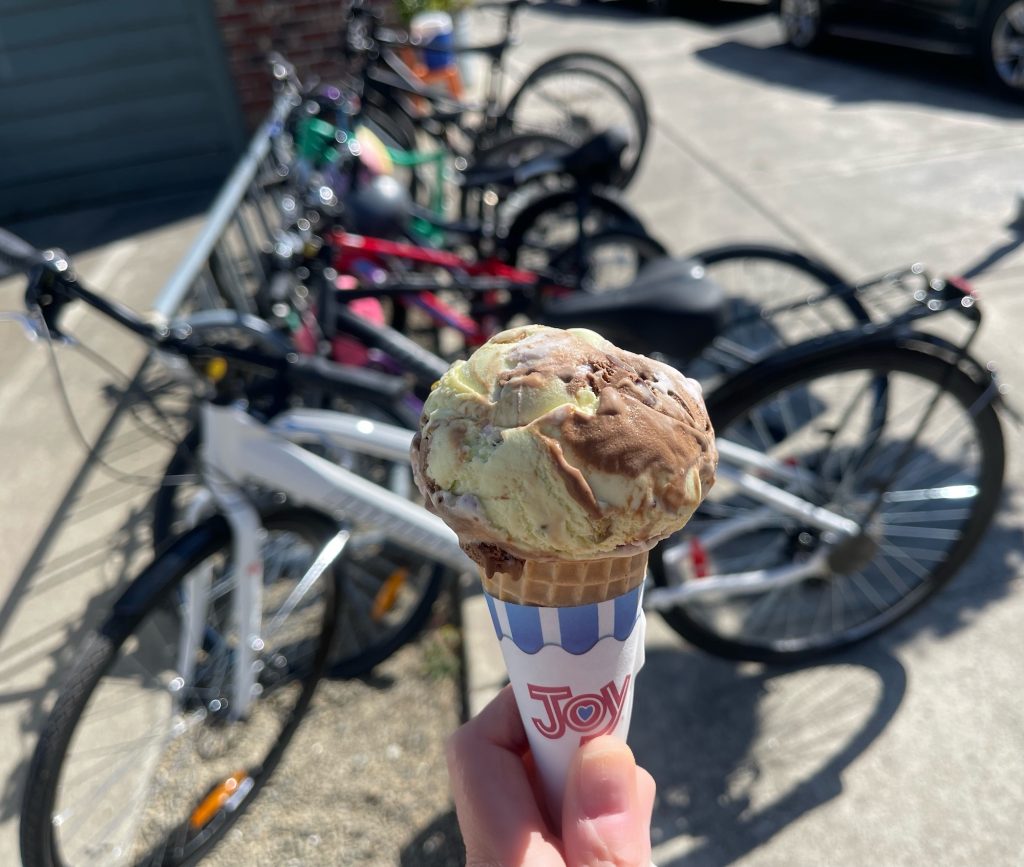 Whether your visit includes a leisurely bike ride or a more challenging adventure on the trails, fueling up at one of the many eateries in Seabrook is a fantastic way to end the day. Treat yourself to an ice cream or other sweets at The Sweet Life or enjoy a selection of pastries, breads, and desserts at Vista Bake Shop.
Find homemade Latin cuisine at Koko's Restaurant and Tequila Bar, comfort food at Rising Tide Tavern, artisanal pizza and more at Frontager's Pizza Co, and juices, smoothies, bowls, and salads at Blue.
Places to Stay in Seabrook
Ready to book your biking getaway in the vibrant beach town of Seabrook? Rental cottages and homes, in a range of sizes, may be found on the Seabrook website. Simply type in the requested number of bedrooms, bathrooms, and the dates you'd like to visit to find descriptions and availability of select properties, many with views of the rugged Washington coast and Pacific Ocean.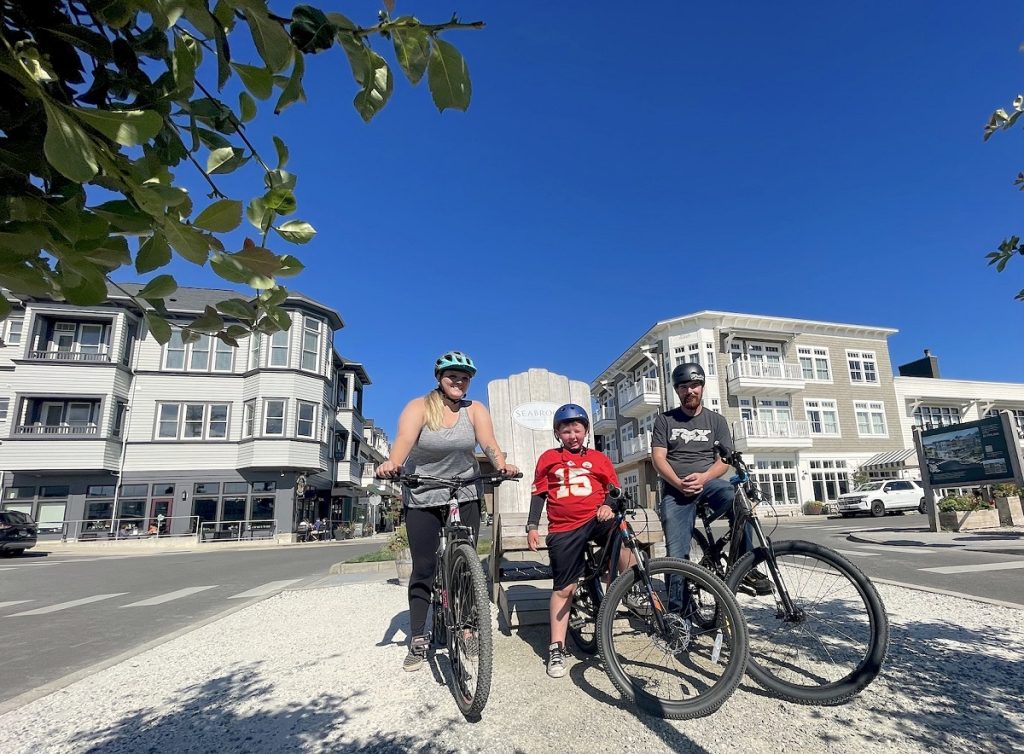 Just down the road in Copalis Beach, cabin rentals may be found at the Iron Springs Resort. An easy car drive to Seabrook makes this a nice option for those seeking a cozy cabin getaway. Hook up your bikes on your car's bike rack and, in just a few minutes, get set to explore the streets and trails of Seabrook for the day.
RV and tent enthusiasts may find accommodations at nearby parks including Ocean Mist Resort, Screaming Eagle Campground & RV, and the Pacific Beach State Park. Sites tend to fill up, especially on weekends and holidays, so be sure to call or book online in advance.
Whether it's a day trip, weekend getaway, or a weeklong adventure, there are plenty of biking adventures, food and drink offerings, and overnight accommodations awaiting visitors to the Washington Coast town of Seabrook. Pack your bike or secure a rental, and plan your next biking adventure today!
Sponsored