Despite it's crazy weather, turbulent housing market and the chaos of life in general, 2023 is the year of getting back out into the world. And nothing makes an outing better than uplifting, energetic, toe-tapping tunes for the journey. On Sunday, October 8, make time for a little extra church – and a whole lotta jazz – with the arrival of Sammy Miller and the Congregation. They're taking the Washington Center for the Performing Arts by storm with a show that's part old time tent revival and a big old splash of joyous evangelistic fervor.
Sammy Miller and the Congregation: Conservatory Trained Musicians on a Mission
Led by the namesake Sammy Miller, this isn't just a rag-tag group of street performers. Miller is himself Julliard trained and Grammy nominated. And he's not alone. The rest of the group are also conservatory-trained musicians. But playing never became a daily drudgery, instead they've kept the joy and utter delight that comes from creating new songs and reworking classics.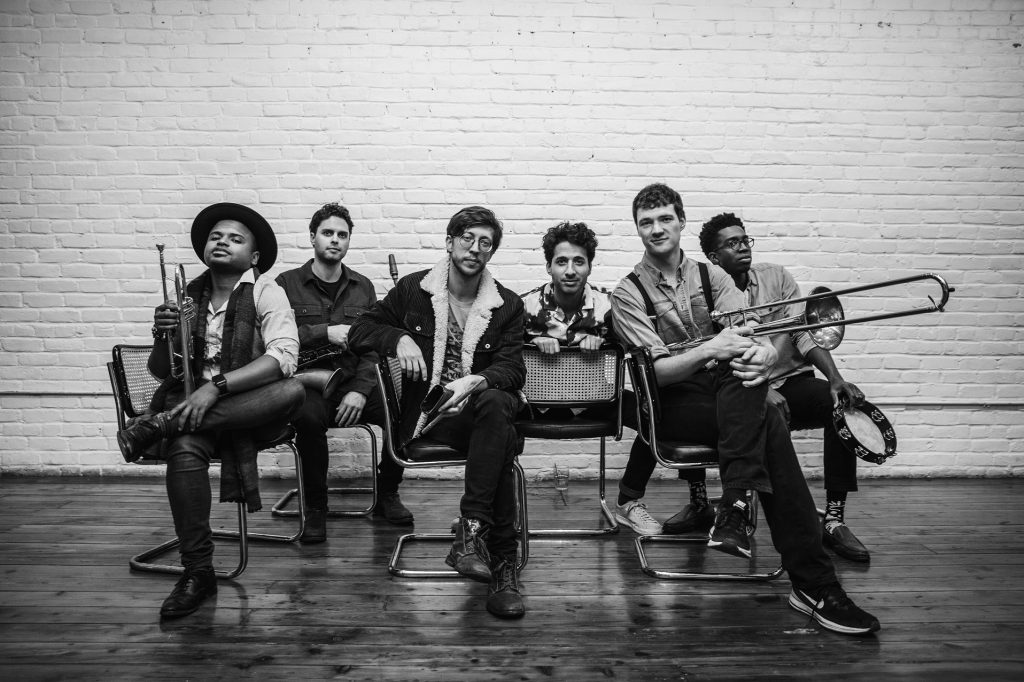 Since they began in 2014, the group has played Lincoln Center, the White House and even received a standing ovation at the Newport Jazz Festival in Rhode Island. Sammy Miller and the Congregation call New York City home but frequently travel the world with a simple mission.
"We want to get people back in a room together," Miller says. "I love the idea of being unhinged, sincere, vulnerable and breaking down walls through humor. Music is an uplifting gift, and I want to be generous in sharing it with people."
Though they've visited the Pacific Northwest many times before and love all we have to offer, they haven't yet experienced Olympia. Hopefully our warm welcome makes this a regular stop on their musical journeys.
Olympia is one of the first stops on their tour so you have plenty of opportunities to become a full-fledged groupie. Sammy Miller and the Congregation have done an exuberant TEDx video illustrating their philosophy on jazz and showcasing their irresistible theatricality and musicality. Once you hear the band's enthusiasm you'll be hooked. You can get to know the band on Facebook and Instagram or listen through YouTube or Spotify.
"We are on a mission to bring the generosity of jazz to people across the country," Miller says. This family-friendly, all-ages romp is the perfect way to do that. Whether musical newbie or life-long lover of jazz, you truly don't want to miss out.
Blending Past and Present into a Jazzy, Chaotic Future
Sammy Miller and the Congregation think of their music as freely mixing vocal and instrumental tracks live and on record. They ask the audience to go along for the ride with the lead melody being carried by vocalists half the time and instruments the other half.
The lineup includes Sammy Miller, drums and vocals; Sam Crittenden, trombone; Ben Flocks, tenor sax; Sammy's sister Molly Miller on guitar; Alphonso Horne, trumpet; Corbin Jones, bass and tuba; and David Linard, piano. Independently, the band members have performed and recorded with notable artists including Wynton Marsalis, Lady Gaga, Jason Mraz and Beyoncé.
Their tour stop at the Washington Center celebrates the 50th anniversary of 1973. They'll include such greats as Stevie Wonder, the Allman Brothers, Gladys Knight, Carly Simon, Elton John and more, says Miller. "We are putting our joyful jazz spin on these tunes," he continues. "You will leave the concert feeling better than when you arrived, we play music that feels good."
Get Your Tickets at the Washington Center Today
Sammy Miller and the Congregation take the stage at 7 p.m. on Sunday, October 8. Tickets are available online, by calling 360.753.8586 or visiting the Washington Center box office. The box office is open Tuesday through Saturday from 12 p.m. until 5:30 p.m. as well as two hours before any ticketed event.
Check out their 2023-2024 season at a glance and consider building a subscription package of all your favorite performers. It only takes 5 events to subscribe and get 15% off, an invitation to the season preview and early access to upcoming shows or special engagements. Book more than eight shows in your package and you can even opt for same seat privileges.
Sponsored