Ernest Hemingway once said, "Writing, at its best, is a lonely life." While it's true many writers produce some of their best works in solitude, it's also true that connecting with fellow writers is equally as important. That's the overall mindset of a dynamic, eclectic, and encouraging group of creatives that goes by the name of Wave Writers of Ocean Shores.
"This group is inspiring to me and they keep me writing, especially when I am in a slump," says Lesley Hatch, the group facilitator. "Everyone is inspiring, encourages one another to keep writing, and they are well-intended with their critiquing."
Wave Writers of Ocean Shores was formed after another group of writers meeting at the Ocean Shores Library was no longer able to gather during the pandemic. A few of the members, including Hatch, decided to meet together in their homes where they could safely share their passion for writing and continue improving their skills.
With a desire to welcome new members, they soon outgrew their home meeting spaces, and now meet from 2 p.m. to 4 p.m. on the second and fourth Thursday of each month at the Ocean Shores Community Club's Bayshore Clubhouse, located at 1016 Catala Ave. S.E. Active Community Club members and their guests are invited to attend meetings, whether a beginner or experienced writer, and spend time with fellow writers.
Wave Writers Meetings are Casual and Fun
The meetings follow an established format, beginning with participants introducing themselves to new guests or sharing what they've been working on. Each writer may then choose to read a sample of their work-in-progress out loud to the group, or have it read for them. This gives participants the opportunity to give and receive feedback, a crucial part of the writing process.
"It's important to hear your writing being read out loud, because you may not have meant to write it in the way it sounds once you hear it being read," says Shannon Scott Swanston. "Then you might decide to go back home and change it around a bit if you'd like."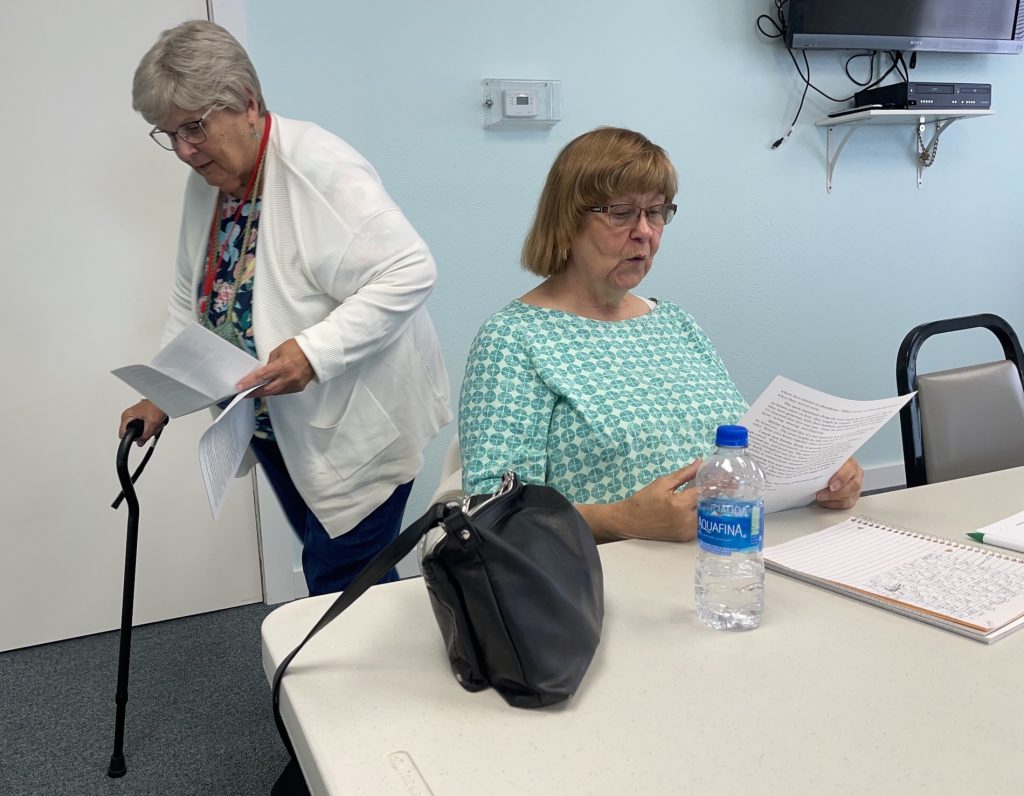 A selection of writing prompts is then presented, with each participant choosing a topic to write about for a set time. Then, if they wish, they can read their writing aloud to the group and share why they chose that particular topic. Old and new business is discussed, which may include letting others know about writing workshops, events, and opportunities in the area or online.
The meeting environment is always casual and fun, with beginning, advanced, and published writers interacting with and encouraging one another. All formats and writing are embraced, from essays, short stories, poetry, and memoirs to science fiction, novels, fiction fantasy, musicals, novels, children's books and more.
Wave Writers Offer Feedback and Encouragement
Michal Rosencrans joined Wave Writers after being invited by Swanston, and is now a regular at the bi-monthly meetings. Being part of the group gave her the inspiration and encouragement to finish writing a book she had first started decades ago and she is also working on her memoir.
"When I share my writing with the group, it feeds my ego and makes me want to do more," Rosencrans say. "Sometimes, for us writers, we hear our writing different when we read it out loud to others or when someone reads it out loud for us. That motivates us and sometimes lets us know when changes need to be made."
Swanston agrees. "When we write, it's like we are putting part of ourselves out there, and it can feel vulnerable to share with others," she says. "But this is a safe place, and we are not going to be critical, really, we offer constructive criticism and help each other. And we are like-minded, and we are also mindful of each other's' privacy when it comes to sharing their writing."
Their words are reflected in the group's mission statement: "Wave Writers of Ocean Shores fosters the growth and development of its members. We provide a safe, inclusive network for writers to share their work, grow through positive feedback, excel in the endeavors and engage in discussions about the craft."
And, if a member doesn't want to share their writing, that's perfectly okay.
"There's so much talent in Ocean Shores and the Grays Harbor Community and we encourage everyone to come and check us out," Rosencrans says. "Just come sit with us and listen, even if you're not ready to participate. If Wave Writers is a good fit for you, great! And, if not, that's okay, too. There is no pressure on you to produce the great American novel during our first meeting – we'll reserve that for your second or third meeting!" she laughs.
A lending library filled with various instructional books donated by members of the Wave Writers is located at 585 Blue Wing Loop SE in Ocean Shores. The idea behind this service is to share their own books with others while also supplying how-to guides geared toward improving writing skills and learning more about the craft.
The Wave Writers meet from 2 p.m. -4 p.m. on the second and fourth Thursday of each month at the Ocean Shores Community Club's Bayshore Clubhouse. Visit the Wave Writers of Ocean Shores website or contact Lesley at lesleyhatch@outlook.com or 425.681.3901 for more information.