For many people, Thanksgiving is a special celebration, full of tradition and happy memories. How Thanksgiving was celebrated in Grays Harbor at the turn-of-the-20th-century was both familiar and very different than today.
Long celebrated in New England, Thanksgiving became a national holiday in 1863 by presidential proclamation. Until 1939, Thanksgiving was celebrated on the last, rather than the fourth Thursday of the month. President Franklin D. Roosevelt moved the date to boost the holiday shopping season.
Planning Thanksgiving Dinner in Grays Harbor History
Thanksgiving was a chance for turn-of-the-20th-century Grays Harbor families to gather together and celebrate. The familiar traditional Thanksgiving meal had already been established but turkey was sometimes too expensive. Chicken, goose and duck were popular substitutes. But turkey was preferred. "If the number of turkeys and chickens being shipped is any indication," reported an Oakville correspondent to the Aberdeen Herald in 1901, "a lot of people will enjoy Thanksgiving dinner."
"Today turkey is king," agreed the Aberdeen Herald in 1911, "Tomorrow the scraps will be used as lunch and by Saturday, all will get back in to the machinery which makes up the daily routine of life." That year, Aberdeen grocers estimated they sold 1,500 turkeys, at an average of $2 each.
Turkey was so expensive that some resorted to stealing. In 1913, Edgar Brewer and his hired hands chased two would-be turkey thieves across fields and sloughs from his Satsop poultry farm. He had a flock of over 100 birds ready for the Thanksgiving and Christmas markets. A few birds had been stolen from nearby Henry Moor's farm that night as well.
For those looking for ideas to vary the traditional menu, the Aberdeen Herald paper was full of recipe ideas for the holiday. In 1912-1913 Anna Thompson's "The Kitchen Cupboard" column published a series on Thanksgiving themed recipes. The "Thanksgiving Bird" could be served with chestnut dressing, "a la Creole," or "German Style." Leftover turkey, she suggested, could be served scalloped with white sauce, oysters, sausage or stock. She also suggested serving "Thanksgiving ices," arguing that "better than the creams sold in the shops is a nice ice prepared at home and served firm and fresh at the feast." Other options included fruit salads, doughnuts and baked/steamed puddings like plum pudding.
Historic Holiday in Grays Harbor
While Thanksgiving was primarily a family holiday, organizations also took the opportunity to come together to celebrate. Churches held special services, sometimes in partnership, on or near the holiday.
Lodges and clubs also held celebrations. Dances were particularly popular. The Montesano Firemen held an annual benefit ball for many years. After a 6 p.m. dinner people enjoyed a dance. A special boat was sometimes charted to carry people up from the harbor to the event. The Typographical Union's 1904 dance at Keith's Hall in Aberdeen lasted until three in the morning!
Other groups sold food and served meals as fundraisers. The ladies of the Aberdeen Methodist Church, for example, held annual chicken pie church dinners for the public. In 1912 they even held a Thanksgiving-themed cooked food sale at Moulton's furniture store.
Schools held programs and events before the holiday. In 1912, St. Rose Academy, now St. Mary School, in Aberdeen held a musical, including a skit entitled "The Thanksgiving Cooking Class." In 1911 the Elma school put on a historical Thanksgiving cantata.
Another highlight was the annual Thanksgiving Day football game between Hoquiam High School and Aberdeen High School. Ticket proceeds were divided evenly between the schools.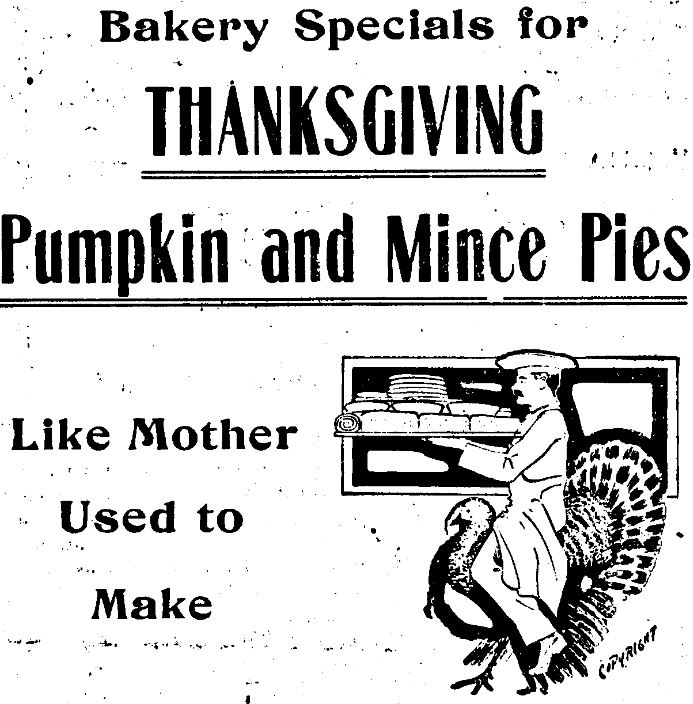 A Helping Hand for Thanksgiving
For those who did not have a place to go, hotels offered special Thanksgiving meals. In 1913 the Mecca Cafe offered an "extra special" home-cooked Thanksgiving dinner for only 75 cents. Rather not cook? "Call for all the holiday fixin's," promised the Women's Exchange, 715 J Street Hoquiam in 1929. The group sold Thanksgiving food on preorder like pies, cakes, nut breads, cookies and more.
Nor were workers ignored. Mills closed at noon. Some like Hoquiam's Wood Mill in 1899 gave away turkeys to their employees to enjoy at home with their families. Logging camps served up a special dinner as well. In 1905, 30 turkeys and a barrel of cranberries were sent from Montesano to the Weatherwax camp for the holiday dinner. That's a lot of turkeys! Others held special dinners. L.H. Burnett, an Aberdeen jeweler, and his wife hosted an annual dinner at a local hotel for newspaper deliverers, mostly young boys from struggling families.
A Time for Thankful Reflection
Since the turn of the century, much has changed. But the continued traditions of family reunions, large meals, helping others and reflections upon thankfulness would make a 21st century Thanksgiving familiar to people who lived over a century ago. Happy Thanksgiving!