By Amy Rowley
*Editor's Note – this article was published prior the Seattle Seahawks first Super Bowl win.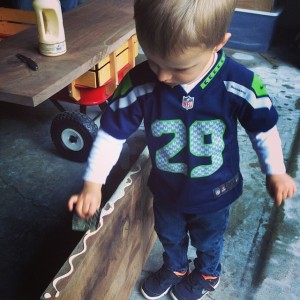 My dad, Larry Goldberg, was in the Kingdome when the Seattle Seahawks played their first pre-season game on August 1, 1976 against, ironically, the San Francisco 49ers.  He was in the CenturyLink stands on January 19, 2014 when the Seahawks defeated the 49ers to win the NFC Championship and a trip to the Super Bowl.
I was two when the Seahawks entered the NFL franchise.  My father bought season tickets and has been a devoted fan every year since.  Even when the Seahawks were lousy, he would take me, or one of my siblings, with him to a game.  We would pester him for a box of Dots when all he wanted to do was rehash a bad play, celebrate a touchdown or discuss a holding penalty.  We each had a turn to sit next to him, learning the game of football.  Now, he is passing down his love of football to his grandchildren.
"When the Seahawks were lousy, I was just watching games, enjoying the NFL experience," my dad recounts to me on Thursday night.  I'm talking to him from his New York City hotel room.  He booked airplane tickets months ago, just when the season looked promising.
I don't even need to ask.  I know that Sunday's Super Bowl appearance by the Seahawks will rank in the "Top Ten Best Days" of my dad's life.  (He is a list maker, enjoying reflection on monumental events in his life.)  "I feel a part of this whole experience," he says when talking about what it's like to be a 12th Man this year.
When the Seattle Seahawks enter the stadium on Sunday, my dad says he will "have a chill down my spine at the possibility of Super Bowl victory."  And, if they win, the experience will catapult to the top of his list (hopefully behind his wedding day and the birth of his four children and four subsequent grandchildren).
Go Hawks!
Interested in reading more stories about the Seattle Seahawks and Super Bowl Sunday?  Click on the links below to stories posted to our sister site, ThurstonTalk.com.