By Britta Folden
The Dennis Company is likely something you know as a place to buy everything from Carhartts to gardening supplies, but since it's beginning in 1905 the company has experienced many iterations. Their history is as deep as it is wide and still going strong, owned and operated by brothers Brent and Randy Dennis, great-grandsons to the man who started it all.
The company got started in Raymond, Washington, a mill town built around the logging economy and built on swamps. The building they currently operate out of in Raymond was at one time owned by the Olympia Brewing Company and it stood among wood roads and railroad tracks. The two floor building housed a mechanics shop, building materials and, eventually, ice blocks.
Dennis Company found a niche as a transportation business and hauled a variety of things for local patrons, including pianos. When founder S.L. Dennis discovered a need, he'd work out a way to fill it. This mentality gave the business its chameleon like characteristic that stuck through the years.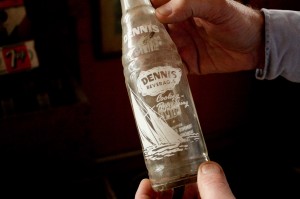 Auto repair services came and went. Dennis Company sold lumber, managed road construction, added an alder mill for furniture building, distributed beer, and bottled and distributed soda. As the times and economy changed, so did the company. The Dennis family is certainly full of savvy business men with a knack for learning new trades quickly. To this day, they still take advantage of their ability as a small business to change quickly in order to provide for the needs of the community.
Brent Dennis, co-owner of the company, attributes their success and longevity to their strong management team, memorable customer service and communication between his family and business partners. In a recent customer survey, they received 99% positive feedback on their service. They treat their 85 employees well and see them as the eyes and ears of the company as well as representatives of the Dennis Company.
The Dennis Company currently operates five locations in Raymond, Long Beach, Elma, Montesano and Aberdeen. Today, each store has 25 different departments, though their clothing and gardening departments are the most popular.
The welcoming attitude to change will likely bring many new opportunities in the future, while the Dennis family values will keep the company serving the area's needs for many years to come.