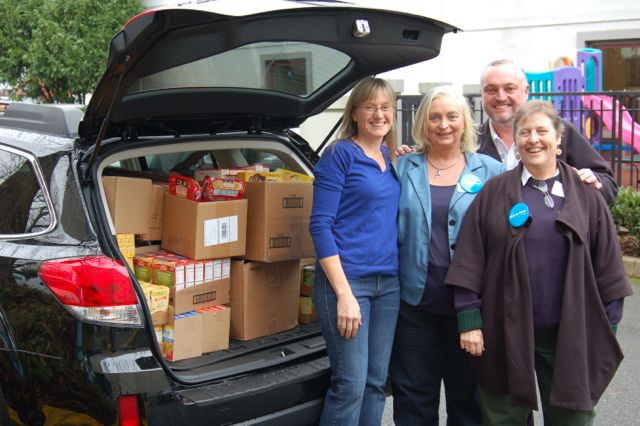 By Margo Greenman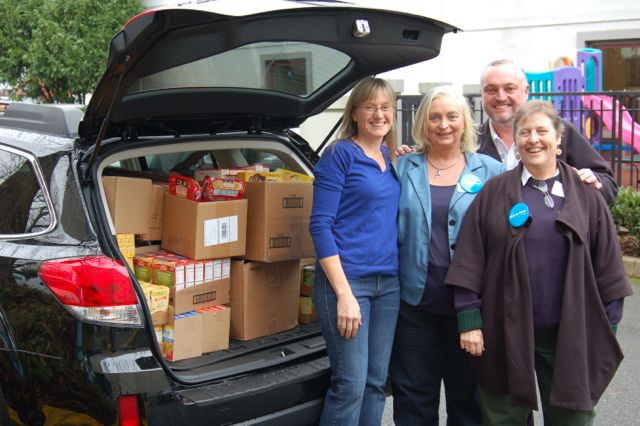 When people living in Grays Harbor want to buy a new or used Kia or Subaru, they head to Olympia's Hanson Motors. With 40 years of experience, Hanson Motors has been a trusted source for finding reliable vehicles at an affordable price. But what has helped grow Hanson Motors reputation as a leader in car sales isn't solely based on the cars that they sell. Committed to enriching the communities that they serve, Hanson Motors has made it a priority to give back – in a big way.
It was eight years ago when Vince Hanson of Olympia's Hanson Motors met with his friend, Cyndy Lounsbury, for lunch. Lounsbury, a board member for Senior Services for South Sound, began talking about the various programs offered through Senior Services and explained how the programs not only contribute to improving the quality of life for seniors individually, but how these kinds of programs enrich communities as a whole, as well. Hanson was immediately inspired by what Lounsbury had told him, and decided he wanted to help.
Providing South Sound seniors with access to everything from adult day care and case management services, to nutritional support and more, Senior Services for South Sound offers seniors with the assistance they need, no matter where they fall on the age continuum. With so many programs, all benefitting seniors in different ways, Hanson had a lot of options when it came to how he would choose to support Senior Services.
In fall of 2006, Hanson decided to host a food drive to support the Senior Services' nutrition program and biggest service, Meals On Wheels. Through the collection of non-perishable food items at Hanson's Olympia location, the food drive, which has since become an annual event, was able to help stock the cupboards of the more than 500 homebound seniors the program serves.  This ensured that there would be food available in the event that a Meals On Wheels driver could not deliver food in an emergency. While the food drive has had a tremendous impact on Senior Services' nutrition program, Senior Services' Executive Director, Eileen McKenzieSullivan, explains that this is just one example of Hanson Motors' commitment to improving the quality of life for seniors living in the South Sound.
"Over the years, the more Hanson and his staff have gotten to know Senior Services, the more involved they've become," says McKenzieSullivan. "They started delivering the food, and at one point, one of the employees was in the car with our Nutrition Director, Cathy Visser, and heard that we have a hard time picking up food that grocery stores donate. The next thing we knew, we get a call from Hanson Motors saying they have a mini van for us." The van is just one example of how Hanson Motors has gone above and beyond in their contributions to Senior Services over the years, and McKenzieSullivan says, "the responsiveness of Hanson Motors, when they hear about a need we have or one of our seniors has, has been wonderful."
But Hanson Motors doesn't stop there. As government funding becomes more limited and the needs of seniors continue to grow, McKenzieSullivan says Hanson Motors has played a crucial role in providing funding for events, programs, services and more. "As the years go by, Senior Services' funding continues to decrease and they have to pinch pennies more than most," says Hanson. Acknowledging the challenge Senior Services has been faced with financially, two years ago Hanson Motors became Senior Services main sponsor after presenting a check in the amount of $10,000. But, this was not a one-time donation. Hanson Motors repeated their generosity this year with another donation in the amount of $10,000.
Hanson explains that it's a wonderful feeling to know you're making a difference in someone's life, and that it's important to look out for one another. "Just because someone is elderly, doesn't mean they're not a viable part of the community," he says.
Now in their 40th year, Hanson Motors currently represents Subaru and Kia, and employs a staff of more than 70 experienced professionals. A trusted source for new and used vehicles in Olympia and the surrounding region, Hanson Motors' does so much more than outfit drivers with reliable vehicles. "In addition to Senior Services, we sponsor kids athletics and the Big Brothers Big Sisters golf tournaments – we try to stay as involved in the community as we can," says Hanson.
This level of commitment to the community has helped make Hanson Motors a leader in the community when it comes to giving back in the South Puget Sound.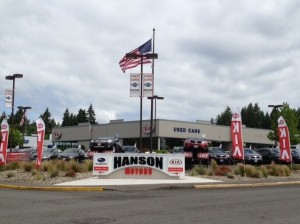 For more information about Hanson Motors, visit their website here. To find out more about the programs offered through Senior Services for South Sound, location information and more, click here.
Hanson Motors
2300 Carriage Loop SW, Olympia, WA 98502
360-943-2120