By Chelsea Royer

Lynn Lipski is a wife, mom, alpaca-raiser, and knitting enthusiast. Her passion for natural fibers and yarns have led her into designing and selling knitting patterns and keeps her busy making gifts for friends and family.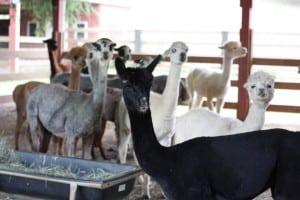 A craft-savvy gal, the most surprising part about her hobby is not so much that she can create her own patterns, it's that her projects don't start with a pattern. They start with the alpaca itself.
Connecting her home and the alpaca barn is a brightly lit workroom full of bizarre looking machinery, freshly sheared, washed and fluffed alpaca wool, and newly bound skeins of the softest alpaca yarn you've ever felt. It's not uncommon for people to own sheep or alpacas, but Lipski gave me genuine surprise when I heard that she spins her own yarn. And not only her own wool either, Lipski spins yarn for a variety of small-scale businesses that sell specialty yarns and fibers on a local level.
Beginning with a hand-spinner, Lipski decided to take the leap and purchase heavy duty machinery around a year and a half ago. Her business, Olympic Yarn and Fiber, has been growing ever since.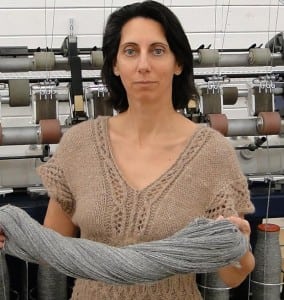 Last year, I discovered alpaca wool at a craft store.  However, with artificial fibers woven into the wool, the beauty of the yarn was tainted by how itchy and unnatural it felt against my skin. Lipski's yarn is on an entirely different playing field. The gorgeous natural coloring of white, brown and grey alpacas is some of the most elegant yarn I've ever touched. Then I actually got to meet the animals from which the wool came!
Ask Lipski about her alpacas and she will introduce you by name to each alpaca, tell you the history of alpacas, about the breeding registry, and what the different wools feel like with a specific breed. About a dozen naked alpacas stared at my camera, each with a different personality, different product, and color. Though Lipski primarily processes yarn for other businesses, she explained that owning alpacas has helped her become even more familiar with her product and better able to match her yarns with her customers.
It's an exciting thing for to me to hear of opportunities to buy local. Once you understand the work that goes into a locally made product, you begin to understand the value. Lipski walked me through the process cycle. After shearing the alpacas, wool is cleaned, sent through a "picking" machine where it is essentially fluffed before being sent through another machine that aligns the fibers prior to them being strung out into yarn. Wool strands must then be woven together into two or three ply yarn before getting divided into skeins and sent back to the customer. It's a long process on small-scale machinery but the product is beyond compare.
Lipski processes yarn for Northwest alpaca growers such as Insouciant Fibers and Firwood Alpacas. Why buy local yarn? Lipski knows the answer to that as well. The fiber industry is unfortunately one of the worst human rights violators when it comes to factories. Buying local insures that your yarn has been sustainably grown, harvested, and that your dollars go to support small businesses.
Lipski loves the fact that the yarn she spins can often be traced right back to the animal from which it came. Some of her customers name the yarn after the appropriate alpaca and include photos on their webpage. As alpaca wool is as unique as their individual personalities, each batch of yarn is bound to have variances.
Lipski is in a place where retail is lower on the priority list than is producing yarn for her clients. Which is why I was so thrilled to hear she would be bringing yarn from her own alpacas to the Schafer Meadows Fiber Arts Festival. The local festival will be held at the Grays Harbor County Fairgrounds October 10 – 12 and admission is free!
Come get a feel for genuine alpaca yarn and perhaps sneak a peek at the results of Lipski's patterns, such as the popular Quatro Capelet – a beautiful shawl knit in similar fashion to an infinity scarf.
Appreciate local talent, businesses, and learn more about Lipski's alpacas and the art of yarns and fibers.