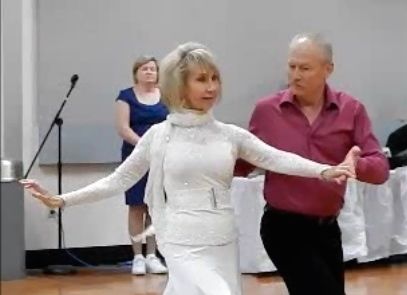 By Margo Greenman

Do you have two left feet? I know I do. But even born naturals require a bit of training in order to hit the dance floor with grace and finesse. Grays Harbor resident and professional dancer Arlene Hoiland knows this all too well. A professional dancer by trade, Arlene started dancing at a young age. And, after a successful career teaching for Arthur Murray Dance Centers and Fred Astaire Dance Studios in Oregon and California, Arlene relocated to Grays Harbor where she's been sharing her talent with Harborites for more than 35 years.
Arlene's professional training began when she was just 10-years-old, but she started dancing long before that. "I'm from an Irish family," Arlene says. "We would dance for weddings, for funerals, for any occasion. Singing and dancing is in my background." By the time Arlene started training in ballroom dancing, she was skilled enough to teach ballet and tap to the younger students at the studio where she trained. When Arlene got older, she co-owned and taught at an Arthur Murray Dance Center in Oregon before moving south to San Diego where she taught at a Fred Astaire Dance Studio.
Teaching dance and winning medals in competitions was a regular part of life for Arlene, and that didn't change when she decided to move north to Grays Harbor. Arlene was visiting family in Aberdeen when she met and fell in love with the man who would become her husband. Not long after they met, Arlene and her young son relocated to the Harbor to start their new life. It was a big change for Arlene, but that didn't stop her from dancing.
Since relocating to Grays Harbor more than 35 years ago, Arlene has been a prominent part of Grays Harbor's local dance community. Arlene has taught dance lessons at the YMCA of Grays Harbor, Grays Harbor College, out of her own home, and as part of her role as president of the Dance Club of Grays Harbor—an organization she couldn't be more proud to be a part of.
"We started the dance club seven years ago," Arlene says. "This dance club is really outstanding. You don't have to be a good dancer to come to the dance club; there are a lot of beginners and people who have never danced," she explains. And they have a lot of fun, too.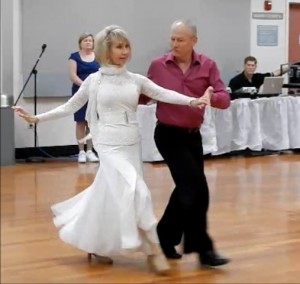 "We're a positive group," Arlene says. "We bring in live music and people can come in and dance their own style, or, after 7:00 p.m., I offer a free lesson." Arlene says these free lessons are a great way for the community to learn specific dances like the waltz, swing, salsa, tango and other fun routines. After the hour long session, people can then choose to either go home or stay for the big event: Dance Club of Grays Harbor's monthly dance. Admission is $12 for non-members and $9 for Dance Club of Grays Harbor members. The evening includes music, food, fun and, of course, dancing. Arlene says each event is different. Sometimes they do mixers where everyone changes partners, other times there's a line dance or a grand march. "There's something for everybody," she says.
Over the years Arlene has had many students, some of which are well known members of the Grays Harbor community. Mark Swanson, owner of Swanson's Foods, is one dancer Arlene is especially proud of. Arlene says that after a few lessons, Mark told her, "I don't know why I didn't start this years ago." Arlene says the range of dancers the club gets is vast. People of all ages and skill level are invited to join the group. And, with skilled dancers like Arlene and other club officers like Mark Van Hemert, Roseann Carpenter-Reed, Steve Raher, and Lori Fournier, there are lots of talented dancers on deck to teach newcomers the ropes.
Arlene says some Dance Club of Grays Harbor members have become truly exceptional dancers, and they have awards to prove it. Last July several Dance Club of Grays Harbor members headed to Olympia where they competed in the Washington State Senior Games. "We came home with 53 medals, 47 of which were gold," Arlene exclaims.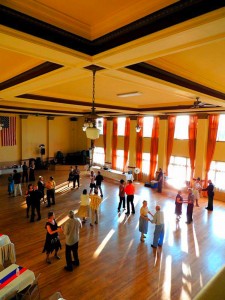 Of course, if you feel as though you may need a few extra lessons to get up to gold medal level, you can always take a private lesson with Arlene, or sign up for one of the dance courses she will be teaching at Grays Harbor College starting later this month. Arlene says the course will cover swing dancing for beginners and is a great opportunity to learn some basic dance fundamentals. The course is five weeks long, and people interested in signing up can find more information by contacting Grays Harbor College at 360- 532-9020 or by visiting the college's website here.
Arlene also invites dance-minded community members to get a sneak peek at the Dance Club of Grays Harbor during one of their monthly dances (they're always held the third Saturday of each month at the Hoquiam Masonic Hall). "The club is always looking for new members," says Arlene. You can also contact Arlene directly with questions about the club, dance lessons and more by contacting her directly at 360-533-1412. For more information about the Dance Club of Grays Harbor, visit their website here.