By Lindsey Surrell
Perhaps you remember sitting in the Aberdeen Eagles Club. It's the late '90s and the crowd has all joined in a rambunctious rendition of "Mustang Sally." Or maybe you remember recently being at Charlie's Sports Bar and your whole table has started dancing to "Man, I feel like a Woman." Like many Grays Harborites can testify, seeing local cover band Ready or Not feels less like a concert and more like a party.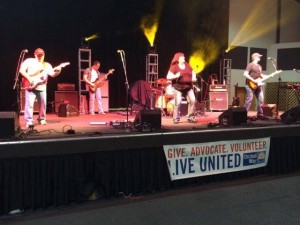 And, the party has been going on for 23 years. The core of the band has been consistent for about two decades with original member Donn Fluery, guitar, and Suzanne Dehnert, lead singer, and Tracy Dehnert, drummer, joining shortly after. In the five years that followed, Ricky Manwell, lead guitar and keyboard, and Scott Oldman, bass, also joined along. Scott unexpectedly passed away this past year and Tyler Tingey, who had been in the band temporarily years before, stepped back in permanently on bass.
When Scott passed away it was really hard for the band. Suzanne says when you have been with a band for 20 years, it is impossible to not be like a family. From having kids to marriage, divorce, and now loss, the band members have been with each other for many life milestones. "It's like being in another marriage." says Tracy, who married bandmate Suzanne a few years after they joined the band together.
And, throughout the years, the band has seen changes in each other, too. Rick says, "We've mellowed over the years. There were times we partied as much as the audience. We're still having fun, but we want the music to sound good, too."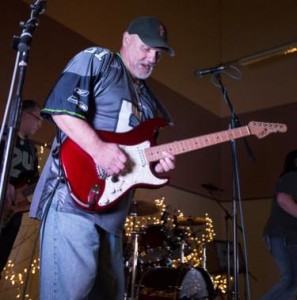 Ready or Not's set list is mostly classic rock and a little bit of country, with the philosophy to play songs that everyone in the crowd will know. If the dance floor is packed and people are having a good time, then they know that's a song they'll continue to play. There are some songs, like "Play That Funky Music," that they have been playing for 15 years. The band will take song requests, even ones they barely know. "We'll play a quarter of a song just to make someone happy," says Rick.
In addition to choosing fun songs, the band really strives to create a fun atmosphere with the crowd. For example, letting a crowd member come on stage and sing with them or play an instrument. Rick says, "If they're terrible, we might not let them back up again, but it's a fun night."
The band also likes to come off the stage and interact with the audience. Whether it is Suzanne standing on the bar singing a duet with a crowd member or the band bantering with the audience in between songs, their goal is fun.
And they have fun off the stage, too. "We are like brothers and sisters," Suzanne says. "We joke and laugh all the time."
One of the biggest hurdles Ready or Not is faced with is adding new music to their set list. With lives and jobs outside the band, having time to get together to learn new music is tough. That being said, the band tries to vary where they play so the crowd doesn't get tired of hearing the same songs.
The band has played at local bars, casinos, private parties, weddings, fundraisers and, most recently, a high school dance. Tracy says once the parents of the high school students heard Ready or Not was playing, they wanted to chaperone. Ready or Not has also travelled throughout Washington and Oregon to do shows. As Rick says, "Anything we get asked to play, we're willing to do it."
Ready or Not's "let's just go out and play" philosophy is perhaps the secret to their success and longevity. As Tracy says, "There's a lot of musicians around here who are better musicians than us and can put together a better band, but you won't have as much fun listening to them as you would with us."
To learn more, follow Ready or Not on their Facebook page.
All photos courtesy of Ready or Not.