By Douglas Scott

Life in Grays Harbor comes alive in the spring, welcoming the returning migrations of animals in our waters, on our lands, and in our skies. In April and May, tens of thousands of gray whales swim along our coasts, and hundreds of thousands of shorebirds stop along our beaches and estuaries, heading north for the summer. The great shorebird migration is part of a time-honored event in Grays Harbor, bringing in tourists from around the country in this mass migration to the Grays Harbor Shorebird Festival at the Grays Harbor Wildlife Refuge in Hoquiam.
During the first weekend in May, thousands of visitors from as far away as Oregon, California and Idaho flock to Grays Harbor to see the hundreds of thousands of shorebirds from as far away as South America. During the Shorebird Festival, 23 different species of shorebirds are seen making this migration each year, with the Grays Harbor Wildlife Refuge serving as one of the amazing stops for resting and eating on their journey. The migration in Grays Harbor typically lasts only three weeks, but their arrival helps kick off spring.
"Each and every year, the Shorebird Festival is a lot of fun," explains Shelia McCartan, the Education Coordinator for the Grays Harbor National Wildlife Refuge and a member of the Shorebird Festival Planning committee. "The Shorebird Festival is really great celebration of a nature phenomenon in our backyard."
While shorebirds get a majority of the attention during the festival, their arrival also brings in the fastest flying bird on earth, the Peregrine falcon. Once nearly extinct, Peregrine falcons use their impressive speed to catch and eat the smaller shorebirds. As the Peregrine falcon looks to eat, the shorebirds group together and fly in huge flocks, twisting and turning in unison. Hovering above, the Peregrine falcon soon darts toward a single shorebird, catching it in flight with its sharps, strong talons. All of this can be, and is regularly, seen during the Grays Harbor Shorebird Festival.
With thousands of shorebirds to watch, as well as keeping an eye out for Peregrine falcons and other raptors, attending this event may seem intimidating to those curious to start birdwatching. Thankfully, the Grays Harbor Shorebird Festival has numerous events that are fun, educational, and led by experts in the birding community. Starting Friday night, and going through Sunday, there are 17 events, classes and field trips to choose from. Detailed information on the events, tours, and trips can be found at http://www.shorebirdfestival.com/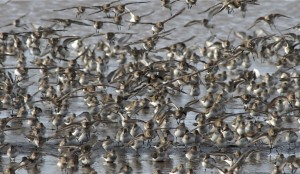 Grays Harbor Talk's Five Best Bets for the 2015 Shorebird and Nature Festival
Field Trips
There are seven field trips offered at this year's Grays Harbor Shorebird Festival, ranging in price from $15 to $45. The field trips last anywhere between two to eight hours and cover a wide variety of destinations and topics.
On Friday, field trips to Ocean Shores, and a loop tour of Tokeland, Grayland and Westport are being held. Saturday sees another field trip to Ocean Shores, as well as one to Point Grenville, and a raptor tour around the Humptulips region. A "Shorebirds for Beginners" class will also be held on Saturday from 12:00 – 2:00 p.m. Finally, one field trip will be held on Sunday, heading out to numerous spots around Westport.
Shorebird Identification Basics
On Saturday from 10:30 – 11:30 a.m. Lecturer Matt Pike will be giving an amazing talk on Shorebird identification. For just $10, you can learn from experienced birders and become familiar with the more common shorebirds in the region. Participants in this lecture are strongly encouraged to follow up this lecture with the "Shorebirds for Beginners" Saturday field trip to Grays Harbor Wildlife Refuge.
Guided Walks at Grays Harbor NWR
On Friday, from 10:30 a.m. – 12:30 p.m. and Sunday, from 12:30 – 2:30 p.m., free guided walks, led by naturalists will be leaving from the Refuge Kiosk on Airport Way. The tour hikes along Sandpiper Trail at the best shorebird viewing times, making this flat, easy 2 mile round-trip hike an excellent place to see incredible bird watching. Make sure you bring binoculars and warm clothes!
Nature Fun Fair and Birding Marketplace
On Saturday, 9:00 a.m. – 5:00 p.m. and Sunday, 9:00 a.m. – 4:00 p.m., kids and the young at heart are encouraged to participate in the Nature Fun Fair. The Nature Fun Fair will have numerous wildlife art projects and activities of all kinds, letting kids and families make thumbprint art, buttons and shorebird art with birding experts and volunteers. Also during this time, there will be a Birding Marketplace, where exhibits and vendors who specialize in birding and nature are available to give advice and get you hooked up with your birding needs.
Shorebird Festival 2 Mile Run/Walk, 5K and 10K Race
Between 8:00 a.m. – 9:00 a.m. on Saturday, registration for the Shorebird Festival Run/Walk will be held at the Hoquiam City Hall. Costing only $5 without a t-shirt and just $15 with a Shorebird Festival t-shirt included, this event is a fun way to support the event and be active in our community. You can pre-register for the 2 Mile run/walk, a 5K and a 10K run by calling 360-532-5700, ext. 240. At 9:00 a.m., the races start with awards given after the conclusion of the races for the first through third place finishers in each age division.
Keynote Speech by Alan Rammer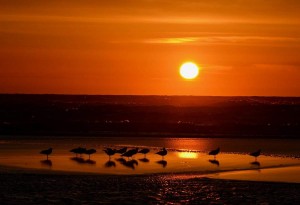 Starting as a dessert reception at 6:45 p.m. on Friday evening, experts in the birding community will gather together to officially kick off the Shorebird Festival, as well as listen to a speech by Keynote Speaker Alan Rammer. Alan Rammer spent the majority of his career working with the Washington Department of Fish and Wildlife, retiring in 2009. Working now as a marine educator, Alan will be sharing a bit about his background, as well as discussing the eating habit of shorebirds. This fascinating talk will be entertaining and educational, as Alan was named in 2012 as National Marine Educator Association's "Maritime Educator of the Year." The event costs $15, with the speech starting 45 minutes after the dessert reception begins.
Grays Harbor Shorebird Festival
Best Viewing Times:
Friday, May 1 – 10:30 a.m. – 2:30 p.m.
Saturday, May 2 – 11:20 a.m. – 3:20 p.m.
Sunday, May 3 – 12:00 p.m. – 4:00 p.m.