The Pacific Northwest is a hotbed of paranormal activity. Whether it's sightings of the illusive, hairy Sasquatch or extraterrestrial visitors streaking across the sky, we experience more than our share of the mysterious.
In the early months of 2015, there were more than 1,100 UFO sightings nationwide. Washington is third on the list of states with the most sightings overall. If the possibility of aliens doesn't intrigue you, consider that a Pew Research poll reports that "nearly one-in-five U.S. adults (18%) say they've seen or been in the presence of a ghost…An even greater share – 29% – say they have felt in touch with someone who has already died."
Whether you have doubts or, in the spirit of the X-Files, just want to believe, the upcoming UFO/Paranormal Summit at Quinault Beach Resort and Casino on March 4-5 can help. This will be the inaugural year for the event and is the brainchild of Johnny Manson of Sasquatch Summit fame.
Manson, a Grays Harbor radio and television personality, explains that through the Summit "we are hoping to cover everything paranormal: ancient sea creatures, Sasquatch (there is a paranormal aspect), UFO, alien abduction, implants, ghosts, fairies, and the research and physical evidence surrounding these topics."
There will be 10 speakers over the course of two days, many from MUFON, the Mutual UFO Network, and SUFON, the Seattle UFO Network. These experts in the field were glad to participate in the Summit. Says Manson, "MUFON members had attended last year's Sasquatch Summit and were very impressed with how it was run. When they heard that we were going to do a UFO/Paranormal Summit, they were very interested in participating. They have been a huge help."
Aside from expert lectures, there will be a Witness Town Hall, meet and greet social, vendors, art, and food and drink options provided by Quinault Beach Resort. The hotel will also be offering event packages which include a two night stay and entry to the Summit. There are a limited number of rooms available with the discount code UFO so book early by calling 888-461-2214. Only staying one night? March and April discounts are available for Sunday through Thursday stays with code WIN1.
Tickets for the event are available online or at the door. A 2-day pass is $30 and includes all activities in the Great Hall, Hall Lobby, and extensive resort grounds.
Manson hopes to match the approximately 300 attendees who attended the first Sasquatch Summit. He and his team are also accepting vendor applications for the event.
Stay up to the minute by following the Summit on Facebook or contact Manson via the event's website.
Even for a weekend stay-cation, Quinault Beach Resort makes it easy to stay, play, and learn. While at the Summit, be sure to enjoy their many spa and gaming options in between the amazing food, ocean-front views, and nearby outdoor attractions.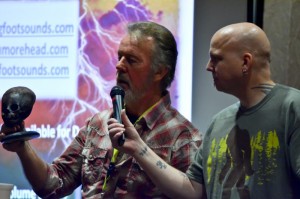 It's been reported that more than half of Americans believe in intelligent alien life, with more than 75% of responders thinking such aliens have visited Earth. Wherever you stand on this issue, the UFO/Paranormal Summit welcomes you to experience the unusual, close to home.
The Quinault Beach Resort is located at 78 State Route 115 in Ocean Shores.
Sponsored