The Aberdeen High School boys swim team was in need of a diver.
The ad would have read: Experience preferred, but not required.
Enter freshman Kai Kawashima.
Kawashima had been swimming basically his entire life and competitively for the past three years, but his background in diving was minimal.
"I actually had never tried it before," Kawashima said. Perhaps the article should read that his experience was non-existent, but what the 15-year-old Kawashima lacked in familiarity, he made up in gusto.
"Our only diver quit and we needed divers so they asked if anyone wanted to try out," Kawashima said. "They ended up picking me. I just gave it a go. I like to try new stuff."
There's attempting new ventures and then there's the harsh, unforgiving reality of diving on novices.
"Diving can be brutal," Aberdeen swim coach Angie Durr said. "If you do it wrong, it's like landing on concrete."
And in the longstanding battle of concrete vs. man – concrete is undefeated.
Unfortunately, Kawashima can confirm such a statement as things didn't always go swimmingly with his dives during the initially attempts.
"Yeah, there were a few times," Kawashima said when asked if the thought ever entered his mind to forgo the world of diving and stick to just swimming, "but after a little while, diving just felt right."
Kawashima became the Bobcats new diver in early January. A mere six weeks later he had a district title on his resume and was competing at the 2A state swimming and diving meet at the King County Aquatic Center in Federal Way.
"It really is remarkable how fast Kai picked it up," Durr said. "Six weeks is not a long time to go from never diving before to competing at state, and to do it all as a freshman is really something."
Kawashima did not make the trip to Federal Way alone, however, as junior teammate Robby Lewis competed in the 100 butterfly and 50 free and joined senior John Jugum, sophomore Sage Bridges and freshman Conner Gates on the 200 medley relay and 200 free relay at the state meet.
It was the third trip in three years for both Lewis and Jugum, but the first for everyone else.
"It's phenomenal. I didn't think we would take any relay teams to state this year," Lewis said. "Taking two is great because it fills up some hotel rooms. If I would have just came by myself it would not have been fun at all. It's great to get everyone up here."
Kawashima entered state as the ninth-seeded diver, but did not advance out of preliminaries.
"It was quite overwhelming," said Kawashima, whose high marks during the meet occurred on an inward dive pike and forward 1 ½ somersault pike, about his first trip to state, "but just getting here has been awesome."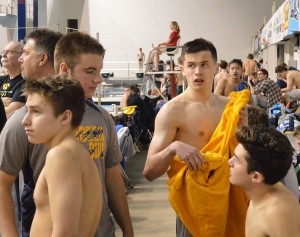 With his whirlwind first season now complete should we expect Kawashima back on the diving board next season?
"Definitely," Kawashima said. "I plan on doing this again next year."
Lewis, the 2A District IV champion in the 100 butterfly, finished 15th overall in the event. He posted a time of 57.62 in the preliminaries and stopped the clock in 58.46 in the finals. His top time this season was 57.32 – set during his district title triumph.
Despite dropping time off his 50 free in the preliminaries with a finish of 23.86, Lewis, who entered state with a seed time of 24.34 in the event, did not qualify for the finals.
The Bobcats 200 medley relay team finished 20th overall in the state preliminaries, covering the distance in 1:54.57.
The 200 free relay team of Bridges, Gates, Jugum and Lewis finished the event in 1:42.15 in the preliminaries, improving on their district time of 1:42.48.
"It's been a rollercoaster season," Lewis said. "I didn't think we'd take eight guys to state. It's great to take young guys because it gets them excited for next year. We only have two seniors and one junior on the team this year. We have more years to come."
Aberdeen will make the transition to the 2A Evergreen Conference next season, joining Tumwater, Black Hills, Centralia, W.F. West and Rochester in the six-team conference.
"We are such a young team. We have a couple club swimmers, but everyone else this year is really new to the sport," said Durr, who guided the team to a third-place finish at district. "We had 17 swimmers and 15 made it to districts. I am just really proud of this team and what they were able to accomplish."