Buying a home is an investment in your family, community, and the future. If you are in the market for a larger home, an investment property, or downsizing into retirement, millennial entrepreneur and real estate broker Jason Atwood is ready to serve you.

Premier Realty Olympic Peninsula, Inc, located in Montesano, is officially open for business. Let's learn more about what enticed Jason to open his real estate office in Montesano. Perhaps it was the small-town feel or the appeal of excellent Montesano schools. Maybe it's the friendly people or that most of his clients live in this part of Grays Harbor County. Or perhaps it's simply that Jason is an award-winning realtor who wants to make a home for his family while staying close to the people he loves.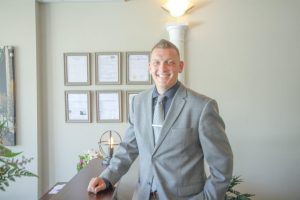 While a student at Aberdeen High School, Jason served as an afterschool program activity provider. He moved on to Top Foods and it didn't take him long to land his first barista job at Starbucks. Over the next few years, as Jason built professional relationships while growing his leadership skills, he was quickly promoted to supervisor, assistant manager, and then store manager. By 2012, he understood that he wanted to continue this fast pace growth of his professional career.
When he first thought about becoming a real estate professional, the idea seemed too risky. "I wanted to continue growing my career, and I wanted to stay in Grays Harbor because all the people we love are here. Getting into real estate seemed like the right next step," Jason said. He continued, "I think it was in January, and Heather told me she was pregnant. We knew we'd be having a baby in September." While driving home from the Westport Winery that night, Jason turned over ideas in his head. With the stability of a full-time job with medical insurance benefits, he took the chance to study for his real estate exam. Jason passed the test and never looked back. "It was a huge step of faith for us as a family," he says.
"I set stretch goals that challenge me to work really, really hard to reach," says Jason with a winning smile. "In these times I may fall short, but it causes me to achieve huge results. When I hit the goals, it's my sign to expand my goals even more."
A talented, enthusiastic, competitive team player who strives to succeed, Jason's mission statement reflects his values – "to provide the people of our community with the professional, friendly service they deserve." I had the pleasure to work with Jason for several years and know first-hand that he builds relationships that last.
Jason admits that 2012 and 2013, his first years as a real estate agent, were tough, but he experienced record setting years in 2014 – 2016. Jason was awarded "Twin Harbor's Best Realtor" these three consecutive years as well. Jason was also a finalist in the National Association of Realtors 30 under 30 award. Out of 400+ applicants across the nation, Jason ended in the top 50. He learned quickly by asking questions, studying, watching others and utilizing his skills.
Jason's next big business move was to open his own real estate office. Jason and his wife spotted an ideal location in Montesano, freshly remodeled with living space in the back. "I decided to take this opportunity to take the next step in my career," he shares optimistically.
"I enjoy real estate and can do it for the rest of my life. Negotiating, filtering conversations, helping people find their new home, offering others a chance to run their own business, protecting buyers and sellers; it's what I do, and I enjoy every minute," he says.
Jason cares deeply about the other agents in his office. His focus will be to teach his team through his actions and leadership. Jason's goal is to grow Premier Realty Olympic Peninsula, Inc. by providing Grays Harbor with the professional, friendly service they deserve. With the support of his parents and the community, Jason is excited about this next chapter in his real estate career. "People that I'd never expect to be commenting and calling have encouraged me."
"My dad is generally pretty reserved but offered simple, powerful advice. Every day when he dropped my sister and me off at school, he would say, 'be nice to people' with a smile. Those words made a huge impact on me," reflects Jason.
When asked if there was a message for his daughter about operating a business, Jason replied, "I hope this company will put her through college. And, I want her to know to be nice to people."
"I'm optimistic. Some people say I am overly optimistic. I set big goals and I have high expectations. This is what separates my team from the rest of the marketplace. Again, we want to provide our community with the best, and this comes with staying current with knowledge of the market, technology, and so much more," says Jason with a smile.
Greet the team at Premier Realty Olympic Peninsula, Inc. at 141 S. Main Street in Montesano. You can reach Jason and his team at 360-249-8187.