The faculty at Grays Harbor College had an important question for local educators: if you could grow your own teachers to come and work in your schools, what would you do? How would you train them and what would they need to know?

The question was not hypothetical. And, the answers have become the basis of a new Bachelor of Applied Science degree at GHC focused on K-8 Teacher Education. Courses will begin in the fall of 2017 and the program will offer two pathways: K-8 with extensive practicum and K-8 with Special Education endorsement.
Local educators told the GHC faculty that the amount of time aspiring teachers spend in a classroom before they are certified should be increased. That way, students can learn all of the related skills that educators need to in order to be effective, including classroom set-up for the beginning of the year, how to pace the middle of the year push, how to maintain a schedule during mandated student testing times and how to assess both student and teacher performance. "There are so many things that go into being a successful teacher," explains JEB Thornton, GHC's Assistant Dean for Transfer and Baccalaureate Programs.
All of those factors were taken into consideration by the team who designed the program. Grays Harbor College is collaborating with Centralia College to offer the degree, which is the third BAS degree GHC has added. As Fall Quarter 2016 began, the first Bachelor of Applied Science, this one in Organizational Management, was launched.  Next year they will be offering a BAS in Forest Management through a partnership with Green River College.
Before any work begins on creating a new degree, the college assesses community needs through a survey. "We do our demographic homework to determine if there's a need for the type of skills we want to offer," says Thornton. "We can't get these programs approved through the State if there isn't a market there, so it's very different than a typical B.A. or B.S. program."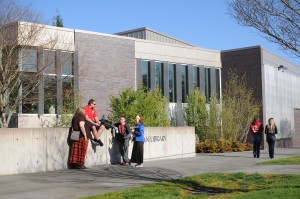 They discovered that Grays Harbor County has a hard time finding – and more importantly, keeping – teachers. "We end up hiring brand new teachers who come to the area, teach for two years and leave, with their newly acquired experience," says Thornton. "We want to grow our own because they'll be more likely to stay here."
Compounding the issue, a significant portion of the teaching industry is approaching retirement age. "We call it the silver tsunami," says Thornton. "We're trying to do the footwork ahead of that wave."
The program will include extensive experience with practicum, as well as student teaching placement. While the first year focuses on preparing students to teach, the second year will include five practicums altogether, with three credits in the fall, five in the winter and two in the spring.
Over the past 15 years, other four-year schools have operated teaching programs in the region, but none of them stayed, says Thornton. "WSU Vancouver and City University were both here, but they pulled out when there were fluctuations in the economy. We wanted to design a robust program that could grow or shrink and wouldn't be affected if the economy shifts."
The collaboration with Centralia College is key as it allows the schools to share their faculty. Students who choose the K-8 with Special Education program can take classes from Centralia College professors without needing to leave Grays Harbor. "The partnership allows us to grow our cohort or shrink to one combined cohort," says Thornton. "We have a deep faculty pool."
It's the only collaboration of its kind in a five-state region, he explains. "For small schools, it's a great way to be able to present a program. Sharing resources provides us with more options for our students."
Being able to offer four-year programs in Grays Harbor is new, and local residents are just beginning to learn of their existence. "We've been getting lots of calls," says Thornton. "There is a lot of interest and need. The biggest response has been from the superintendents and principals in the area. They're the ones saying, 'This is really big for our area'."
Thornton hopes the program results in new leaders within the region. "We're offering things the community has never had. Some people won't drive 40 miles to Olympia to get a degree," he says. "We hope the graduates of these programs will provide leadership for all sorts of organizations, and use local knowledge to help the entire community grow and become more prosperous."
For more information about Bachelor of Applied Science degrees at Grays Harbor College, contact Thornton at 360-538-4022 or jebthornton@ghc.edu.