Led by a strong senior class and supported by a couple of stellar newcomers, Aberdeen High School's girls swimming and diving team posted its best finish in nearly a decade after taking home seventh place at the Class 2A state championship meet.

The Bobcats placed in five events at the King County Aquatic Center, including two relays, and finished with 137 total points to mark the team's highest placing since winning the state title in 2007.
"It's a great group of girls. They have all fabulous attitudes, are hard workers and are just really, really dedicated," said Aberdeen coach Jan Simons. "We picked up some really good quality swimmers, but maintained our depth. That's kind of our usual tradition. They're just a fun group."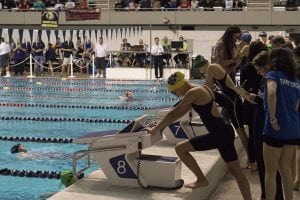 Liberty notched its third consecutive state title, finishing with a meet-high 322 total point to easily outdistance runner-up Port Angeles (260).
Aberdeen freshman Annika Eisele placed in two events, while classmate Kayleia Sias grabbed a sixth place in the 100 backstroke.
"The freshmen coming in totally made the commitment to their sport and they really have that passion for swimming," Simons said. "If they continue to embrace each other and push each other up, I think they have a chance to be like the 2007 team. We have some real quality depth on this team. We're losing some key leadership and some punch from our seniors. Last year we didn't lose anyone. This year will be a loss, but the strength of our middle core is coming back (next season)."
Eisele was fourth in both the 200 IM and 100 fly – the only non-senior or junior to place in the top four in either event.
Already a school record holder, Eisele stopped the clock in the 200 IM in 2:12.46, narrowly catching Cheney senior Alexis Schmidt (2:12.16) for third place.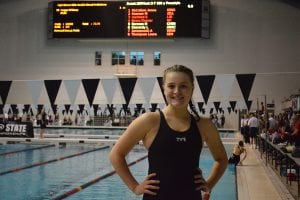 In the 100 fly, Eisele finished in 58.78, bettering her preliminary time by nearly a second. Schmidt won the event in 58.21 with Klahowya junior Kira Crane taking second (58.24) and Port Angeles senior Jaine Macias finishing third (58.78).
"Coming into my first high school season I didn't know what to expect. I was nervous because it was high school. It was big and intimidating, but this ended up being my second family," Eiele said about her first year as a Bobcat. "The team helped me through so much. They're with me through all my journeys. This season has just been so amazing."
The previous season Eisele was among the crowd watching the state meet. A year later she was on the podium receiving some hardware.
"I came to watch a couple of my friends compete last year and kind of got a feel for it. That definitely sparked my interest," Eisele said. "The first meet (this season) I was a little nervous, but after that it's been so much fun. Everyone has such a positive attitude on this team. Even if you have a terrible race the whole team has your back and they're supporting you."
Sias, one of 11 freshmen on the squad, concluded her first year of high school swimming by medaling in the 100 back (1:01.88).
Eisele and Sias also joined senior Mari Rabung and junior Karli Heikkila on the Bobcat's 200 medley relay team which finished fourth in the event.
"I've coached for a long time and I've always valued that team spirit, that team effort, and these girls really embrace that strongly and I'm just proud of them," Simons said. "I'm proud of how they are as swimmers and how they are as people. I feel totally blessed by just getting to be around them and coach them."
Aberdeen's 200 free relay team, which was comprised of senior Emily May, sophomore Katelynn Lewis, Eisele and Heikkila, placed fifth in the event (1:43.86), while Heikkila finished eighth overall in the 100 free (56.61)
The Bobcats will graduate nine seniors from this year's team, including Emily May, who was a state participant in the 200 free and 100 back, and Rabung, who finished 10th in the 100 breaststroke.
"When these seniors were freshmen, the seniors and captains that year really reached out and embraced them and their talent," said Simons, who took over the program in 1994. "Some of those kids as freshmen were actually faster than the seniors. And they were excited. Rising tides lift all boats. That was their philosophy. For me to have the opportunity to be surrounded by such great young people, it's just better than chocolate."
In addition to Eisele, Sias and Heikkila, Aberdeen will return Lewis, who competed in the state 200 and 500 free, freshman Melissa May, who advanced to state in the 200 IM and 100 breast, and freshman diver Trudy Butcher.
"Half our team are freshman, half are juniors. We're already looking forward to next year," Eisele said. "Not only do we have a lot of talent, I think it's also the bond we have. We are just so close. We motivate each other. It's been so much fun. It's exactly how I imagined it would be."