The plan Steve Wells had six years ago was to create an online running club which would provide support and encouragement for athletes of all levels of fitness. He hoped it would be designed as a virtual hub where runners could promote and develop their sport within the Grays Harbor community.
Wells elected to use Facebook as his platform with the hope the group over time could grow to as many as 100 members.
Yeah, he was way off.
Meet the They Ran That Away running club, which has far exceeded any expectations Wells had in its popularity as it is rapidly approaching 600 members.
"This whole group is amazing," said member Shannon Patterson. "Some of the most supportive people I know are here."
The group's primary goal is simple and straight forward – get as many people out and running as possible, regardless of skill level and experience.
Rosa Dziubak hadn't run in 40 years – why start now she thought? "I was that person that said I will never run," Dziubak stated. They Ran That Away (TRTA) changed all that. Things, of course, started small for her. Initial runs were made up of 30-second intervals.
"I felt a little defeated (at the beginning), but with encouragement from friends I kept at it," Dziubak added. "Chandrea Byron added me to the group and the rest is history. A little over a year later I was running the Portland Marathon."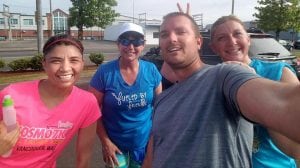 In contrast to her her 30 seconds-at-a-time approach at the start, Dziubak dove right into the deep end of the running pool, head first, electing to tackle a full 26.2 miles instead of the more moderate half-marathon typical for newer runners.
"Yes, I (was a) little insane. This group believed in me even before I believed in myself," Dziubak said. "I still kind of get choked up because this group really has changed my life. I've learned from them that running is mostly mental, a whole lot of heart and always being consistent. All of a sudden, I changed from that person who said 'never' to 'let's do this.'"
The club's page also features a calendar of events section – showcasing local upcoming races such as the Hoquiam Half Marathon, the Run Like the Wind 5K and the Rainbow Romp, as well as races outside Grays Harbor, with hopes of encouraging members to register and participate together.
"Being a newbie to this running thing it has taken me awhile to realize or even think of myself as a runner," Elyce Chase said. "This group has inspired me and given me so much love and support. Running is hard and this group reminds me of the joy of not only running, but how to love and support others. I have made some very cool friends through the TRTA page."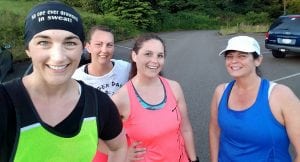 The club also allows members to organize group runs through the site with one of the more popular sub-groups meeting and running together at 5:00 a.m.
"I was a solo runner for a long time, and not for very far distances. I never dreamed of running longer than a half marathon," Sarah Carossino said. "I was added to this group and quickly found this was one of the best things that could have ever happened to me. I started having to run at 5 a.m. instead of the afternoons, but running in the dark solo was not sitting well with my husband. I was able to coerce some people into joining me now and then. First Steve Wells, and then others I had never met started to join in (and) 5@5 became a thing. It amazed me how quickly we became good friends."
Added Patterson about the 5@5ers, "We've run through weight loss, weight gain, babies, moves, job changes and more. We make each other laugh, we support each other and we make terrible fun of each other. We've been dive bombed by bats on dark, early morning trail runs. We've been choked by sewage smells. We've met at 3:50 a.m. for nine-mile training runs in windy sleet storms."
All elements which are made considerably easier to run in when you're doing it with friends.
"The beauty of TRTA is the opportunity to run with a diverse group of people that you otherwise would never come in contact with," Brian McGregor said.
"Who knew that a nutritionist, a school nurse's assistant, a preschool para-educator, a teacher, a couple Comcast employees, a bank worker, a cop and many, many more could have such good times together for so many years?" Patterson asked.
Maybe you can find out for yourself.
Learn more about They Ran That Away by visiting their Facebook group.