Submitted by Oyhut Bay Seaside Village
Mornings just got a whole lot brighter on the South end of Ocean Shores with the official opening of the Riptide Coffee Company at Oyhut Bay Seaside Village.
On Friday, August 4, Riptide officially opened their doors and the inviting aroma of fresh coffee filled the Village Square. Riptide Coffee Company is the collaboration of Jodi Vuchetich along with Terry and Timothy Staller. Just like a great cup of coffee, they are the perfect blend for this new endeavor.
Timothy Staller brings his experience dating back to 1996 in the Edmonds and Seattle area as an energetic and progressive barista at Mokas and as the former owner of Seattle Grind.
Jodi is a full-time resident at Oyhut Bay and after initially purchasing a condominium for vacation use, decided to move to the beach full time with her family. Her 2 daughters are excited in their new roles with the coffee company as the official dog treat ambassadors.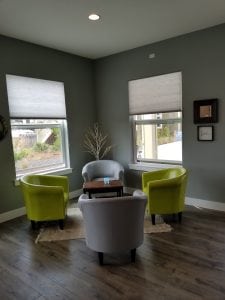 Riptide will provide a unique experience that is beach casual, with a signature style. Look forward to freshly baked pastries including croissants that have quickly become a house favorite.
Specialty beverage offerings at Riptide Coffee Company include a Cardamom latte with a base of simple syrup, handmade with bitters and orange zest. Another one to try is the Lavender latte, a light tasting finish also hand crafted from fresh ingredients.
The owners and baristas look forward to sharing their passion for great coffee, the beach, and the Oyhut Bay experience with visitors.
Riptide Coffee Company is located at 404 Salmonberry Lane SW Unit "C" in the Village Square at Oyhut Bay Seaside Village Ocean Shores.
The hours of operation are daily from 8:00 a.m. to 2:00 p.m. Follow their Facebook: Riptide Coffee Company or email at: Riptidecoffeeco@gmail.com