Have you ever dreamed of flying? A group of aviation enthusiasts right here in Grays Harbor are eager to help you explore your interest in airplanes on and off the ground. The members of Chapter 367 of the Experimental Aircraft Association (EAA) would be only too happy to help you up into the Grays Harbor skies.

You do not have to be a pilot or even own an airplane to join the Experimental Aircraft Association. This international nonprofit organization promotes and supports recreational flying and everything connected to recreational aircraft: "We fly them. We fix them. We even build them."
Aviation is an exciting field well worth exploring for young and old, whether as a hobby or even a career. Currently, there is a shortage of airline pilots. Other aviation careers include air traffic controller, mechanic, avionics technician (taking care of aircraft electronic systems), FAA (Federal Aviation Administration) careers and, for the very adventurous, aerobatics (aerial acrobatics).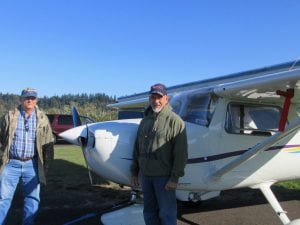 Jim Banas is the president of Chapter 367, the 20 member Grays Harbor division of the EAA. The Pennsylvania native holds a degree in mechanical engineering and served in the US Air Force for 20 years. He says he fell in love with Alaska on his first assignment as a pilot. He retired to Grays Harbor because here he can enjoy the beautiful coastal forest wilderness without Alaska's extreme temperatures and high cost of living.
"You don't have to be a professional to join the EAA," Banas points out. "Our members come from all walks of life. The only prerequisite is an interest in aviation." Native harborite Jim Criel is a private pilot EAA member. He took an airplane flight at age ten and knew then and there he wanted to fly. However, his career led him in a different direction. A former city electrician for Aberdeen, he has worked in the field for 47 years. In 2002, he decided to take flying lessons. He received his pilot's license in 2003. Today he is the proud owner of an airplane, a pretty little Cessna 150.
There are different ways EAA members acquire their airplanes. Some purchase a new plane or refurbish a used one. Others buy a complete kit including plans and prefabricated parts. Parts may be purchased in installments as finances allow. Skilled mechanics may buy plans only and manufacture their own parts. Finally there are inventor types who design their own experimental aircraft and construct it entirely from scratch. The construction of an aircraft can be a wonderful group project for an EAA chapter.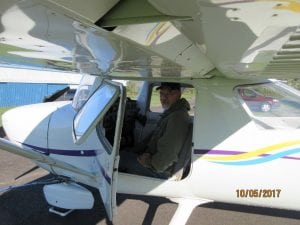 "Flying is not as expensive as people think," Banas explains. "Owning an airplane does not need to cost more than owning a boat or an RV." Costs include flying lessons and the original pilot's license followed by a flight review by an instructor pilot every two years. The airplane is required to be inspected by a licensed mechanic every year. Pilots who carry passengers are required to take a medical exam every two to three years depending on age. They also need to be current in their flight experience which is recorded in a log book. To carry a passenger, the pilot must have done at least three landings in the previous 90 days. License requirements also depend on the type of airplane. For light sport air planes, a valid driver's license is sufficient proof of health. Ultra light airplanes that fly very slowly may be operated without a pilot's license. Gliders fall in the certified category and may be flown at age fourteen while motored aircraft may be flown from age sixteen.
In order to attract young members, EAA chapters often organize Young Eagle Flight Days where kids from age eight to eighteen are taken on 15- to 30-minute flights, with parental consent, at no charge. Participants receive a beginner's log book and a certificate for the completed flight, which qualifies them for a free youth membership.
EAA volunteers love to share their love and knowledge of flying. Banas, who is a member of the North River School Board, is an experienced aviation educator. He is available for presentations to students and adults. One of his missions is to encourage women and the disabled to explore flying. He mentions the inspiring examples of Aerobatics Olympic Gold Medalist Patty Wagstaff, Emily Warner, the first female airline pilot, and Jessica Cox, a licensed pilot without arms.
EAA Chapter 367 does not currently have any youth members. It is a unique opportunity for students age eight and up interested in aviation. An experienced group of pilots and airplane owners are inviting you and your parents to visit Bowerman Airfield in Hoquiam to learn about aviation, to work on airplanes or to fly over Grays Harbor with them.
Chapter 367 meets every second Wednesday alternating between Elma and Hoquiam.  Contact Jim Banas at banasj23@gmail.com for membership information or for scheduling a presentation.