Submitted by Adopt-A-Pet
Meet Theo! Every shelter volunteer here at Adopt-A-Pet squealed with delight upon meeting him, and gazing into the mournful eyes of his chunky-cheeked face (Apparently, he is way cute because they all wanted to smoosh his chubby cheeks). He is super sweet and loves to "talk" in his tenor voice.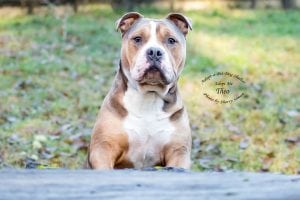 Theo enjoys toys, walks, car rides, and is gentle with kids. He will need a grain-free diet to keep him healthy, and is allergic to chicken. Theo is looking for his forever home with a fenced yard, no cats, and good people who will spend quality time with him.
Adopt-A-Pet has many great dogs and always need volunteers. To see all our current dogs, visit the Adopt-A-Pet website, our Facebook page or at the shelter on Jensen Road in Shelton. For more information, email thedoghouse3091@hotmail.com or call 360-432-3091.