If you've been searching for a local sports team that you can support, then you're in luck. The Grays Harbor Gulls FC have officially spread their wings and landed in Grays Harbor, making their debut this coming spring 2018.

What started as a mere idea for local Aberdeen brothers Ben and Alex Barene has now become a full-fledged sports team. The two grew up playing the soccer throughout their childhood and now continue to express their love of the sport with Alex playing soccer throughout his college career while Ben coaches the soccer team Aberdeen High School. Needless to say, the Barene's are passionate about creating a team that residents can rally behind.
The Evergreen Premier League (EPLWA) is the Washington State amateur men's soccer league that is affiliated with the United States Adult Soccer Organization. The recent expansion of their new league, Western Washington Premier League, proved to be the perfect timing to coordinate a club in Grays Harbor. Although organizing a new team was no easy task, the Barene brothers set their sights high and were able to acquire the proper approval to begin the process of building the Grays Harbor Gulls FC. Not only does the area have the talent, but there's also an obvious passion for the sport with successful soccer teams offered at almost every high school in the county. Both Aberdeen and Hoquiam High School have continually appeared at the Washington State tournament, meaning high caliber players are already in the area.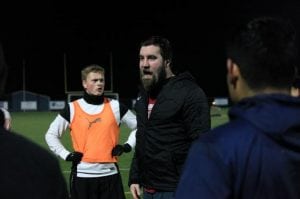 The Grays Harbor Gulls FC was officially formed in late 2017, coming together and crossing almost every hurdle needed to form a local team over the past few months. "We have a lot of raw talent around the Harbor," says Ben. "We want to give those talented guys a place to play competitively."
Bringing a sports team into both larger and smaller communities gives locals a reason to come together for a positive cause, as well as the addition of local pride and a sense of place for many. The people of Grays Harbor have a chance to support this team because they're seeing their kids, siblings and friends on the field doing what they're passionate about.
Gearing up for the season means more than just a few games, but also for the beginning of a new era on the Harbor. The Gulls team name may make you feel reminiscent of the once popular Grays Harbor Gulls baseball team from the 1990s. Although the baseball team is no longer around, coaches and coordinators for the Gulls FC are optimistic that the soccer team will take off, giving a renewed sense of passion to the entire county.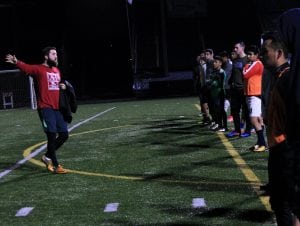 "What we're most excited about is giving local players a team where they can play regularly and competitively," explains Ben. "We're also thrilled to be giving the community we were raised in a fun opportunity to support our team and get involved with the club. It's truly going to be a lot of fun for everyone involved."
The Harbor has a huge amount of talent, but until now hasn't offer a men's soccer team beyond high school. The lack of a local adult men's soccer team has resulted in many high school graduates leaving Grays Harbor to find a team to play on, or all together giving up on the sport. However, with the formation of the Grays Harbor Gulls FC, local young adults will have the prospect to continue playing while attending Grays Harbor College or entering the workforce.
Keeping with the media savvy time, the Barene brothers and Head Coach Drew Grannemann have made a point to bring social media into the mix. Not only has this sparked an early following of the team, but it has also helped with the promotional efforts, hopefully resulting in a fan base of all ages. A recent Twitter post on the Gulls' account exploded with excited responses from users already thrilled for the season to begin.
Opening tryouts will take place on March 3 from 10:00 a.m. – 1:00 p.m., and March 4 from 1:00 p.m. – 3:00 p.m. and are open to ages 18 and older. If you're not interested in playing competitively on the Gulls, plan to attend open fields at Aberdeen's Stewart Field on Wednesdays from 6:00 p.m. – 8:00 p.m. and Saturdays from 10:00 p.m. – 12:00 p.m. Any interested players are encouraged to attend and get to know other local players.
The Gulls will be playing their home games beginning in April at Stewart Field, and with six to seven home games a season, this spring will be an exciting time for teammates and fans alike. Tickets will be very affordable, meaning the whole family will be able to cheer on the team at a reasonable price. If anyone wants to get involved with the Grays Harbor Gulls FC in any way, please send an email to ghgullsfc@gmail.com, private message them on Twitter, or on Facebook. Sponsorship opportunities are available for businesses interested in partnering with the Gulls FC. If you are interesting in contributing to the club and to the community, don't hesitate to reach out to them.
Look out for more information on local players and games in the coming months.