The Pacific Northwest is gorgeous, all up and down the Puget Sound corridor. But, at the base of the Sound is a gem like no other. With the state capital as a hub, Olympia and Thurston County is much more than just a political place. Its culture, history and gorgeous scenery draw visitors from far and wide, for business and pleasure. Downtown Olympia is filled with public art installations and crystal clear waters spring from an artesian well, which made the city famous long ago. The Deschutes River creates a spectacular sight at Tumwater Falls and the history of the Olympia Brewing Company is an iconic emblem of our community.
Are you heading west? Instead of just hitting the mall for shopping or Costco to fill the pantry, spend some time exploring the beauty, history and fun of Thurston County. But where to start? Experience Olympia and Beyond – the Olympia-Lacey-Tumwater Visitor and Convention Bureau – has you covered.
Experience Olympia and Beyond's creative social media campaign, Selfie Spots, shares iconic locations around Thurston County. Director of Marketing and Communications, Moira Davin, shares how the concept was created through careful research looking at visitor foot traffic throughout the area. There were several locations frequently tagged on social media and photographed by visitors.
Consistently popular tourist attractions such as Olympia Farmers Market and Tumwater Falls were among the top five. "These spots had so many great selfies on social media," says Davin. From this very basic observation came the idea for Selfie Spots.
Selfie Spots are pretty much what they sound like. Davin and her team identified 21 locations throughout Thurston County and created a "social media scavenger hunt" to find them all. Historical significance or iconic and defining qualities of locations were considered when making the list. These "spots" are marked with, literally, a large "spot" on the ground. Simply stand on the spot and snap your selfie.
Each site also lists a unique hashtag to include on your Instagram feed, as well as a hashtag defining the entire campaign, #decidelydifferent.
ThurstonTalk hit the road to check out some of the selfie spots for ourselves. Some were old favorites, but others were unique and we loved getting to know our home a bit better with this fun list.
Selfie Spot #1 – Mark Twain Statue. In the heart of Tumwater, you'll find a perfect Selfie Spot for any lover of literature – the Mark Twain Statue.  Mr. Twain is relaxing on a bronze bench and invites you to sit awhile and snap a pic with him.
Selfie Spot #2 – Tumwater Falls. Rushing water, gorgeous views and seasonally spectacular images no matter the season. In winter and spring, the river is known for dramatically overflowing the banks in a torrent of rain and snowmelt filled fury. In the late summer and fall, the adjacent salmon ladder showcases spawning native fish. In the summer, stroll the leafy pathways and learn the history on an interpretive walk. The Selfie Spot here gives the best view of the falls, but the entire park is worth a look with historic markers throughout.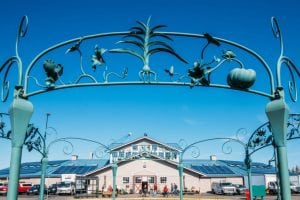 Selfie Spot #3 – Olympia Farmers Market.  No visit to Olympia is complete without a stop at the year-round market. As the largest, permanent market in the state, the Olympia Farmers Market provides selfie opportunities with a farmers, crafters and artists, seafood experts, gardeners and more. Fuel up with a hot lunch from one of the food stalls. Find the "spot" as you navigate the booths and pick up some local produce or handcrafted souvenirs to remember your visit. Check hours before visiting as they change seasonally with April – October as the main season open Thursday through Sunday, 10:00 a.m. to 3:00 p.m.
Selfie Spot #4 – Gate City Schoolhouse. This historic one-room school house takes you back in time. Any "Little House on the Prairie" fans out there?  The Gate City Schoolhouse in Rochester doesn't disappoint. The historic one-room schoolhouse was built in 1910 and has been preserved by the Gate Community Club since 1944. The old school bell still rings.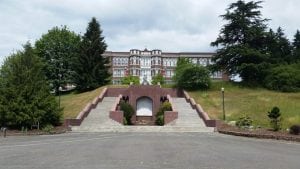 Selfie Spot #5 – Saint Martin's Stairs. Heading into Lacey, the gorgeous campus of Saint Martin's University is full of pathways, vistas and historic buildings and statues. The iconic staircase offers both a spot for exercise and contemplation as well as the perfect selfie spot. Stroll the grounds and don't miss the historic Abbey and adjacent cemetery.
Head west, my friend! Find the beauty of Thurston County and the southern end of the Puget Sound. The Selfie Spots campaign offers a guide to experiencing Thurston County in a new way. There are no rules when it comes to taking part in the adventure. Take a photo with the Kissing Statue on an evening stroll or make a game of it and see how many spots you can visit in one day. Engage your teens in a constructive way to use those ever-present phones. Just don't forget to use those hashtags and showcase how #decidedlydifferent Thurston County really is.
The map below is an interactive way for you to access the full list of Selfie Spots and plan your route.
Sponsored