The pinnacle of summer fun is summed up in Olympia's annual celebration known as Lakefair. Here you will find amusement park-like rides and games, fried foods, and a wide variety of local vendors all right at the base of the lake. This year, look up the hill toward the Capitol Campus and you´ll discover a new event with amusements of its own, Capital City 3 on 3 on July 14 and 15.
This world-class basketball tournament will take over the steps of the Capitol in its inaugural year. "We are expecting to draw thousands of attendees," explains Robin Johnson, owner of 90TEN Training Academy. "This is our first year so we are hoping the whole community will join in on the fun. Our basketball courts will be set up on the grounds of the Capitol Campus. To be right in the heart of that campus with Lakefair in the background really makes this a unique site."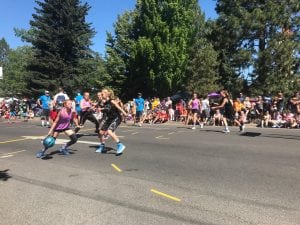 To make sure that anyone interested can get involved, teams are split into different divisions. Within the categories of Elite and Standard, they are further divided by age, height, and level of experience to create the most equal matches possible. "We want the community to come together," says Johson. "3 on 3 basketball is really for all ages and skill levels."
While the 3 on 3 games are the main event, there is plenty more for hoop enthusiasts to check out individually. First, for the cost of $5, players can show off their dunking skills on a standard height basketball hoop. Also, there will be a three-point contest. Anyone from any age or skill level can compete in these competitions for a prize.
Maybe you are new to the sport and would like to learn some new basketball moves. Students can sign up for a clinic by renowned basketball coach, Jimmy Anderson. Learn to play like the pros from this head coach of legends. His clinic starts at 12:00 p.m. Sunday on the Elite court for the first 20 kids to sign up. Sign-ups will be held Friday at registration and Saturday at the event booth. Cost is just $5 a student.
As a spectator, the games are great to watch, but even more is happening on the sidelines. Many local organizations will have booths set up to explore. Inspire Physical Therapy will be on-site for first aid. There will be vendors selling espresso, headbands, massage therapy, and food concessions. The Army Reserve will have a free obstacle course for community members to duck, dive, and jump through.
While the focus is seemingly on basketball, there is much more to this event. "Starting as young as third grade and reaching all the way through retirement, there will be a division represented for competition," explains Johnson. "We want it to be an all-ages community event with the purpose of bringing us together."
Registration for teams can be completed on the 90TEN Training Academy website. This event is also looking for volunteers to help run the competition. If you are interested, go to the Capital City website's volunteer page for more info and to sign up for a shift.
Sponsored