According to the Department of Transportation, Grays Harbor County reported over 1,200 motor vehicle accidents in 2017. Eleven of those accidents proved fatal. Over 100 of those accidents involved injuries, including 23 crashes resulting in serious trauma. Fortunately, Grays Harbor Community Hospital (GHCH) is a Level 3 Trauma Center, equipped to handle severe injuries and other life-threatening situations.
"At GHCH, we can perform trauma surgery 24/7. We also have the ability to stabilize patients with internal bleeding and perform some orthopedic surgeries," explains Jamie Gusdal, Trauma and Programs Coordinator at GHCH. "Even if the injuries require a higher trauma level than a Level 3, we stabilize them and send them out. Often, patients wouldn't make it without stopping here."
Every three years, hospitals in Washington undergo a trauma designation process. Hospitals are then assigned a trauma level determined by the services they provide and the training of the practitioners on staff.
GHCH is designated as a Level 3 Trauma Center, the only Level 3 hospital in Grays Harbor County. In order to achieve this designation, the hospital must provide a number of services not necessarily available at lower level trauma centers, including:
24/7 General and Orthopedic Surgery
24/7 Respiratory Therapy Services
24/7 Radiology Services (including CT)
Rapid blood transfusion capabilities
Obstetric Services
Anesthesiology Services and Post Anesthesia Care Services
Critical Care Unit
For patients along the coast from Forks to South Bend and throughout Grays Harbor, those services can mean the difference between life and death. Just last year, for instance, GHCH recorded more than 400 trauma activations. Even for traumas that may require transfer to Level 1 or Level 2 hospitals in Tacoma or Seattle, it can mean life or death to stop first in Aberdeen.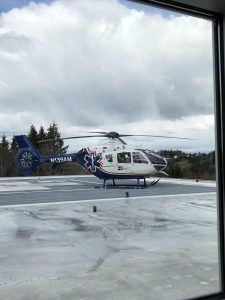 "Take a stroke, for example. With our cardiac and stroke program, we can give tPA or TNK (clot-busting medications), if appropriate," says Lora Moore, Director of ED, CCU and AIS. "Those medications might open up the artery, giving you time to get to a hospital that can perform further intervention. In that case, GHCH is an absolute life-saving stop."
Every Minute Counts
In instances of stroke or cardiac complications, internal bleeding or other traumatic scenarios, every minute counts. Many life-saving medications, for example, must be administered within a short window of opportunity from the onset of the medical event.
Blood transfusions can also prove critical for patients with severe injuries. A typical human body contains between 4.7 and 5.5 liters of blood. Once patients lose more than 30 percent of their blood supply, they will most likely require a transfusion, and that blood loss can occur in a matter of minutes.
The laboratory at GHCH includes a Massive Transfusion Protocol and a Level 1 Rapid Infuser. This gives emergency personnel the ability to stabilize patients who are hemorrhaging, as in the case of gastrointestinal bleeding or a head wound.
"We can immediately start transfusing, and with the Rapid Infuser we can keep pumping blood in as fast as it's coming out," explains Moore. "We can give a unit of blood in about two minutes."
Prepared to Save Lives
Another significant component of the Level 3 Trauma designation includes education. Providers and nurses at the hospital, as well as EMS personnel, are required to keep certification current in advanced life support procedures such as Advanced Cardiovascular Life Support (ACLS), Advanced Trauma Life Support (ATLS), and Trauma Nursing Core Course (TNCC).
In addition, although GHCH is not a pediatric hospital, providers are required to complete pediatric education, which may include Pediatric Advanced Life Support certification (PALS). That means that they can provide emergency care for children, from newborn babies on up.
"Trauma is high risk, low volume," reports Moore. "That's why our providers need the extra education. These situations aren't something we face every day, thankfully, but when they happen, we need to move quickly and confidently."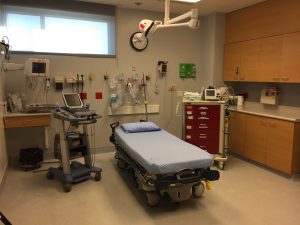 The hospital continually develops its trauma services. For instance, in the last three years, staff have put together mass transfusion protocols and a detailed surgical backup plan to handle multiple simultaneous traumas. They also complete mock drills for mass casualties.
Next time you hear a medivac helicopter overhead, it may represent another life saved. From paramedics to emergency room nurses and doctors, surgeons, lab technicians, respiratory therapists, radiology technicians and more, GHCH has a staff of highly trained personnel ready to address trauma head on.
Sponsored