The Aberdeen High School boys soccer team has not lacked scorers over the last few seasons as the Bobcats always seem to feature plenty of players who can find the back of the net. Christian Sanchez and Luis Soto believed they too would be such offensive threats when they entered the program as freshmen four years ago.

This, however, would not turn out to be the case. But that's not to say the two seniors haven't put their own stamp on the program. They've just done it at the other end of the pitch.
Sanchez, a defender, and Soto, the Bobcats' returning starter at goalkeeper, comprise one of the top defensive duos in the 2A classification, and are a large reason why Aberdeen is thinking 2A Evergreen Conference championship this season.
Sanchez was last season's 2A EvCo defensive player of the year, while Soto was a second-team all-conference selection and are two of 11 seniors on a team that graduated just four players.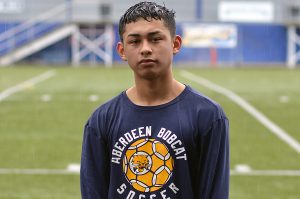 Making the accomplishments even more impressive is the fact that neither had played varsity defense prior to last year as both started their high school careers as midfielders. Head coach Larry Fleming and his staff made the decision to mix things up. It proved to be a wise one.
"It took some learning at first. I definitely struggled," Sanchez said, "but throughout the season I started getting used to it."
Sanchez switched positions last year as a junior. It was a move Fleming credited with helping the Bobcats finish second in the conference.
"Christian's desire to win is what impresses me," said Fleming, who has guided the Bobcats to league titles in 10 out of the last 13 seasons. "He could have been upset when moved back to defense last year, but he became the most important reason we were able to have a successful season after losing so many great players the year before. His positive outlook helped his team succeed."
While Sanchez was learning his new position on the fly as a varsity starter, Soto benefitted from a season as a goalkeeper on the JV level two years ago to get comfortable with the new position.
"It was very scary," said Soto, who split time between goalkeeper and midfielder two years ago. "I was intimidated by all the shots and didn't really like it at first. Then I just started getting used to playing the position, and I ended up being good at it."
So good that Soto helped the Bobcats register seven shutouts during the regular season last year.
"I think the most memorable moment that I can think of for those two and the whole team (last year) was when we were 2-3 in league and Tumwater was 5-0 and we beat them at their place and gave them their first league loss," Fleming said. "It was a great example of working hard to improve and that good things can happen when you don't quit."
The win over Tumwater last year helped Aberdeen close out the 2018 regular season by winning seven of its final eight contests with four of those victories coming via shutouts. With the players finally settled into their new defensive positions Aberdeen headed back to the district playoffs for a 13th straight year.
"Last year was just a rebuilding season. We knew coming in we had to replace a lot of players," Sanchez said. "We plan on winning league this year."
While Sanchez and Soto take care of the defensive side of things, the Bobcats will rely heavily on fellow senior captains Hulizes Chavez and Rigo Alavez to provide some offensive punch. Both were second-team all-conference picks in 2018.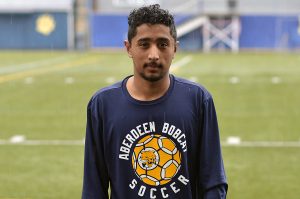 "Rigo Alavez at center midfield, which is a crucial position in our program, is a very good ball control player for us. He has worked very hard this off season on his conditioning and has come into preseason in top form. (He's) a good leader and strong player," Fleming said. "Hulizes Chavez at forward really came into his own last year when I paired him with Trevor Dawkins halfway through the season and it helped us turn a slow start around. (He) can use both feet equally and has added a toughness since last year that will serve him well this season."
The Bobcats have already flexed their defensive muscle this season, shutting out their first two opponents in Elma (1-0) and Hoquiam (2-0) and holding Union, a 4A playoff team last year, to just a single goal in a 1-1 tie.
"This group of seniors has come a long way, stepping in as juniors to fill the shoes of a very strong group that just left," Fleming said. "They struggled at first, but persevered and fought back. They have all improved immensely and I look forward to seeing how well they can play this season."