In the United States, approximately 6.4 million women become pregnant each year. For 1 in 20 of these women, pregnancy and childbirth are complicated by abuse of alcohol or street drugs. Substance abuse during pregnancy heightens the dangers for both the mother and her baby, with greatly increased instances of pre-term labor, miscarriage/stillbirth and birth defects.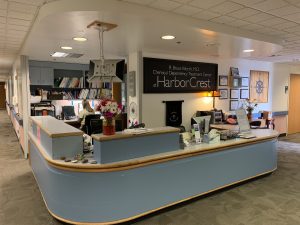 Fortunately, programs such as the Chemical Use in Pregnancy Services (CUPS) program at Grays Harbor Community Hospital provide treatment designed to start pregnant women and their babies on the road to a healthy future. The 26-day inpatient program begins with physician-monitored detoxification and provides a carefully structured mix of medical care, counseling and education.
"Much of the focus in the CUPS program is on personal growth," explains Tracie Moen, Nurse Manager at HarborCrest Behavioral Health. "Our patients learn coping skills, they develop discipline and routines, and they learn how to build healthy relationships."
Staffed by an incredible team of physicians, nurses, techs and counselors, the CUPS program in Aberdeen has served thousands of pregnant women over the past three decades. The program is currently one of only three such programs in the state.
Program Basics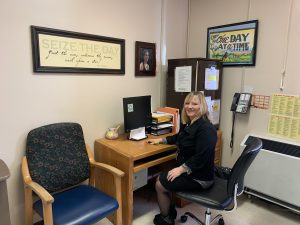 The CUPS program accepts pregnant women who are at least 18-years-old and using drugs or alcohol. Women can enter the program up to week 34 of their pregnancy. This gives them time to complete the program before having their baby. But the first step is to walk through the door.
"Our patients come from all throughout Washington," says Moen. "Transportation alone is a huge obstacle for these women. We pick them up wherever they are and bring them here."
Once they arrive, patients undergo medical detoxification and stabilization. Both mother and baby are monitored closely during this time, as the withdrawal process itself poses risks. The mother is given a prenatal assessment and regular obstetrical care throughout her stay. A well-rounded menu of services is designed to address her mental and emotional strength as well as her physical health.
"Patients benefit from 24-hour nursing care," points out Moen. "They also have counseling seven days a week and a full schedule throughout the day, including daily walks."
Focus on Education and Family Relationships
Education forms a central part of the CUPS program. Residents learn practical approaches to parenting, nutrition, birth, breastfeeding and infection control. They learn about substance abuse, codependency and how to set routines and boundaries. They also participate fully in onsite Alcoholics Anonymous or Narcotics Anonymous meetings.
In addition, the program includes a family program. Residents call home daily, and family members can visit on Wednesday nights and weekends. Special classes provide education for family members to help them understand the disease of chemical dependency and what the patients are experiencing.
"It's so important for family to participate," stresses Moen, "They need to get that education and understand what the patient is going through, especially if the patient will be going back to the same situation."
Next Steps
To ensure lasting success, counselors guide patients through setting up social services such as Women, Infants and Children (WIC) and the Parent-Child Assistance Program (PCAP). In addition, all patients are assessed to determine the appropriate level of care when they leave the program.
Most patients will continue on to long-term treatment, where they can keep their babies in residence with them. Some will attend an intensive outpatient program and then after care. Whatever the recommendation, the goal is to help mother and baby achieve a healthy life and healthy relationships.
For many of these mothers, that goal becomes a reality. "I had a call just yesterday from one of our graduates," reports Moen. "She had her baby girl, and they are doing so well.  It's wonderful to see that progress and see them becoming mothers and living life the way it should be."
Make the Call
The earlier in her pregnancy a woman addresses chemical dependency, the better the outcome for her and her baby. The staff at the Grays Harbor Community Hospital CUPS program have decades of experience helping pregnant women who use drugs or alcohol.
"We have an excellent program here," says Moen. "We have devoted physicians, staff that are nurturing and caring. Our counseling staff are fantastic with our patients and get them through very difficult times. We are here. We are ready to help. Please call and get the conversation started."
The phone number for CUPS is 360-533-8500, and the call line is staffed 24 hours a day, 7 days a week. Anyone can call, whether they are inquiring for themselves or for a family member or friend.
Sponsored