A utility player in baseball is someone who can be plugged into any position on the field and be serviceable.

Montesano High School senior Evan Bates is not a utility player. The senior is more like a utility all-star. When Bates is placed somewhere on the field, he's not simply a stop gap there to fill a void.
He excels at the position, no matter where it is on the field.
He will tell you his preferred position is at short stop. It's where he's going to play next year at Centralia College. But over the last two years as the Bulldogs have had a need on the mound, Bates has been asked to pitch, and few have been better at it in the 1A Evergreen League.
"I've always been a middle infielder," said Bates, who has also played regularly in the outfield and at third base, "but the last two years I've needed to be one our top (pitchers). So, they've put me in that position. When I'm not pitching, I'll be wherever the coach needs me."
If you need proof to just how valuable Bates' selflessness has been to the Bulldogs' success over the last few years, all you have to do is look at last year's voting for the 1A Evergreen League Most Valuable Player.
Bates walked away with the award.
"It really did catch me by surprise," Bates said about last year's honors. "(Montesano coach Mike) Osgood talked to me after the coach's meeting and said they were impressed how I was able to hit, play the field, and pitch."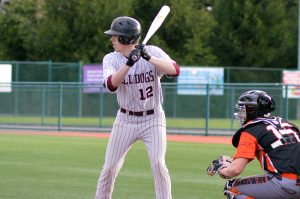 Bates has once again shown his versatility by taking on a larger role in the Bulldogs' outfield this season. The results have been pretty much what you'd expect out of Bates – outstanding.
"Evan was asked to play the outfield this year after being an infielder for three years in the program," Osgood said. "He accepted his new position and worked really hard and became a really good outfielder.  I think this unselfish act shows how much Evan cares about the team and his desire for team success over personal success."
Bates will now look to do something in his final season at Montesano that has never happened before – win a state title.
With Bates leading the way, the Bulldogs will take a 1A Evergreen League title, district championship, 14-game winning streak and plenty of confidence into the Class 1A state playoffs.
Montesano (21-2) will face College Place (13-6) in the first round at 1:00 p.m. on May 18 at Castle Rock High School. Should the Bulldogs get by the Hawks from Walla Walla, they will play the winner of Seattle Christian (16-5) and Meridian (11-11) at 4:00 p.m.
Montesano's only setbacks this season came against 2A opponents on the road. They lost to W.F. West, the 2A Evergreen Conference champion, 8-3, in Chehalis on March 19 before losing at Tumwater, 13-4, on March 21.
Since their loss to the Thunderbirds, the Bulldogs have been on a tear, highlighted by their run through the district tournament where they outscored their three opponents a combined 29-2. Montesano opened postseason play by smacking Castle Rock, 15-2. Bates drove in three runs against the Rockets, while Aaron Lano had three of the Bulldogs' 14 hits during the game.
Up next was an 8-0 shutout of La Center in the district semifinals. Bates once against led the offensive charge, with 2 RBI. Teammate Carter Olsen went 3 for 4 at the plate and drove in a run. Braden Dohrman, Parker Plato, Teegan Zillyette, and Payson Parker also drove in runs for the Bulldogs.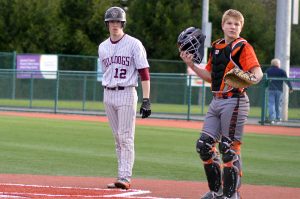 In the district championship game, junior Ben Willis struck out 14 batters and surrendered just 2 hits in 7 scoreless innings as Montesano clinched the title with a 6-0 win over rival Hoquiam. Bates finished the district tournament with a team-best 6 RBI, going 6 for 12 (.500 average) and scoring 5 runs.
"Evan is like having another coach on the field," Osgood said. "He is always thinking not just about this pitch, but what could happen on the next pitch. He is willing to share ideas and understands his role as a leader for the team."
Montesano defeated University Prep, 5-0, in eighth innings to win their opening round game at state last year before losing to Cedar Park Christian, 7-2, in the state quarterfinals.
This year marks the third consecutive season and 16th time in program history the Bulldogs have advanced to state. Montesano has made two trips to the state finals, first in 1989 when they lost, 10-5, to Ephrata and most recently in 2013 when they fell to Cashmere, 8-4.
"We've having a blast playing with each other. We're all playing good baseball right now. We're playing loose and just enjoying each other's company," Bates said about the team's current state. "It's weird to think in a month we will be graduating. So, we're doing our best to appreciate every at bat we have because we don't have too many left. It means everything for the senior's this year."