Grant, Brett, Colton and Kara Lowe are serious when it comes to their 4-H projects. Their parents, Matt and Christine Lowe, couldn't be more pleased. "What has been great is seeing the children grow and gain knowledge in regards to raising livestock and taking responsibility and presenting themselves to prominent members of the community," says Matt.  The kids are members of Critter Crew 4-H Club and show chickens, cows and sheep at the Grays Harbor County Fair each year.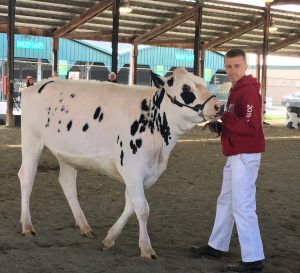 You may think this family must come from a long line of farmers to be so involved in market animals, but you would be wrong. "Marilyn Gray and Donna Boyer suggested to us that our kids would be a good fit for 4-H," explains Matt. "Not ever having any kind of farm animal it seemed like nothing I would have ever been involved in. But we decided to give it a try."
The kids are definitely glad their parents went for it, each for their own reason. "I like 4-H because I love my chickens and I can talk to other people about chickens, especially my chickens, Mary and Cole, at the fair," shares Kara.
"The reason I like being part of 4-H is because it helps me grow physically and mentally," says Colton. "For example, it teaches me responsibility. Taking care of my sheep takes a lot of time. I make sure I feed my sheep appropriate amount of food, clean out their pen, walk them, and spend time with them."
"I enjoy 4-H because I get to interact with people and talk about our ideas for fair projects and how we will improve our system, club and community," Grant says. "I also enjoy the competition when it comes to fair."
And finally, Brett "Likes 4-H because it makes me happy when I show my animals. I like this because it gives me something to do and work on. I take pride in my work."
4-H: Teaching Life Lessons Through Hard Work and Fun
Anyone who has shown in 4-H knows it's hard work, especially with a market animal. 4-Hers get their projects and then have to weigh in a couple times before Fair, to make sure their animal is the proper weight and healthy to go the Fair and then auction. They learn about muscle to fat ratio and how important it is to pay attention to standards."It takes a lot of responsibility to take care of an animal, like a sheep, cow, or a chicken," says Brett. "Takes a lot of patience to work with these animals, too."
"Learning how to clean out a pen has been a learning experience," adds Kara. "It keeps my animals from getting sick. My sheep and chickens need their pens cleaned out so they don't get sick. They can't clean it out themselves as you know."
The lessons learned go way beyond animal husbandry to economics, marketing, how to present themselves professionally and more. Each 4-Her has to go out into the community and ask people to come and bid on their animal at the auction, or for an "add-on" donation. Add-ons are where people or businesses pledge to give that 4-Her a donation without buying their animal. Some 4-Hers can make several thousand for a calf between the auction price and the add-on donations.
Hard Work Pays off at The Grays Harbor County Fair
The almost year-round work pays off at the Grays Harbor County Fair, where all four of the Lowe kids will be competing with their animals. Early mornings, dirt sweat, and even tears: Fair is an experience no kid forgets. "The best part of fair is working with other people and getting to know the other kids in your barn," says Colton.
When the whole family involved, Fair is a time for bonding. "The best part of fair is spending time with my chickens and spending time with my family," says Kara. The fair is hard work, with time management, trying to show your animal at its best when it may not be cooperating, and cleaning up at the end of Fair just a few of the things the Lowe kids say can be challenging.
And Brett and Grant remind us that even though they are there to work and compete, it's okay to take a break and have some fun too. "My perspective of the best part of Fair is when I can ride the tractor or go on the rides," says Brett. "I enjoy walking around the fair at night, getting ice cream from the dairy booth," Grant adds.
Grant Lowe is hoping to win the Showmanship award with both his lamb and dairy heifer. "In order to obtain this goal, I need to be on mark and give the judge my best show. Practicing with my animals and working with them will help me be successful in the show ring."
Brett is just hoping to improve on his showmanship this year.
Colton had a rough lamb this year, so his goal is simple: keep it healthy. "This year has proven to be a challenge because my lamb is a picky eater and I worked hard giving it the proper nutrition so it would make weight for the Fair."
So do four siblings all competing together have sibling rivalry? A resounding YES. "My twin sister, Kara, always competes in the same class with chickens and sheep," says Brett. "My goal is always to win Fit and Show. There is no second place." Kara's response? "I like to beat my brothers," she says. "I beat my twin brother Brett in my showmanship of my calf, chickens, and sheep last year."
A Place for Everyone
Matt and Christine want to point out that 4-H is definitely not just for "farming families" and teaches invaluable lessons. "Participating in the 4-H program has been a great experience," says Christine. "We were of the mindset that 4-H was a club for kids that had animals and they would show them at the Fair, but it is so much more than that. I see kids working and supporting each other, celebrating success and lifting up their friends if something isn't going right. We are a tribe dedicated to help raise kids to be the best they can be. Try new experiences."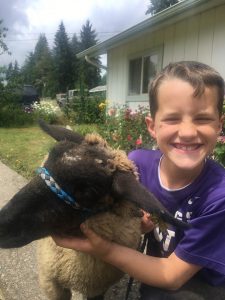 You don't need a lot of land, or any at all, to have a 4-H animal project. The Lowe Family has just over an acre where their lambs and chickens are raised, and Christine mentions for children with no land, there are often people willing to let them raise their animals on their land. "The child can come do their daily herdsmanship chores and work with their animal. I've seen this several times in the past where a child has been able to have an animal at another family's farm, get the experience raising a 4-h project.  We have an amazing 4-H program here on the Harbor."
"It's a great way to get the kids outside in the summer away from TV, video games and really giving them something of value that they may not have had otherwise," finishes Matt.
Head to the Grays Harbor County Fair and look for the Critter Crew 4-H Club's signs to see the Lowe children's projects. It's also a great time to ask questions about how your kids can get involved for next year's Fair.