Greater Grays Harbor's November Business After Hours event was hosted by the Shoppes at Riverside, where much was revealed about how far the mall has come over the course of the last couple of years, and more importantly, the direction it is headed in 2020.
Tables set up throughout the space that was formerly the Community Room, but has since been leased to an incoming new business, boasted photo albums chronicling the success of the south Aberdeen mall in decades past. But some locals have held the assumption that the early aughts have not been quite as fruitful for the shopping center. Through the years, major retailers bid farewell to Grays Harbor as more and more spaces in the then South Shore Mall became vacant.
Between the laughter, networking and casual snacking one expects from a typical Business After Hours, Mall Manager Erin Jeffreys provided an enlightening overview of the impressive progress the mall has made in recent months, with occupancy up to 80% and still growing.
Erin's passion was audible as she guided a large group of business leaders and community members through each corridor of the Shoppes at Riverside, citing each improvement for which she has clearly advocated through every stage of the process. Noticeable was an increase in small businesses that once found homes in downtown Aberdeen, such as Hosstyle Ink and Kandle and Kauldron. There are also a host of new businesses springing up all over the Shoppes' landscape, like Café la Esquinita, Kids and Mom, Restaurant La Flor de Michoacan, and Game Day Sports Bar and Grill.
Inexpensive lease per square foot and supportive oversight from mall management has established the Shoppes as a sort of incubator for small startups eager to stimulate local economy in a sustainable way. War Byrd Battle Labs, for example, opened as a Warhammer hub for local tabletop gaming enthusiasts to meet and play. In a very short time, the business has been able to grow into a companion retail space and sell supplies and accessories to provide a more full-service operation to their clients.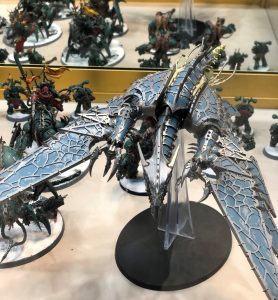 But it isn't all a honeymoon for businesses in the mall. There are many local staples that have shown staying power over the course of their residency.
"A business that stands out to me is Sgt. Brand's BBQ," says Jeffreys. "They have seen a lot of growth since opening here a few years ago. Their sales are consistently increasing as the foot traffic in the mall has increased. They are also very involved with the mall and have helped plan numerous events in conjunction with me."
In addition to a wide range of businesses drawing in the community, the Shoppes at Riverside has also established itself as an effective venue for events of all sizes, demonstrating its eagerness to bolster community togetherness.
"We open our mall corridors up to non-profits to use for free and that has brought in a lot of cool opportunities," Erin beams. "We had Grays Harbor Pride, two early learning expos, an emergency management expo, a craft fair, and of course our biggest of the year being Halloween. We had 2,000 people pass through this year during our trick or treating and costume contest event!"
Since the November, Business After Hours, the Shoppes has not showed any signs of slowing. Occupancy is up to 83%, and there are four more spaces pending for rental. The focus of Shoppes at Riverside for the future is twofold: supporting its community and providing a place for young enterprises to thrive.
Day to day, Erin is pleased to work with the 38 tenants who currently find themselves operating out of the Shoppes at Riverside. "No longer will people be able to say that this is an empty mall or that it is dead. We are very much alive in here!" she laughs. "There is a lot of opportunity to shop local in the Shoppes at Riverside!"