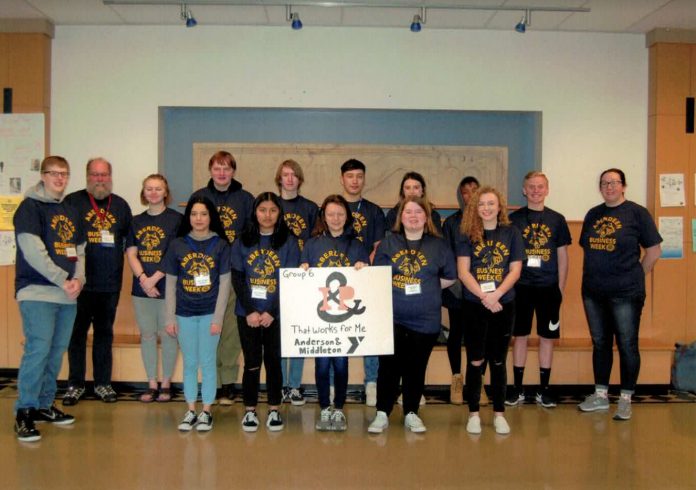 Traditionally, most people don't think of high school students getting particularly fired up to learn the ins and outs of business. However, thanks to the globally recognized Washington Business Week, that's exactly what's happened in recent years.
During the local Aberdeen Rotary Business Week (which will take place February 3-7, 2020, in Aberdeen) students experience team-building, leadership and the fundamentals of running a successful business, all during the regular school day. The program pairs together business leaders and educators to facilitate hands-on learning experiences for teams of students. During the weeklong program, students get involved with various activities, including the development of a management group, participation in a business simulation requiring teams to make financial, marketing and production decisions, and a final day shareholder and trade show presentation.
This year marks the 19th year that Business Week has taken place at Aberdeen High School (AHS). Over the years, several changes have been implemented to better help students enjoy the process and take away skills that can be applied in their professional lives.
"After the first two years, we went from a hesitant student, family and staff approach where people wondered 'what is this Business Week activity all about and do I have to participate?'" states Lynn Green, Director of Career and Technical Education at the Aberdeen School District, "to today, where we have a culture of eager anticipation of Business Week each year. It didn't take long to realize the amazing impact of the program."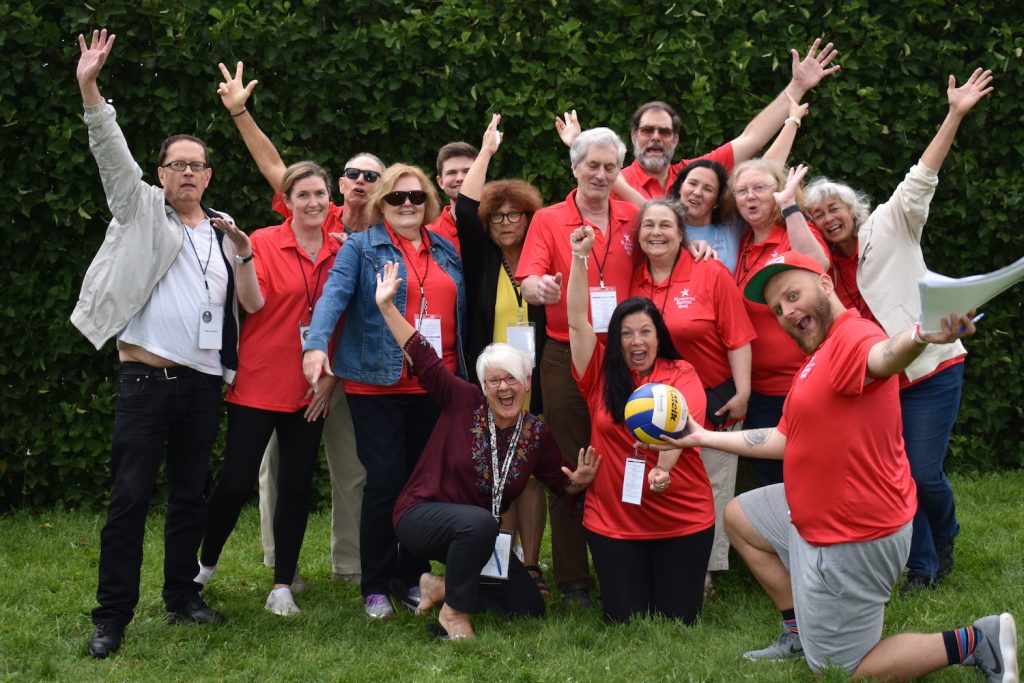 The curriculum has been modified over the years to customize what works for students at AHS. One of the biggest changes that was implemented occurred after Great NorthWest Federal Credit Union (Great NorthWest FCU) introduced a program called Mad City Money. This program is designed to engage students in a budgeting activity and simulate a month's worth of revenues and expenses. "It's an eye-opening highlight of the week for students and members of the Great NorthWest FCU staff," explains Lynn.
Another significant change came when the Aberdeen Rotary Club stepped up to become a significant financial sponsor of Business Week. Due to Rotary's generosity, the Business Week program at AHS was renamed Aberdeen Rotary Business Week and continues to rely on Rotary members to volunteer their time. Additionally, 2020 will mark the fourth year that AHS has implemented what's called the "box program." This change means that the Washington Business Week staff no longer comes in to oversee and operate the program and the AHS staff and community volunteers put on the entire program themselves.
"This is an amazing experience for our students," exclaims Lynn. "Having a program and curriculum that expands student knowledge of basic business principles in a discovery learning experience is unforgettable. It's also an amazing opportunity for the volunteers."
Each year the adult volunteers are significantly impacted in positive ways as they witness the student growth before them. "I have been in education for nearly 24 years and this is one of the most impactful programs that I've worked with," states Lynn. "Watching students learn teamwork and all of the essential 21st century skills that employers expect these days in an intense five-day program is pretty incredible."
Two volunteers who are heavily involved in the AHS program are also a part of Business Week on a global scale. Jill Bellis and her husband, Darell, have spent many years traveling to Europe to help facilitate the program. "Darell and I were first involved with Business Week in Poland before we had even heard about it at AHS," explains Jill.
The couple first traveled to Poland in 2011 where they were hands on in helping to organize the program. "Upon arrival," says Jill, "the Polish students were challenged to try to not speak their native language. During the first few days, we could tell that the kids were hesitant, but by the end of the week, we couldn't tell if they were native English speakers or not. Their confidence grew tenfold."
While volunteering at the Poland Business Week, Jill and Darell stayed in a vocational school in the farmlands outside of Krakow. As the days progressed, Jill couldn't help but feel the emotion and passion that the students expressed. "These kids all had a strong desire to participate in the program and had their families go out of their way to sign them up and pay for their admission," states Jill. "By the end of the week, Darell and I had experienced the magic of Business Week and were hooked."
During the summer of 2019, Jill and Darell expanded their international Business Week reach even farther with a trip to Minsk, Belarus. "When Darell and I were asked to travel to Belarus, we jumped at the opportunity," says Jill. The experience was another memorable one as it was the first year that the program had made its way to the small eastern European country.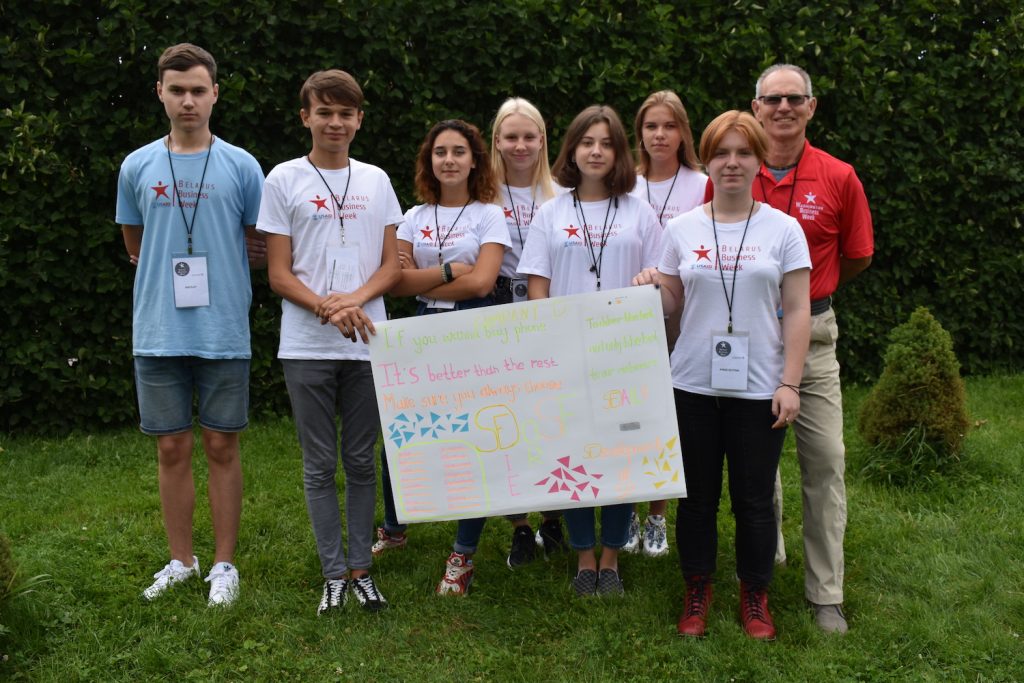 Jill went on to explain how the country was incredibly fascinating to travel to. "It was fascinating to learn about a country that many people have probably never heard of," states Jill. "The parents of the students often paid up to one third of their monthly income to send their students to be a part of the program. They sincerely want their children to learn both English and gain international business skills. At the end of the week, the parents hugged us all and were so appreciative that we actually showed up to work with their kids. The experience was beyond anything that we could have dreamt of."
No matter where in the world Business Week takes place, the outcome is always the same. "Students leave with so much excitement about business, marketing sales, networking and every other aspect that they've learned throughout the week," says Jill. She also describes how sometimes kids are able to make serious decisions as far as continuing education after being influenced by the program or even solidify the thought that they maybe don't want to go into the business field. All in all, Business Week helps them to understand the possibilities that are out there and what they can do with the information.
The success of the Aberdeen Rotary Business Week depends heavily on local volunteers. Christy Vessey, the Aberdeen Program Chair for the last several years, and Lynn work together throughout the year to recruit volunteers, fundraise and plan program activities gearing up for the actual week each year. If you're interested in helping to promote success in the lives of future generations in Grays Harbor, please contact Lynn at 360-538-2038 or lgreen@esd5.org.