Tatum Heikkila's goal of winning a state high school wrestling championship hasn't changed. The Aberdeen junior has just adjusted the timeline a little.

Heikkila, one of the state's top wrestlers in the girls' 190-pound weight classification and a nationally ranked freestyle wrestler, saw her season come to an end after suffering a torn anterior cruciate ligament in her left knee in early January.
"The goal this year was always to win a state championship," Heikkila said, "but now it's rehab. Now, I will just have to wait until next year to be a state champ."
According to Heikkila, she will be out nine months following surgery, forcing her to miss out on the national freestyle tournament this summer. She placed fifth at the USMC National Championships last July in Fargo, North Dakota to earn All-American honors in the 200-pound division.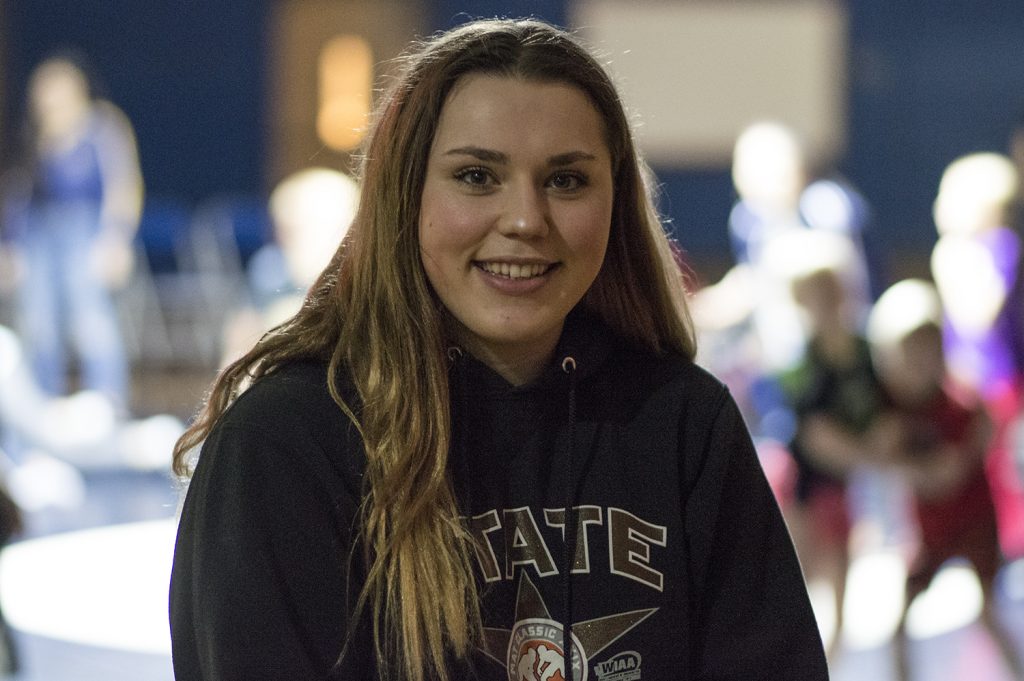 "My goal is to be back before swim season starts next year," said Heikkila, who was a state diving participant this past season. "If I can do that, I should be fine by the time wrestling starts. It's tough being out. It's definitely a bummer. Wrestling wasn't always a part of my life, but now that it is it totally engulfs me. I love it here."
Heikkila's rise has been nothing short of meteoric since first taking up the sport as a freshman. She finished fourth at state two years ago and was second last year with her only loss coming in the state championship.
"She was going to be a bowler," said Aberdeen girls' wrestling coach Craig Yakovich. "It still makes me laugh that I had to track her down in the hallway at school her freshman year and convince her to wrestle instead of bowl. That was my finest recruiting moment to date."
The Bobcats, who finished seventh as a team at the state tournament last year, have lost two returning state participants this season. In addition to Heikkila, fellow junior Ashlyn Yakovich, who advanced to state in 2019 at 110 pounds, is also sidelined with a broken arm.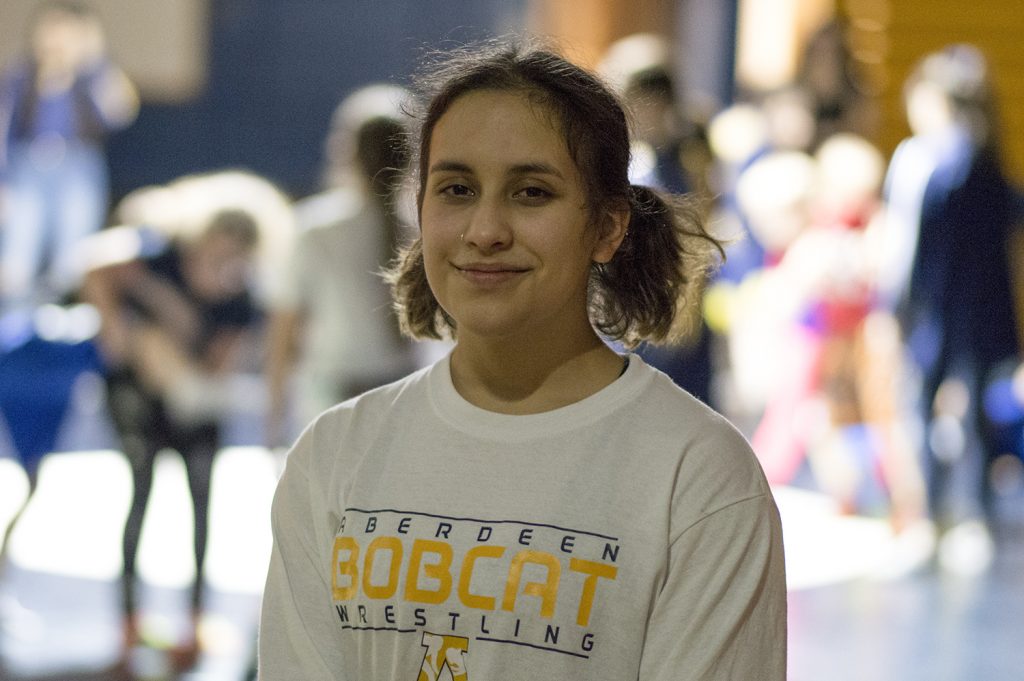 Despite suffering the season-ending injuries, both wrestlers continue to attend every practice, dual meet and tournament in support of their teammates.
"We made it very clear that they were still part of this team," senior captain Ciera Skelly stated. "It doesn't matter if you're injured."
The Bobcats' roster features approximately 30 wrestlers this year, a considerable increase from when Skelly, one of eight seniors on the team, was a freshman.
"Three years ago, we didn't have that many girls on the team," Skelly said. "We would wrestle in the same room as the guys and it felt like we were a part of their team instead of being our own team. We've grown so much since then. We have practice in the mat room by ourselves now because we have so many girls out. Everyone knows about the girls' wrestling program now."
Aberdeen opened the year by winning the Lady Jag Kickoff Tournament at Emerald Ridge High School in Puyallup. The Bobcats easily outdistanced the competing teams, posting 188 total points. Federal Way (104 points) and Puyallup (101) were second and third, respectively.
Heikkila, Skelly, who finished eighth at state last year at 135 and is ranked third in state at 140 this season, and sophomore Rylie Waltee each won individual titles. Heikkila's came at 235 where she defeated Thomas Jefferson's Goddess Ma'alone-Faletogo, last year's state runner-up in the division, 2-0, in the championship round.
Aberdeen followed up that victory by claiming the team title at the 4th Annual Grizzly Stocking Stuffer at Hoquiam High School. Heikkila registered another first-place finish, while sophomore Katie Gakin triumphed in the 170-pound division. The Bobcats also received second places from Aili Scott (110), Lily Herr (135), Skelly (140) and Justice Valenzuela (235).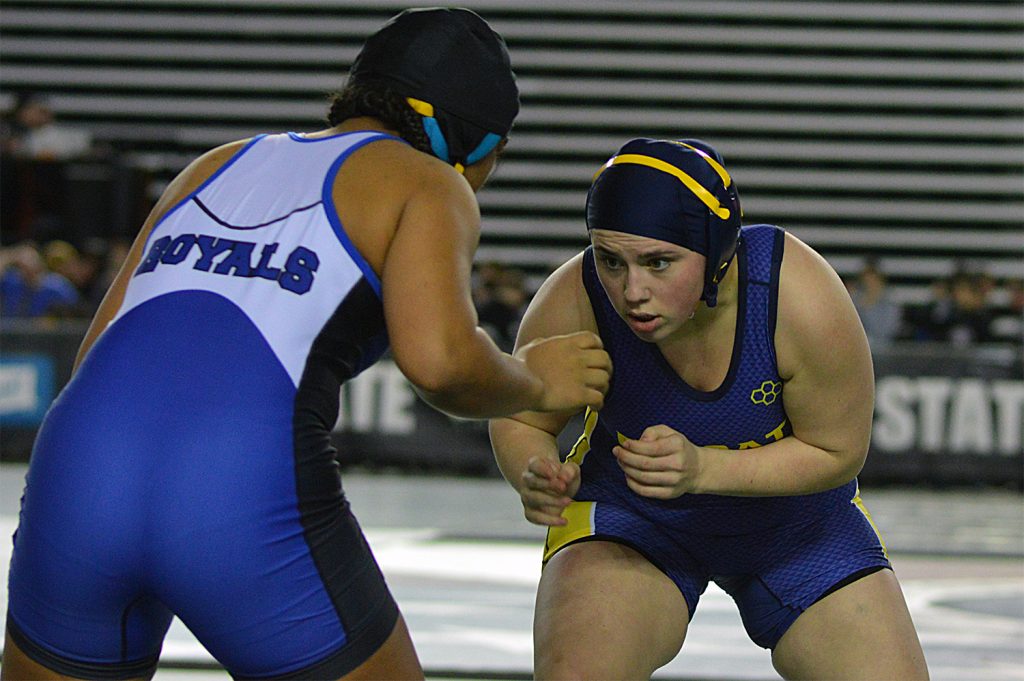 "We had such a strong start to the season, but after the injuries we needed some of our younger girls to step up," Craig Yakovich said. "Tatum is such a big part of the program not just with what she does on the mat, but also her leadership. When you lose a bright star you really don't know how a team is going to respond."
Aberdeen got its answer just two weeks after Heikkila's injury when they competed at the Napavine Tigers Classic on January 18. The Bobcats easily captured the team title, getting first-place finishes from Madelynn Machowek (110), Hailey Wilson (125), Herr (135) and Gakin (170) to go with second places from Rhianne Cline (100), Madison Neeley (105), Scott (110), Skelly (140), Geneveve Sawyer (155) and Valenzuela (235).
"The team is resilient this year," Craig Yakovich said. "This is the first year since I've been coaching the girls that we have had numerous road blocks to success from injury to eligibility but they bounce back and have the next girl up mentality which has made a few of the girls progress faster than projected."
The Bobcats will begin postseason at the sub-regional tournament at W.F. West High School in Chehalis on February 7. Top placers there will advance to the Region 3 tournament at Kelso High School on February 15. The state tournament will be held February 21-22 at the Tacoma Dome.