The COVID-19 pandemic and its many affects have been a learning curve for us all. While many businesses were forced to shutter their doors during the first few months, others including Summit Pacific Medical Center remained open while learning alongside top health officials on the best practices to ensure safety during the myriad unknowns of a global pandemic.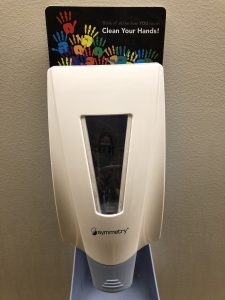 Summit Pacific is a public hospital district in Elma that operates a Critical Access Hospital with a  Trauma Level IV , Cardiac Level II, and a Level III Stroke Center Designation. The district also operates two Rural Health Clinics and an Urgent Care Clinic. Remaining true to their vision of "building the healthiest community in the nation," meant that staff members needed to adapt quickly to the ever-evolving rules and regulations that were first placed upon them in early March. Feeling confident with the changes and practices that were and continue to be implemented, Cecelia Tapp, Director of Quality and Risk at Summit Pacific, discussed how she and her fellow staff members are adjusting.
Since March, all staff members have been and continue to wear masks in the hospital and clinics, while keeping a close eye on managing the stock of onsite personal protective equipment (PPE). The streamlined system that's now in place for patients entering the facility begins with a temperature check and providing a free mask to those who may not have one, followed with screening patients using a list of questions to help determine if they should be referred to the clinic, urgent care or the emergency department. Once patients and visitors are screened and have received a sticker, they are on their way.
"The screening process helps us form an idea of who we have in front of us so that they're sent to the proper department quickly based on their symptoms," says Tapp. "As the pandemic has stretched out over the year, we've been very pleased with the responsiveness from patients when asked to wear a mask and sense that they know that we all have a shared duty to our community. Face coverings are a primary tool to fight this virus."
Other protective measures that have been implemented around Summit Pacific include additional hand sanitizing stations mounted on walls and placed deliberately throughout the facility; plexiglass barriers in heavily frequented areas such as the main lobby; and the frequent usage of a germicide cleaning solution that is known to kill COVID-19. "We know that this continues to be a challenging time," expresses Tapp, "but we want the community to be aware that we've taken every possible precaution to make Summit Pacific a very safe place to come for all of their medical needs."
Summit Pacific's current safety measures extend as far ahead as planning for possible scenarios and creating a "surge plan." This plan prepares the organization for the potential of a viral outbreak in the surrounding community which could require the hospital to admit higher volumes of COVID-19 positive patients. To prepare for this scenario, many teams came together and set up a Respiratory Care Unit in March and it was mostly complete in less than one week's time. This specialized unit is set up in an isolated space of the hospital. The surge plan is headed by an agile group of committee members who review the plan on a constant basis to determine whether any changes need to be made, what education can be shared with the public and provide recommendations to help prepare everyone at the facility for the risk of a possible surge in cases.
In order to hold everyone up to Summit Pacific's high standards of patient care and safety, even before the pandemic began, Tapp formed the Quality Ambassador Program in 2018. Although 2020 temporarily changed how the program was operated, the group of committed Summit Pacific staff members within the program were able to pivot to continue devoting hundreds of hours to program activities. The Quality Ambassador Team of supervisors, executives, managers, directors, coordinators, and staff all are back to doing the same important work as before, with the same passion as in pre-COVID days.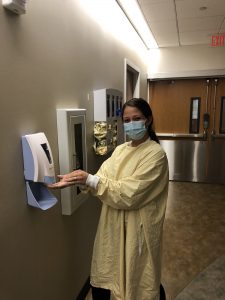 The specified work that Tapp has structured the Quality Ambassador Program around is reviewing items throughout the facility that require adjustments or changes such as improving and meeting expected regulatory standards and collecting hand hygiene observations. During the Ambassador's last environmental rounds of the hospital, they were able to make a 16/16 (100%) observations for appropriate hand hygiene as well as a 42/42 (100%) observations for appropriate use of masks worn by staff and face coverings worn by patients and visitors.
"These findings were fantastic to see," states Tapp. "The Quality Ambassadors really advocate for their fellow staff members and put in a tremendous amount of planning and effort to ensure that the program continues to be meaningful and a success." On top of other tasks, the Ambassadors take the time to boost morale within the organization. During their last meeting they rounded with staff and handed out 40 free coffee cards to forward facing staff showing their appreciation for the efforts of front line workers.
Tapp also notes that Summit Pacific is aware that staff may not have taken sick days in the past due to limitations of paid time off (PTO). However, during the pandemic, it's of the utmost importance that if staff members aren't feeling well, they stay home and rest and get tested if they're experiencing symptoms of COVID-19. "Summit Pacific now offers more flexibility with PTO and allows staff to go into a negative PTO balance if needed to ensure that they are healthy and well rested," explains Tapp.
As for the future, with Fall approaching, Summit Pacific is working on improving a drive through outdoor testing center, by adding a medical grade tent. Patients who are concerned that they may be experiencing symptoms of COVID-19, are encouraged to set up a drive-up test appointment by calling the Nurse Information Hotline at 360-346-2222, this will be a sure way to schedule testing.
Flu vaccines should be available to the public as well and community members are encouraged to ask about receiving a Flu vaccine from their Primary Care Provider.
Since March, Summit Pacific has cared for COVID-19 patients in the facility with confidence that they can provide the proper care. Due to the hospital being smaller than many, they were able to quickly implement effective strategies such as, the use of proper Personal Protective Equipment for staff, offering face coverings to patients and visitors, diligent hand hygiene and deep cleaning using known antiseptic and germicidal agents and techniques.
Many hospitals have been collaborating and working together in sharing information and coordinating supply use. "While living in a pandemic can be a very trying and emotional time, it is great seeing everyone come together to care for one another," adds Tapp.
Summit Pacific is fully staffed and has implemented all the needed environmental controls and precautions to continue serving the Grays Harbor community and beyond to the best of their ability. For more resources, visit Summit Pacific's COVID-19 webpage.
Sponsored