Months after the COVID-19 pandemic first brought the world to a halt, public education continues to learn how to adjust and adhere to what's now considered the "new normal." Although the hope was that the deadly virus would be under control come the start of the 2020-2021 school year, most of Washington State is faced with the reality of distance learning for the unforeseen future.

While the transition for students, educators and families was an unprecedented occurrence in modern history, the North Beach School District was presented with its own particular challenge. Their 770 pre-k through 12th grade student body was short at least 375 new 1:1 devices, used to support distance learning in their district. Research proved that a price tag of $315 was needed in order for each student in the district to be fitted with a Chromebook and the necessary license to be able to fully participate in the distance learning practices.
This harsh reality coincided with a funding shortage of $8-9 billion, pre-COVID projections. North Beach School District Superintendent, Andrew Kelly knew that this meant receiving the additional funding that was needed to cover the unexpected expenditure wasn't likely. Without many other options, and only months after passing a levy in June, Superintendent Kelly turned to the community for assistance, beginning with local foundations.
What happened next was completely nothing short of amazing. Acts of generosity from along the North Beach and through the whole of Grays Harbor came pouring in as the community banded together to support the students and their families during what's already a difficult time. By mid-September, the District had received a staggering $120,000 in grants, private donations from individuals, and foundation gifts. A few of the largest contributions included:
Additionally, 20 gracious private party donations ranging from $50 to over $1,000 each were also presented.
After having just asked the community to come together to pass the levy, Superintendent Kelly could not have been more thankful for each and every donation that came through. One story of giving that touched him was an instance when an elderly couple stopped into the District office and made a donation of $50. Although they themselves didn't own a computer or would have any idea how to use one, they knew that the kids in their community were their responsibility and wanted to help them succeed.
For the North Beach School District students, the official start to the school year began on September 1. Although the District continues to operate in a distance learning modality, they are also gradually beginning to bring small groups of kids together for in-person learning, carefully aligning with county and state guidance.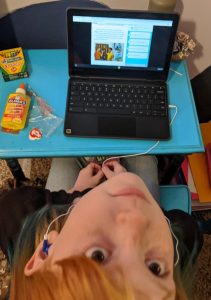 "The teachers have gotten so much better at distance learning," explains a student at North Beach High School. "My brothers and I received the tools to do our work and are doing our best. I hate distance learning. I miss my friends and seeing my teachers in person, but I'm happy that my school found a way to help us succeed."
The excitement for the Chromebooks has still yet to die down as, unfortunately, the devices that were ordered in early June have not yet arrived. As to be expected, the effect of the pandemic has slowed production worldwide as school districts around the country and world also are faced with the same need to have distance learning devices on hand. Luckily, North Beach School District teachers and schools are able to provide similar instruction to the end of the 2019-2020 school year and are dedicated to making the best use of the technology that's currently available. The combination of privately-owned and district-owned devices has made teachers' jobs a little easier as they can provide "live" instruction for nearly all students. This method works in the interim, but long-term, is not optimal as varying device ages and versions cause a wide range of difficulties for students.
Additionally, the North Beach School District has also equipped families with the proper tools to have adequate internet access for their students to participate with their class. To do this, they fitted hotspots and worked with Coast Communication to create a "school essential" internet package for families in order to address bandwidth issues.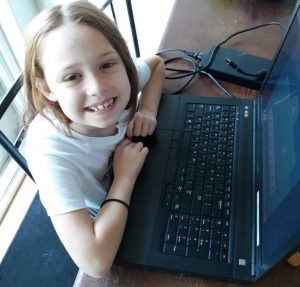 "I would rather be in school with my friends," states a student at North Beach Middle School, "but I get it. We have to do distance learning to keep everyone safe. My teachers are working hard to help me and I'm glad I was able to get a Chromebook from the school. The school also helped my parents get the internet for the first time!"
Despite the delay in delivery and the inevitable challenges that come with operating a school district during a pandemic, Superintendent Kelly is a firm believer that this investment in technology will change the trajectory of education within North Beach forever. The availability of the devices as schools begin to allow face-to-face learning paired with the newly-learned skills from remote instruction will augment and provide opportunities to learn differently for years to come.
"As a family," expresses a parent of a Pacific Beach Elementary student, "we are grateful to the efforts that Principal Perez and the District have made to support us. The North Beach School District Zoom Parent Academy helped me know exactly how to help my daughter. I'm proud of how we are all pulling together as a school community to help each other."