What if your clothing held energy? A wedding dress held the story of a great grandmother's nuptials. A men's suit felt the tears of laying a spouse to rest. A baby blanket heard the coos of newborn babies. Molly Ehmer, clothing designer for Hunt and Hammer in Grays Harbor and collector of vintage textiles, believes they do. "There is story, history and energy to vintage," says Molly. "Items that have been handed down through generations are a connection to our past, our heritage and our soul."

Molly, who has lived in Grayland for 15 years, says her fascination with old things started as a child growing up in a 100-year-old farmhouse in Westfield, Indiana. Her mother took her shopping at thrift stores because they couldn't afford to shop elsewhere. Her father re-purposed items to make them useful again. Her house held countless family heirlooms. "Ninety percent of the clothing that goes to the landfill could be re-worked or re-purposed in some way," says Molly. "So many things today are made to self-destruct. I think it's in my makeup to look at old things and appreciate their worth. There is something energetic that pulls me in when I see the beauty of handcrafted finery from 100 years ago."
Working with vintage requires a lot of mending, as often the clothing or textiles are damaged, shredded or discolored. Molly also found that most vintage runs small and it is hard to find something that fits her broad shouldered 5'10" frame. So, she started re-purposing textiles, sometimes using just parts of an item to make something new. She also began to dabble in natural plant dyes, using sagebrush to make yellow and green, but more recently growing and harvesting indigo. "I met a woman in Oregon that grows indigo and when I was there picking up starts we ended up collaborating on a quilt dress for her," says Molly. "While sometimes the textile determines the size of what I can design, overall I want people to feel beautiful in their bodies and I make clothing for all bodies, all ages and all skin tones."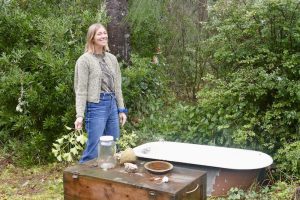 Molly has always been a maker and her realm of creativity runs deep. She spent her 20s in Seattle where she studied glass-blowing, jewelry-making, and silver-smithing. When Molly moved to Grayland she dabbled in waitressing, teaching surf lessons, and coaching the Ocosta Middle and High School track team. She earned a K-8 teaching degree at Grays Harbor College, and also got her real estate license.
That was when she realized working with vintage was her livelihood. "I was helping a client find a retail space for vintage and home decor and we really connected," she shares. "I ended up having a space in The Painted Pelican in Grayland for several years. Then, when my partner Lars and I bought a rural property in San Diego County, we started spending winters there. I visited so many vintage markets down there I started collecting, re-purposing, and selling vintage under the name Hunt and Hammer."
The pandemic brought a pause to Molly. Vintage markets were closed and travel was discouraged. Molly locked into her Grayland bubble and she focused on working with what was around her. Her foraging didn't take her far. Right outside her door is salal, whose berries are one of her favorite plants to use as dye. She harvested wild huckleberry, Sitka spruce, holly, ivy, alder, and rosemary.
When her mother passed away last May, she felt a shift toward deep grief and then healing. She developed the unique process of washing her designs in plant essences and infusing them with Reiki. "It just happened organically," says Molly. "When you work with these fabrics handed down through generations, you realize they have a lot of energy. Like mourning fabrics that someone wore for a year after their family member passed or joyful stuff from births and weddings. Back then, people mostly wore the same clothes their whole lives. I don't know if I can see the life of the whole garment, but I can feel the complexity. I feel the shift of energy when I wash them in the plants. I realize it's not for everybody. I do it for myself. It's been really healing for me."
Molly's designs are a mix of antique and modern textiles that are sacred and unique. Each collection is inspired by either a color or a specific textile. She loves to collaborate with other artists, healers, and clients. "I am not trying to become a big designer," says Molly. "If I'm not doing something that is made thoughtfully or that doesn't apply to my soul, then what's the point. When I have good energy, it ripples out to everyone around me. It has to be special."
To see more of Molly's designs, visit the Hunt and Hammer website.