We all need someone who checks in and helps with life's tedious, but necessary, chores. Someone who keeps us accountable and truly cares about what we think, feel and need. Locally, Grays Harbor County Public Health & Social Services (GHPH) is that kind of friend. They and the Harbor Strong Coalition work around the clock for our region's health and wellness and that of our children. Whether through Drug Take Back Day or the annual Community Survey, staff work tirelessly to maintain physical, mental and emotional wellbeing.
"The Harbor Strong Coalition has been participating in Drug Take Back Day since the coalition was formed in 2018," explains GHPH Community Health Specialist Haley Furstenwerth. "Drug Take Back Day has historically been held twice a year, in April and October of each year, and was developed by the Drug Enforcement Agency. Harbor Strong partners with the Aberdeen Police Department and the Aberdeen VIP's, Aberdeen's Volunteer Police Department, to put on this event."
This year, Drug Take Back Day was held on October 23.
Unused medicine is a tremendous health and safety hazard. Drug Take Back Day organizers explain that: "According to the 2019 National Survey on Drug Use and Health, 9.7 million people misused prescription pain relievers, 4.9 million people misused prescription stimulants, and 5.9 million people misused prescription tranquilizers or sedatives in 2019. The survey also showed that a majority of misused prescription drugs were obtained from family and friends, often from the home medicine cabinet."
Medication can also be brought to the Aberdeen Police Department lobby year round or to one of the other statewide Take Back locations. They accept controlled substances, prescription or over-the-counter medication, medication samples, veterinary medicines, vitamins, inhalers, medical liquids or lotions in their original packaging or not. Labels do not need to be removed.
"Too often, prescription drugs find their way into the wrong hands," explains Furstenwerth. "75% of opioid misuse starts with people using medication that wasn't prescribed to them—usually taken from a friend or family member. In addition to accepting medications, the Harbor Strong Coalition passed out drug lock boxes for people to keep their medication in a safe place and out of other's hands."
Developing Goals for Our Community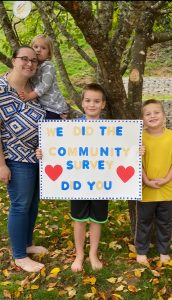 The Survey began with the start of the Harbor Strong Coalition in 2018. It is part of a statewide initiative through the Health Care Authority's Division of Behavioral Health and Recovery (DBHR). "DBHR serves as a community and school-based model for delivering prevention programs and strategies to reduce underage misuse and abuse of alcohol, marijuana, opioids, tobacco, and other drugs and focuses on building healthy and safe community environments, expanding quality preventive services in clinical, community, and school settings, empowering people to make healthy choices, and eliminating health disparities," says Furstenwerth.
Currently open, the survey closes December 16, 2021. "It is our goal to receive at least 180 responses to the survey," says Furstenwerth. "However, the more people who complete the survey, the better data we receive to effect change for youth in our community. The survey asks about alcohol, tobacco, and substance accessibility and use; bullying, depression; social media and suicide. More recently, the survey asks about perceptions of vaping use among youth. Our goal is to understand all the factors that contribute to youth substance use and then use the data to implement effective programs into the community."
Information collected through the survey is used to create programs for specific age groups that address the highest needs. "We know trends evolve when it comes to substance use in youth, and the survey provides us the opportunity to identify and implement specific programs dedicated to addressing those needs," admits Furstenwerth. "For example, data may show a deficiency in parent's ability to initiate conversations with their middle school or high-school aged children as it relates to substance use. This data would guide our coalition to focus on preventative parenting classes to help parents initiate those conversations with their children."
If you'd like more information or would like to suggest ways to reach additional demographic groups, reach out to Furstenwerth at hfurstenwerth@co.grays-harbor.wa.us or by calling 360.500.4351. Please share the survey links with friends and family via the Harbor Strong Coalition Facebook page.
In October 2021 alone, national Take Back initiatives collected 744,082 pounds of medication at 4,982 sites across the country. By removing excess medication and tracking the community's perception of youth alcohol and drug use, GHPH, its friends and partners are building a strong, resilient Grays Harbor for generations to come.
Sponsored