By Chelsea Royer

The names, Shari and Pat sound like a storybook title. And truly, meeting Patricia Warren and Shari Jobst in person felt like opening up a friendly looking, vintage book. Their story is especially unique as every word is written in calligraphy.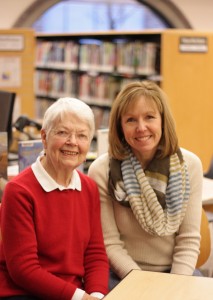 Between Shari's warm smile and the mischievous twinkle in Pat's eye, their friendship lights up a room. "She's my daughter," Warren explains. "Not really, but I've adopted her." The unique bonding agent in Pat and Shari's friendship is the art of calligraphy. It's not something they do for a paycheck, Warren insists. "We only do things that are fun. I tell people I never got past the third grade at heart." The hundreds of envelopes, quotes and miscellaneous art pieces this pair designs are all done out of love for the written word.
Jobst and Warren met at their first calligraphy class. Neither had any experience with calligraphy but after several classes, the women found themselves in love with the art and kindred spirits to one another. Twenty-one years later, Jobst and Warren are still taking classes and consider each other family. They don't ever plan to teach calligraphy – though their skill sets are well beyond the beginner classes they keep taking. For them, it is all about the art. However, if you were to ask Jobst, she'd say she doesn't consider herself an artist.
When a teacher asked Jobst what she intended to convey with a piece or what she wanted someone to feel after viewing her art, she felt perplexed. It's not something she thinks about. According to Jobst, "Artists are passionate about having people think or feel or take their art a certain way. I guess I would consider myself more of a crafter or a hobbyist because it is more for myself than for other people…It's pleasurable. It's quieting. You have to concentrate. Calligraphy for me is like playing piano for some people – you have to concentrate very hard and when you do, all the other troubles go away for a little while. And when you're done, you have something that might be pleasing to someone else, which I guess is the fun of decorating envelopes."
These envelopes, currently on display in the Aberdeen branch of the Timberland Regional Library, are works of art more than anything else. Some envelopes were designed as a heartfelt gesture. Others were entered in contests. All of them are unique. "Because it's exciting to receive something like that in the mail," Jobst explains. The concept that, "Someone has thought about you enough to send something without a label is beautiful. I think that's what is nice about someone writing the envelopes rather than sticking on a label – they cared enough about me to write my name. If someone sits down and writes your name on an envelope in a beautiful way and draws a picture and colors it pretty, they are thinking about you the entire time. It's a very emotional and spiritual connection."
For Jobst and Warren, calligraphy is also about preserving the written word. Both ladies have memoirs from past family, hand written keepsakes. For Warren, it is a matter of legacy. "You can take memories and place them in a written word. Sometimes something written on a piece of paper is all you have from a memory. I get teary eyed when I think about it -when I see handwriting from someone who is no longer with us." Warren stresses the importance of writing things out, not merely typing. "Penmanship and cursive are you. And when your grandchildren see that years from now, they might not be able to Skype you, but they will have that piece of paper long after you're gone."
Warren explains that not too infrequently, people will ask her to design or create a specific work of art but that she very rarely takes on such projects. "I've been asked in the past to do special, specific pieces. That is really hard because it's a commission for someone else. It doesn't appeal to me to take projects. I made a deal with God that if I could learn to do it (calligraphy) well, I would do it for others. It was a gift given to me and I never charge so I have to limit the number of projects I take on."
The gift of calligraphy is something both Warren and Jobst are adamant about sharing. Whether it is blessing their friends with a detailed design on an envelope, writing out high school diplomas or marriage licenses free of charge, or copying beautiful quotes from a person long past, these ladies are both productive and inspiring.
If you have any interest in fading arts, I highly recommend you find the time to appreciate the love and labor of Pat Warren and Shari Jobst's beautiful talents.