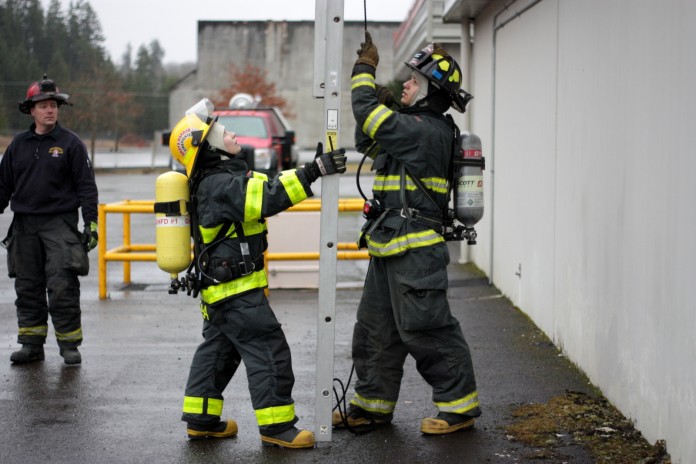 By Chelsea Royer

In the middle of Satsop Business Park is the Grays Harbor Fire District #5 Fire Academy. Founded by Adam Roseland and Robert McLaughlin in 2001, it has been run by Captains Adam Fulbright and Dave Bell since 2003. And he keeps his students in tip-top shape.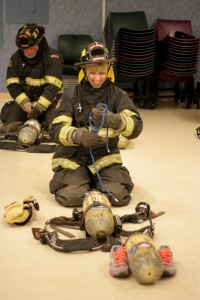 On the particularly wet Saturday morning of my visit, the eight Fire Academy students from varying fire departments started out their day with pushups, knot tying, and timed drills that involved getting on their bunker gear and self contained breathing apparatus (SCBA) in an efficient and correct manner. According to Captain Fulbright, one of the most important things the students learn in academy is personal safety. Students thoroughly learn their equipment, about heat protection, how their SCBA functions and how to troubleshoot their equipment in limited visibility.
Search and rescue skills are also on the list.  Firefighters learn how to rescue missing victims and help other firefighters in distress. They are taught room awareness and safety as the students go out blindfolded into rooms, understanding how to keep track of one another, even in pitch darkness or a loud, confusing atmosphere. During my visit, the academy students learned how to properly and safely deploy ladders and how to manage a live hose. Though I'm sure students feel protocols are at times cumbersome, there is an appreciation for exact steps and safety measures. Repeated drills help ensure accuracy, safety, and efficiency as a team unit out in the field.
I noted, not without a few chuckles, that even bathroom breaks are a drill under Captain Fulbright's watch. If one person needs to go, the rest of the company follows to bang on the door and yell, "door!" until their company member comes out. Practical application on the field would be building and room searches where one or more company members wait outside the door while the rest of their team enters to search for missing victims. By those outside pounding on the door and yelling, those who are inside can maintain orientation and find their way back to the exit in case of limited visibility.
Another practical aspect of their fire training is experience in live fire. By the end of the program, the students will have had interaction with live fire via fire props (such as cars, dumpsters, and propane tanks) and an actual burning building. Students are taught fire science, fire fighting tactics, and how to extinguish a fire prior to getting hands on experience. The building and props allow students to experience and fight live fire in a controlled and safe environment. There are specific buildings designated for fire training where the instructors can control the heat level through vents.
Believe it or not, all eight students in the 2014 academy are a part of a volunteer department. These eight students give of their time and energy to their departments and follow through with ongoing training. According to Captain Fulbright, 75% of the firefighting community nationwide are volunteers. "They are an overwhelming part of the firefighting force," he notes.
Captain Fulbright guesses, in his experience at District #5, 10-15% of volunteers are lifetime career possibilities. There is a high volunteer turnover rate as many people discover fire fighting is just not for them. But there are many who simply want to give back to their community. Captain Fulbright himself started out as a volunteer in Ocean Shores before pursuing firefighting as a career.
What's the end gain of their training? Sponsored by participating districts, the academy is set up in such a way that the student can obtain their Firefighter One State Certification without having to quit their day job. For every volunteer, this certification not only benefits the departments with decreased liability, it also makes their volunteers a more valuable asset. For the individual, it gives them increased confidence, added training, and a concept of teamwork. And for the career oriented, it gives them yet another leg up in the process of being hired.
Captain Fulbright's message to those thinking about joining a volunteer department is this: "The first one to two years are the hardest.  Obtain as much training as you can. The safer you are and the more knowledge you have the more you can help your team."
"Fire training is always evolving, you can't become stagnate," summarizes Fulbright stressing that the firefighter should always be learning. The best part is, Captain Fulbright backs up his own advice by serving his community through teaching our firefighters.
For more information about Grays Harbor Fire District #5 training, click here.
Additional photos from the February 2014 fire academy can be found here.