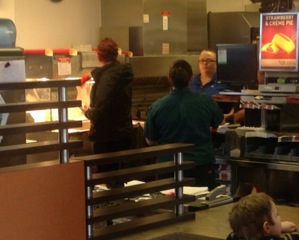 As you drive through the local McDonald's restaurant, you may think this one is just like many others you have visited, but what you don't know is that this one is run by a charismatic and caring leader.  Julianne Hanner is the owner of five McDonald's Stores across Grays Harbor and down to Raymond.
She has been in this business for 20 years and began her work in Grays Harbor 17 years ago. Not only is Hanner a stand-out leader for her local team, but she is an influencer on the national scene.
Julianne starts our conversation by telling me about her employee who recently won the 2013 Crew Person of the Year award for the Northwest Region, covering all of Washington, Oregon, Alaska, Idaho and Montana. Out of 542 stores and thousands of employees, Char Newark was chosen the best, at the age of 75.
"She is a rock star and the embodiment of exactly what you would want a McDonald's hostess to be. It was an incredible honor on our part for her," Julianne says in praise of Char's award. She was nominated by Julianne and other management staff where she was then judged by a panel at the regional office and in the end won financial prizes, recognition and bragging rights.
Julianne is also on the national marketing team for McDonald's adding influence to the national menu. If there's a trend or a customer brings something up in one of Julianne's stores, she is sure to share it with the larger company. As an elected representative, chosen to represent the National Female Operators, she pays special attention to the wants and needs of women, mothers and children. She has made a push for more options for the health conscious consumer: salads options, the Egg White Delight, reduced sodium in Chicken Nuggets, apple slices, chocolate milk instead of soda. As a representative and mother of three girls, the things that are important for moms and women are important to her.
Not only is Julianne an advocate for health in Grays Harbor, but she is an active community member dedicated to helping with fundraising. The McTakeover has been occurring for about 25 years and Grays Harbor was one of the first to participate. She is obviously proud of the work the local high school students do to raise foods and funds for the hungry people of the community. "We love to help our local kids earn what they need to do something special," she reports.
Charitable giving from McDonald's customers is astoundingly high in Grays Harbor, likely a ripple effect set by Julianne's commitment to altruism. The Helping Hands program raised over $8,000 for Ronald McDonald House Charities in just 14 days. They have also raised $250,000 for Ronald McDonald House through their Penny Per Pound program, giving back a penny per pound of french fries sold.
"People are so charitable and giving in Grays Harbor," said Julianne, which likely fuels her passion for being active in the community. She sits on the board of the Seattle Ronald McDonald House, helping to improve the lives of children and their families, and is also a Rotary Member, United Way Co-Chair, Chamber Member and formerly on the Chamber Board of Directors. "Whenever I can get involved, I do."