By Justin Damasiewicz

Running is a great way to stay active and get exercise. However, for Franzine Potts it is more than that. Potts is the Chief Financial Officer and Human Resources Director at the YMCA of Grays Harbor, but she is also an active member of Grays Harbor County's local friendly running community.
Potts has been running since grade school. She is still an active runner and admits to using a "strong arm" approach to getting other people to take up her favorite activity. Potts shared that, although difficult, running can help boost self esteem and keep people motivated.
"Aside from health benefits, you get to be a part of nature," Potts said. "Runners are nice. People are cheering each other on.  You get such a big sense of personal accomplishment, especially with all the support. Each time you think something is impossible, then it gets easier and easier and you realize that you would do things that you never thought you could do. It's about the personal accomplishments. You just keep adding to your goals."
Although she started at a young age, Potts has not always been an avid runner. In fact, there have been a couple of stretches of her life in which she took a break from running.
After college, Potts remained active, but did not run very much. It was a boot camp class at the YMCA that she signed up for after her daughter was born that got her back into it.
"During the boot camp class I really started running a lot," Potts said. "We would run and do weights and as time progressed I just started realizing it was easy to run and I could go out and run four miles again."
A stress fracture in her foot sidelined Potts for three months. After she healed, Potts trained hard.  In January 2013, she began training for the Newport Marathon in Oregon.  She completed a dedicated 18-week training plan and even though sick with bronchitis, she qualified for the 2014 Boston Marathon with a time of 3:27.
According to Potts, it is very important for new runners to have accountability partners and people to encourage them. In fact, it was a running partner that she met in the boot camp class that encouraged her to try to run for a half marathon.
"One thing about running is it's really tough in the beginning," Potts said. "It's really hard to start running without having somebody there to keep you going. Sometimes you need someone there to remind you to celebrate the small accomplishments. It may start out as 'I can run a block, then walk one, then run another.' It can be hard for people starting out because they just want to take off and run a mile without stopping."  Potts credits her two best running friends, Tiffany Schweppe and Josh Steele.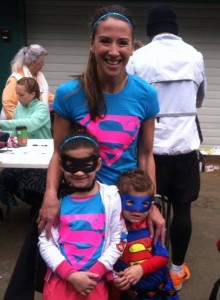 "You can walk away sore and defeated and not want to do it anymore," she continued.  "It's easy to get discouraged if you don't celebrate the little accomplishments. The most common thing that happens is that people just want to take off and start running. They don't think about taking walk breaks in there and they end up with shin splints or they get injured and discouraged, then they quit. That's why it's important to have someone there to talk to and remind them that it takes time, because it does."
The YMCA offers multiple classes for people who are interested in running. Potts described one class as a "couch to 5k" class. Intended for beginners, this class can help people train to run a 5k. The YMCA also offers a class for more advanced runners that helps train for a half marathon. Contact the YMCA at (360)537-9622 for more information.
There are also a couple of Grays Harbor County based groups on Facebook that can help people find a running partner in their area. A group with over 200 members called They Ran That-Away allows runners to post the time that they want to run and what their experience is so that they can link up with other runners. Another group called 1000+ Miles in 2014 is a group that is encouraging each other to run 1,000 miles this year.
The City of Hoquiam hosts events nearly every month for runners of all ages and skill levels. More information about these races can be found at the City of Hoquiam's Fun Run website. According to Potts, entry fees for the events are reasonable and every child gets an award.  Potts added that Ocean Shores, Grayland and Montesano also have scheduled annual runs.